Hargai Prestasi, Kiat Motivasi Polbangtan YoMa Cetak `Job Creator` Pangan
Indonesia`s Appreciate Students Achievement to Trigger Learning Motivation
Editor : M. Achsan Atjo
Translator : Dhelia Gani

PUBLISHED: Jum'at, 18 Januari 2019 , 05:23:00 WIB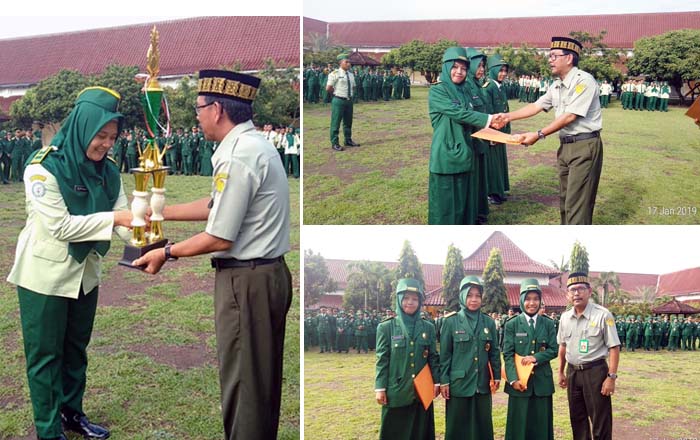 MAHASISWA/I BERPRESTASI: Direktur Rajiman diwakili Kabag Umum Irwan JS menyerahkan penghargaan pada mahasiswa/i berprestasi usai upacara Hari Kesadaran Nasional tiap tanggal 17 (Foto2: Humas Polbangtan YoMa)
Yogyakarta (B2B) - Membentuk kebiasaan belajar yang baik, menciptakan persaingan sehat, memberikan ulangan/ujian secara berkala, peduli pada mahasiswa, tidak segan mengapresiasi kemajuan dan menghargai prestasi mahasiswa menjadi kiat civitas academica Politeknik Pembangunan Pertanian Yogyakarta - Magelang disingkat Polbangtan YoMa untuk memotivasiuntuk pencapaian prestasi mahasiswa.
"Setiap mahasiswa tentu memiliki cara menumbuhkan semangat belajar pada diri sendiri, yang berbeda satu sama lain. Semangat tersebut adalah motivasi, lebih tepatnya merupakan keadaan internal organisme yang mendorong untuk berbuat sesuatu. Jika mahasiswa tidak memiliki motivasi, tentu tidak akan berada di sini, jauh dari rumah dan orangtua," kata Direktur Polbangtan YoMa, Dr Rajiman SP MP dalam arahannya kepada para mahasiswa pada upacara tanggal 17 setiap bulannya di Yogyakarta, Kamis.
Rajiman mengingatkan motivasi belajar mahasiswa merupakan hal yang amat penting bagi pencapaian prestasi belajar. Dalam konteks ini, menjadi tugas dan kewajiban para dosen dan rektorat untuk senantiasa memelihara dan meningkatkan motivasi belajar mahasiswa serta mencari cara meningkatkan semangat belajar mahasiswa.
"Melakukan sesuatu yang sama secara terus-menerus akan memicu kebosanan. Hal itu akan menurunkan semangat belajar mahasiswa, apabila mahasiswa merasa bosan tentu akan mengakibatkan terganggunya proses belajar mengajar," kata Rajiman dalam arahannya yang dikutip Kabag Umum, Irwan Johan Sumarno yang hadir sebagai inspektur upacara Hari Kesadaran Nasional mewakili Polbangtan YoMa 1.
Di sinilah peran dosen, kata Rajiman, sebagai pengajar untuk bertindak, berikanlah variasi belajar sehingga para mahasiswa bisa tetap termotivasi dan konsentrasi mengikuti perkuliahan.
Dalam kesempatan tersebut Rajiman diwakili Irwan JS menyerahkan trofi, piagam dan penghargaan kepada sejumlah mahasiswa/i berprestasi Polbangtan YoMa, untuk memotivasi mahasiswa lain meningkatkan prestasi sebagai mahasiswa.
Yogyakarta (B2B) - Establish good learning habits, create healthy competition, give examinations regularly, care for students, do not hesitate to appreciate progress and appreciate student achievement be a tip and trick of the civitas academica of Yogyakarta - Magelang Agricultural Development Polytechnic or the Polbangtan to motivate student achievement.
"Every student certainly has a way to foster a spirit of learning, The enthusiasm is motivation that drives things to do. If students don´t have motivation, they certainly won´t be here, away from home and parents," said Director of Polbangtan YoMa Dr Rajiman SP MP in his direction to students at the 17th ceremony every month.
Rajiman reminded students´ learning motivation is very important for learning achievement. In this context, the duties and obligations of lecturers always maintain and improve student learning motivation and looking for ways to improve student learning.
"Doing the same thing continuously will trigger boredom. It will reduce the student´s enthusiasm, if bored, it will certainly disrupt the teaching and learning process," Rajiman said in his direction quoted by the Head of General Affairs, Irwan Johan Sumarno who was present as inspector of the National Awareness Day ceremony represented his boss.
Here is the role of the lecturer, said Rajiman, as a teacher to provide variations in learning and teaching so that students remain motivated and concentrated in class.
On this occasion, the Rajiman represented by Sumarno handed over the trophy, certificates and award some outstanding students, to motivate other students to improve their achievements.