Tes TOEFL, Lulusan Polbangtan YoMa `Ready to Go International` di Era 4.0
Indonesian`s Polbangtan YoMa held a TOEFL Test for 137 Final Year Students
Editor : M. Achsan Atjo
Translator : Dhelia Gani

PUBLISHED: Jum'at, 09 Agustus 2019 , 05:31:00 WIB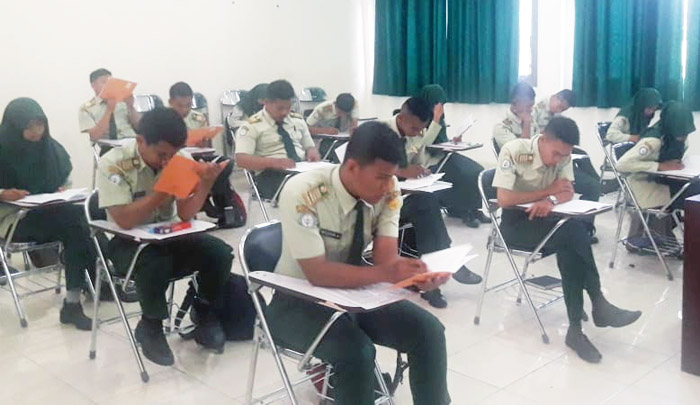 TANTANGAN GLOBAL: Kegiatan tes TOEFL diikuti serius oleh mahasiswa tingkat akhir peserta tes, hal itu tampak dari kehadiran tepat waktu dan ketepatan waktu menyelesaikan tes [Foto: Humas Polbangtan YoMa/Asnuri]
Yogyakarta, DIY [B2B] - Sebanyak 137 mahasiswa tingkat akhir Polbangtan YoMa yang akan lulus di penghujung Agustus 2019 mengikuti tes menulis, mendengar dan membaca komprehensif bahasa Inggris atau tes TOEFL yang diadakan Quali International selama 2,5 jam, dengan tiga kelas paralel dalam dua sesi, pagi dan siang hari, sehingga lulusan pendidikan vokasi pertanian Kementan tersebut siap go international sebagai job creator dan job seeker.
Selain TOEFL akan dilaksanakan pula kursus bahasa Inggris bagi 75 mahasiswa dari tiga angkatan, masing-masing 25 mahasiswa per angkatan. Polbangtan YoMa juga menggelar pembelajaran bahasa Arab, yang dilaksanakan dalam satu bulan terakhir.
Direktur Polbangtan YoMa, Dr Rajiman menyampaikan apresiasinya kepada Quali International atas dukungannya pada pembelajaran dan kegiatan tes TOEFL bagi mahasiswa.
Koordinator Kemahasiswaan Polbangtan Yoma Abdul Hamid menyampaikan bahwa "alumni Polbangtan Yoma harus memiliki kemampuan bahasa Inggris yang memadai baik secara lisan, tulisan maupun mendengarkan".
Hal senada dikemukakan Kabag Umum Polbangtan YoMa, Irwan Johan Sumarno dalam diskusi dan monitoring kegiatan bahwa "bahasa Inggris merupakan bahasa internasional, jika ingin menang dalam kompitisi kelas dunia harus mampu berbahasa Inggris dengan baik".
Menurut Abdul Hamid, kegiatan tes TOEFL diikuti serius oleh mahasiswa tingkat akhir peserta tes, hal itu tampak dari kehadiran tepat waktu dan ketepatan waktu menyelesaikan tes. [Asnuri]
Yogyakarta [B2B] - At least 137 final year of Indonesian´s Polbangtan Yoma students who will graduate at the end of August 2019 take a comprehensive English writing, listening and reading test or the TOEFL by Quali International for 2.5 hours, with three parallel classes in two sessions, morning and afternoon, so the graduates of agricultural vocational education are ready to go international as job creators and job seekers.