Belanja Modal 2019, Polbangtan YoMa Fokus Kerangka Acuan Kerja
Indonesian´s Polbangtan YoMa Holds Capital Expenditure Meeting of 2019
Editor : M. Achsan Atjo
Translator : Dhelia Gani

PUBLISHED: Senin, 21 Januari 2019 , 05:47:00 WIB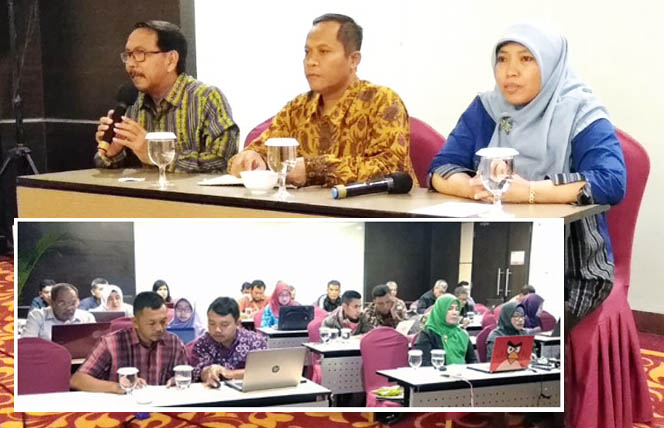 FOKUS KAK: Direktur Polbangtan YoMa, Dr Rajiman SP MP (tengah) membuka rapat tim teknis belanja modal 2019 didampingi oleh Kabag Umum Irwan JS (kanan) dan peserta rapat (inset) Foto2: Humas Polbangtan YoMa
Yogyakarta, DIY (B2B) - Direktur Polbangtan YoMa, Dr Rajiman SP MP membuka rapat tim teknis untuk belanja modal tahun 2019 dihadiri Kepala Bagian Umum, Irwan Johan Sumarno selaku penanggung jawab kegiatan serta para pejabat dan staf terkait yang berlangsung di Yogyakarta, Jumat (18/1).
Bahasan utama rapat adalah spesifikasi barang yang dibutuhkan untuk penyusunan kerangka acuan kerja (KAK) mendukung pencapaian target Kementerian Pertanian RI terhadap Politeknik Pembangunan Pertanian Yogyakarta - Magelang (Polbangtan YoMa).
Dr Rajiman dalam arahannya menguraikan realisasi anggaran belanja modal pada DIPA 01 tahun 2019, dan meminta saran dan pendapat dari peserta rapat tentang fasilitas dan sarana pendukung yang dibutuhkan oleh setiap bagian untuk meningkatkan kualitas belajar dan mengajar di Polbangtan YoMa.
"Direktur Polbangtan YoMa mengharapkan rapat tim teknis dapat mendukung proses pengadaan barang dan jasa yang tepat mutu, tepat guna, efisien dan efektif," kata Irwan JS mengutip arahan Dr Rajiman SP MP melalui pernyataan tertulis.
Dia menambahkan belanja modal sangat penting dalam rangka pembentukan modal yang sifatnya menambah aset tetap atau aset lainnya yang memberi manfaat lebih dari satu periode akuntasi, termasuk di dalamnya adalah pengeluaran untuk biaya pemeliharaan yang sifatnya mempertahankan atau menambah masa manfaat, meningkatkan kapasitas dan kualitas aset.
"Belanja modal antara lain tanah, peralatan dan mesin, gedung dan bangunan, dan modal fisik lainnya sesuai kebutuhan dalam satu tahun anggaran," kata Irwan JS.
Lembaga Kebijakan Pengadaan Barang/Jasa Pemerintah (LKPP) menetapkan bahwa suatu belanja dikategorikan sebagai belanja modal apabila pengeluaran tersebut mengakibatkan adanya perolehan aset tetap atau aset lainnya yang menambah masa umur, manfaat, dan kapasitas. Pengeluaran tersebut melebihi batasan minimum kapitalisasi aset tetap atau aset lainnya yang telah ditetapkan oleh pemerintah, dan perolehan aset tetap tersebut diniatkan bukan untuk dijual atau dibagikan.
Yogyakarta (B2B) - The Director of Polbangtan Yoma, Dr Rajiman SP MP opened a technical team meeting for capital expenditure in 2019 attended by the Head of General Section, Irwan Johan Sumarno the person in charge and related officials and staff that took place here on Friday (January 18).
The main discussion of meeting is about specification of capital expenditure requirements of the terms of reference or the KAK support achievement of Indonesian Agriculture Ministry to the Yogyakarta - Magelang´s Agricultural Development Polytechnic or the Polbangtan YoMa.
In his direction, Rajiman outlined realization of capital expenditure budget for 2019, and asked of suggestions and opinions of meeting participants about the needs of facilities in each division to improve quality of learning and teaching at Polbangtan YoMa.
"Director of Polbangtan YoMa expects the technical team meeting to support process of procurement of goods that are of the right quality, effective, efficient and effective," Sumarno said quoting the direction of Dr. Rajiman SP MP through a written statement.
He added that capital expenditures are very important for capital which is in nature adding fixed assets or other assets which provides benefits for more than one accounting period, including expenses for maintenance costs that retain or increase the useful life, increase the capacity and quality of assets.
"Capital expenditures include land, equipment and machinery, buildings, and other physical capital as needed in one fiscal year," Sumarno said.
Indonesian Government Goods and Services Procurement Policy Agency or the LKPP stipulates that a expenditure is categorized as capital expenditure if it becomes the acquisition of fixed assets or other assets which adds age, benefits, and capacity. These expenses exceed the minimum capitalization of fixed assets or other assets that have been determined by the government, and the acquisition of fixed assets is intended not to be sold or shared.