Masuk Mahasiswa Lulus Pengusaha, Ini `Tips and Trick` Polbangtan YoMa ....
Indonesian Students Learn Marketing Tips of Leader Cafe in Yogyakarta
Editor : M. Achsan Atjo
Translator : Dhelia Gani

PUBLISHED: Senin, 14 Januari 2019 , 06:03:00 WIB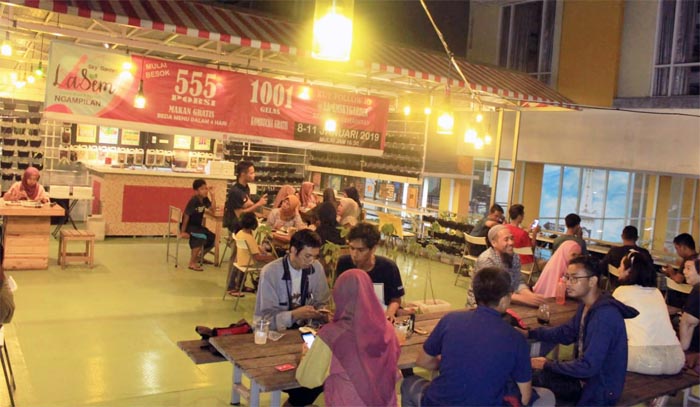 STRATEGI SUN TZU: Kiat give away, harfiah berarti menyerahkan/memberikan, salah satu strategi tempur panglima perang Sun Tzu, 403 - 221 SM, diterapkan oleh pakar marketing dunia (Foto: Humas Polbangtan YoMa)
Yogyakarta (B2B) - Berbagai upaya ditempuh oleh civitas academica Polbangtan YoMA mengenalkan mahasiswa pada kegiatan bisnis khususnya kuliner di Yogyakarta, seperti mengetahui kiat pemasaran ´give away´ alias makan gratis yang digelar Lasem Sky Garden, salah satu tips and trick memancing atensi konsumen mencicipi produk loss leader (menu murah) sehingga konsumen tertarik membeli produk lain.
Kegiatan kemitraan Politeknik Pembangunan Pertanian Yogyakarta - Magelang (Polbangtan YoMa) dengan kafe urban farming, Lasem Sky Garden (LSG) di kawasan Ngampilan, Yogyakarta dipimpin oleh Listiyan Syauqi sebagai penanggung jawab kemitraan.
Kiat pemasaran give away yang secara harfiah berarti menyerahkan/memberikan adalah salah satu strategi tempur dari panglima perang Sun Tzu, 403 - 221 SM, yang diterapkan oleh pakar marketing untuk menarik perhatian konsumen. LSG pun menyiapkan 550 porsi makan gratis dan 1.001 gelas kombucha pekan lalu (8 - 11 Januari).
Terlibat langsung pada kegiatan bisnis di sekitar Yogyakarta dan Magelang diterapkan oleh Direktur Polbangtan YoMA, Rajiman MM, untuk mengenalkan mahasiswa sejak dini tentang strategi pemasaran melalui kemitraan dengan business leader seperti Lasem Sky Garden, cabang dari Lasem Urban Farming Cafe di Sleman DIY.
"Mahasiswa belajar secara langsung mengenai teknik branding promosi, branding produk serta pelayanan yang baik kepada konsumen," kata Listiyan S melalui keterangan tertulis kepada B2B.
Promosi dan sosialisasi tentang promo give away melalui media cetak dan media sosial seperti Instagram. Setelah makan dan minum gratis, setiap konsumen wajib mempromosikan LSG melalui repost unggahan LSG dengan nge-tag lima teman.
Menurut Listiyan S dari kegiatan tersebut, mahasiswa mengerti bagaimana cara mengembangkan usaha, dan ke depan akan mampu berwirausaha secara mandiri sekaligus menciptakan lapangan kerja di sektor pangan.
Yogyakarta (B2B) - Various efforts are taken by the academic community of Polbangtan YoMa to introduce students about business activities especially culinary in Yogyakarta, such as introducing ´give away´ marketing tips or free meals held by Lasem Sky Garden, tips and tricks to attract consumer attention to taste loss leader products or inexpensive menus so that consumers are interested in buying other products.
Partnership of the Yogyakarta - Magelang´s Polytechnic Agricultural Development with an urban farming café in the Ngampilan area, Yogyakarta is led by Listiyan Syauqi as the person in charge of the partnership.
The trick of ´give away´ one of the combat strategies of the warlord Sun Tzu, 403 - 221 BC then applied by marketing experts to attract the attention of consumers. Lasem Sky Garden also prepared 550 free meals and 1,001 kombucha glasses last week (January 8 - 11).
Director of Polbangtan Polbangtan YoMa, Rajiman MM instructed students to involved in business activities around Yogyakarta and Magelang so that they know early on about the marketing strategies of business leaders such as Lasem Sky Garden.
"Students learn directly about promotional branding techniques, product branding and good service to consumers," Sauqi said through written information to B2B.
Promotion and socialization of promos give away through print media and social media such as Instagram. After eating and drinking for free, every consumer must be promoted through repost upload by tagging five friends.
Sauqi said that from activity, students understand how to developing business, and in the future it will be able developing entrepreneurship while creating jobs in the food sector.