Menristek Dukung Kementan Kembangkan Kawasan Sains Pertanian di Serpong
Indonesia Develops Agricultural Science Center in Banten`s Serpong
Reporter : Gusmiati Waris
Editor : Cahyani Harzi
Translator : Dhelia Gani

PUBLISHED: Jum'at, 02 Maret 2018 , 09:35:00 WIB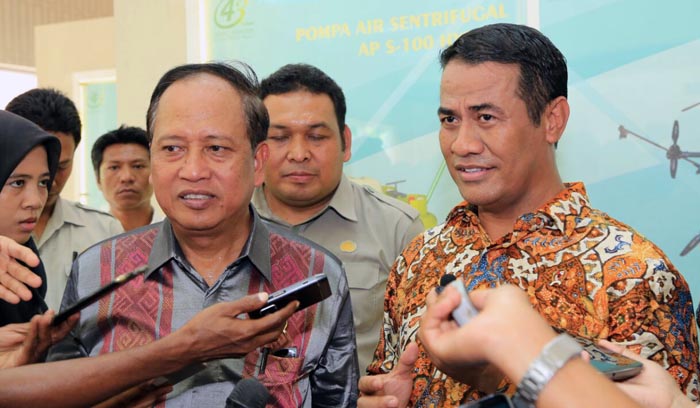 Menristek Dikti Mohammad Nasir (kiri) dan Mentan Andi Amran Sulaiman menjawab pers (Foto: Humas Kementan)
Serpong, Banten (B2B) - Menteri Riset Teknologi dan Pendidikan Tinggi, Mohammad Nasir menyatakan kementeriannya akan mendukung Kementerian Pertanian dalam pengembangan kawasan sains dan engineering pertanian sehingga dapat menjadi pusat penelitian dan pengembangan teknologi canggih pertanian.

"Ini tantangan dan pekerjaan utama kita. Kalau toh nanti di sini bisa menghasilkan teknologi pertanian yang baik, paling tidak untuk kawasan Asia Tenggara," kata M Nasir kepada pers didampingi Menteri Pertanian Andi Amran Sulaiman, Kamis (1/3).

Menristek mengatakan untuk mewujudkan impian tersebut dibutuhkan kolaborasi dari berbagai pihak khususnya melibatkan perguruan tinggi dan para peneliti dari dalam dan luar negeri.

"Kenapa saya katakan seperti itu, karena ke depan, para peneliti Indonesia mesti memiliki kompetensi dan berdaya saing tapi tidak berarti mengesampingkan peranan perguruan tinggi," kata M Nasir.

Mentan menambahkan, secara garis besar bahwa kawasan sains dan engineering pertanian tersebut nantinya diharapkan mampu memberikan penguatan kepada kelembagaan penelitian, pengembangan dan penerapan (Litbangrap), perekayasaan dan teknologi, perencanaan pengembangan kawasan; kerja sama dan kemitraan; sarana dan prasarana termasuk irigasi serta alsintan pendukung; sarana dan prasarana pengolahan dan prosesing hasil pertanian; SDM; dan adopsi teknologi bioindustri dan bioenergi; dan pengembangan industri hilir.
Serpong of Banten (B2B) - Minister of Research Technology and Higher Education, Mohammad Nasir said his ministry will support the agriculture ministry for the development of an agricultural science and engineering center.

"It's our challenge and our duty to develop leading agricultural technology, at least for the Southeast Asian region," Minister Nasir told the press accompanied by Agriculture Minister Andi Amran Sulaiman here on Thursday (February 1).

Mr Nasir said to realize the dream required collaboration from various parties, especially universities and researchers at home and abroad.

"Why I say that, because in the future, Indonesian researchers must have competence and be able to compete," he said.

Minister Sulaiman said broadly that the area of agricultural science and engineering is expected to be able to provide reinforcement to institutional research, development and implementation, engineering and technology, regional development planning; cooperation and partnership; facilities and infrastructure including irrigation and supporting machineries; facilities and infrastructure of processing of agricultural products; human resources; and adoption of bioindustry and bioenergy technologies; and downstream industry development.