Polbangtan YoMa Salurkan Bantuan Air Bersih 20 Tangki ke Gunungkidul
Polbangtan YoMa Donates Water to Indonesia`s Yogyakarta Residents amid Drought
Editor : M. Achsan Atjo
Translator : Dhelia Gani

PUBLISHED: Minggu, 29 September 2019 , 14:08:00 WIB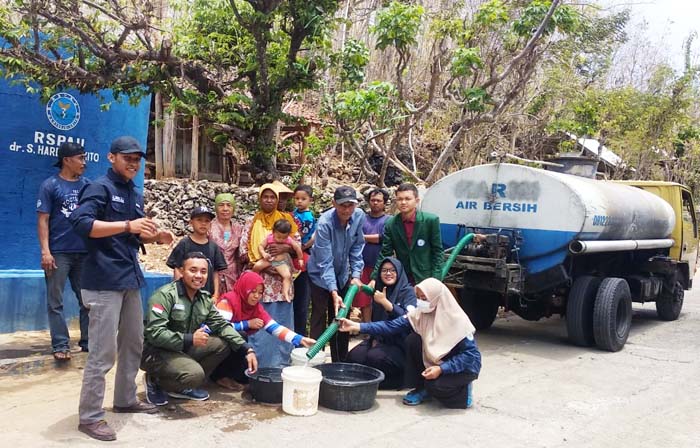 MAPALA GEMPAR mendukung penyaluran 20 truk tangki air bersih ke Kecamatan Tepus di Gunungkidul didukung oleh Forum Komunikasi Muda Mudi Karang Taruna (FKMMKT) Desa Tepus [Foto: Humas Polbangtan YoMa]
Gunungkidul, DIY [B2B] - Sedikitnya 20 truk tangki air bersih disalurkan oleh Polbangtan YoMa kepada warga Desa Purwodadi di Kecamatan Tepus, Sabtu [28/9], untuk membantu mengatasi kesulitan air akibat kemarau panjang di Kabupaten Gunungkidul, Provinsi DI Yogyakarta.
Kegiatan sosial yang diinisiasi oleh Direktur Polbangtan YoMa, Dr Rajiman berlangsung di bawah koordinasi Kabag Umum Irwan Johan Sumarno, sementara penyaluran 20 truk tangki air bersih dikoordinir oleh Mahasiswa Pencinta Alam Polbangtan YoMa [Mapala Gempar] berkoordinasi dengan organisasi pemuda Desa Purwodadi dari Forum Komunikasi Muda Mudi Karang Taruna (FKMMKT).
"Kegiatan sosial ini sebagai wujud kepedulian civitas academica Polbangtan YoMa terhadap kesulitan warga desa yang terdampak kekeringan, khususnya warga Desa Purwodadi di Gunungkidul," kata Dr Rajiman melalui pernyataan tertulis.
Dia berharap penyaluran 20 truk tangki air bersih dapat meringankan beban masyarakat saat ini, mengingat air adalah kebutuhan primer yang harus selalu terpenuhi, dan dukungan Polbangtan YoMa bermanfaat bagi warga Desa Purwodadi.
Menurutnya, Pusat Pendidikan Pertanian [Pusdiktan] di bawah koordinasi Badan Penyuluhan dan Pengembangan SDM Pertanian - Kementerian Pertanian RI [BPPSDMP Kementan] menggariskan kebijakan tentang kewajiban memberikan bantuan sosial oleh unit pelaksana teknis [UPT] kepada warga sekitar yang memerlukan bantuan seperti halnya Polbangtan YoMa membantu warga Gunungkidul.
Irwan Johan Sumarno menambahkan, salah satu anggota FKMMKT Desa Purwodadi menuturkan bahwa warganya sudah mengalami kesulitan air bersih hampir tiga minggu lalu. Sumur air kering begitu pula dengan sumber mata air yang diandalkan warga desa pada saat musim kemarau pun kini kering kerontang.
"Bahkan untuk memberi minum hewan ternak pun sudah sulit, sehingga tidak sedikit warga yang menjual hewan ternaknya," kata Irwan JS mengutip keterangan anggota Mapala Gempar yang berbincang dengan anggota FKMMKT Desa Purwodadi.
Kepada anggota Mapala Gempar yang mengkoordinir kegiatan sosial tersebut, warga Desa Tepus menyampaikan banyak terima kasih kepada Polbangtan YoMa, yang mendedikasikan bantuan sosial berupa air bersih yang sangat bermanfaat di tengah kesulitan air akibat dampak kemarau panjang. [IJS/Asnuri]
Gunungkidul of Yogyakarta [B2B] - At least 20 water tankers were distributed by YoMa Polbangtan to Purwodadi villagers in Tepus sub-district, Saturday [September 28] to help overcome water shortages in the middle of the dry season in Gunung Kidul district of DI Yogyakarta province, according to the senior official of the agriculture ministry.