Komitmen Polbangtan Yoma, Hari Pertama Langsung Kerja pasca Lebaran
Commitment of Indonesia`s Polbangtan YoMa after the Eid Holiday
Editor : M. Achsan Atjo
Translator : Dhelia Gani

PUBLISHED: Senin, 10 Juni 2019 , 16:49:00 WIB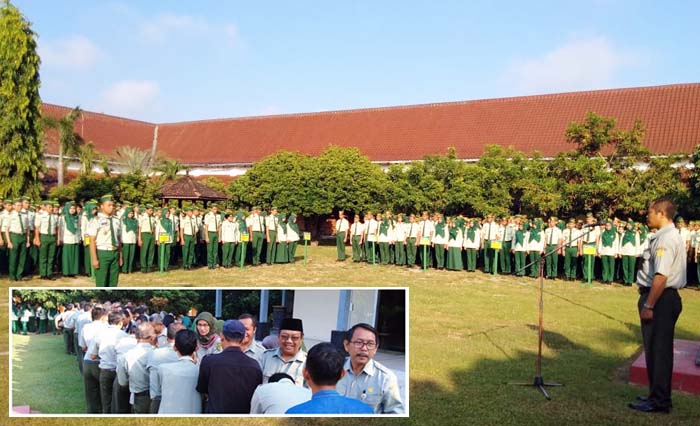 APEL PAGI: Direktur Dr Rajiman memimpin apel pagi civitas academica, [inset foto] Kabag Umum Irwan JS, Lektor Kepala Ali Rahman, Dr Rajiman dan Wadir I Dr Ananta Yekti silaturahim dengan ASN dan mahasiswa [Foto: Asnuri]
Yogyakarta, DIY [B2B] - Direktur Polbangtan YoMa Dr Rajiman mengapresiasi ´tingkat kehadiran sangat tinggi´ dari civitas academica Politeknik Pembangunan Pertanian Yogyakarta - Magelang [Polbangtan YoMa] pada kampus jurusan pertanian di Yogyakarta maupun Magelang, kampus jurusan peternakan, yang disampaikan pada apel pagi di lapangan tengah kampus Yogyakarta, Senin pagi [10/6].
"Tingkat kehadiran ASN dan mahasiswa Polbangtan YoMa pada hari pertama kerja setelah cuti bersama Lebaran sangat tinggi. Kami sangat mengapresiasi komitmen dan disiplin dari ASN dan seluruh mahasiswa untuk masuk kerja dan kuliah sesuai ketetapan pemerintah," kata Dr Rajiman dalam arahannya sebagai inspektur upacara.
Dia mengingatkan bahwa Ramadan sebagai bulan suci umat Islam yang telah dilalui harus diimplementasikan pada kehidupan kita sehari-hari, sehingga dapat mendorong meningkatkan kinerja baik sebagai ASN maupun mahasiswa.
Dr Rajiman mengharapkan momen halal bilahal setelah upacara dapat dimanfaatkan untuk membangun silaturahim dan menguatkan solidaritas antarkaryawan untuk meningkatkan keharmonisan bekerja, dan memberi dorongan positif bagi seluruh jajaran di Polbangtan YoMa.
Tampak hadir Wakil Direktur I Dr Ananta Yekti; Lektor Kepala Ali Rahman; dan Kabag Umum Irwan Johan Sumarno. [Asnuri]
Yogyakarta [B2B] - Director of Polbangtan YoMa Dr Rajiman appreciates the 'very high level of attendance' of civitas academica Yogyakarta - Magelang Agricultural Development Polytechnic [Polbangtan YoMa] at the faculty of agriculture in Yogyakarta and Magelang, faculty of livestocks, delivered at the morning rally in the central square of Yogyakarta campus, Monday morning [June 10].
"The level of attendance of employees and students on the first day of work after the Eid holiday is very high. We really appreciate commitment and discipline of civitas academica to enter work and study according to the government's provisions," said Dr Rajiman in his direction as the ceremony inspector.
He reminded that Ramadan as a Muslim holy month that has been passed must be implemented in our daily lives, so that it can encourage performance of the civitas academica.
Dr Rajiman hoped that the moment of friendship after the morning ceremony could be used to build friendship and strengthen solidarity between employees to increase work harmony, and provide positive boost for the Polbangtan YoMa.