Mentan SYL Lawan Alih Fungsi Lahan Pertanian Dengan Insentif
Indonesian Govt Prevents Land Conversion with Incentives for Landowners
Reporter : Gusmiati Waris
Editor : Cahyani Harzi
Translator : Dhelia Gani

PUBLISHED: Selasa, 12 November 2019 , 18:04:00 WIB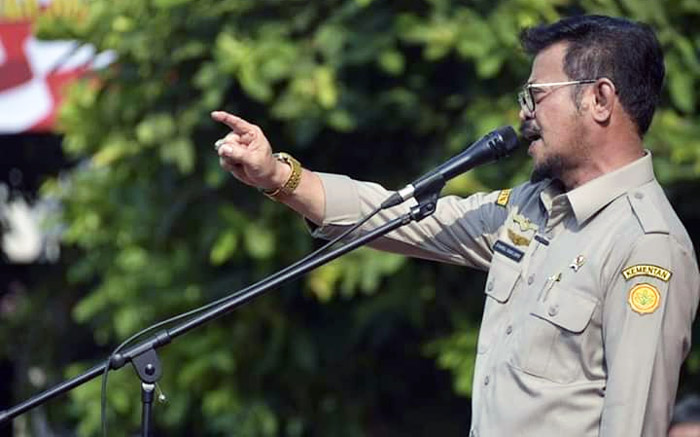 Menteri Pertanian RI Syahrul Yasin Limpo memberi arahan pada seluruh jajaran Kementan di Jakarta [Foto: Biro Humas Kementan]
Jakarta [B2B] - Kementerian Pertanian RI aktif mencegah alih fungsi lahan secara masif melalui pemberian insentif bagi pemilik lahan, dengan memberikan aneka bantuan sarana produksi [Saprodi] seperti alat mesin pertanian [Alsintan], pupuk dan benih bersubsidi kepada pemilik lahan pertanian.

Menteri Pertanian RI Syahrul Yasin Limpo [SYL] mengakui alih fungsi lahan pertanian ke nonpertanian saat ini mengakibatkan susut lahan pertanian secara progresif, meskipun pemerintah telah memiliki UU Perlindungan Lahan Pertanian Pangan Berkelanjutan No 41/2009. Langkah antisipatif lain adalah mengeluarkan Single Data Pertanian dalam jangka pendek.

"Data pertanian itu harus satu, sehingga data yang dipegang presiden, gubernur, bupati, camat sampai kepala desa semuanya sama, termasuk masalah lahan dan produksi," kata Mentan SYL di Jakarta, Selasa [12/11].

Menurut SYL, data yang akurat bisa melahirkan banyak program tepat guna dan tepat sasaran untuk para petani di seluruh Indonesia. Karena itu, dia berharap tak ada lagi kekacauan data lahan baik yang dipegang Kementan, Badan Pusat Statistik [BPS] maupun kementerian dan lembaga lain [K/L].

"Rujukan kita adalah BPS. Jadi datanya harus satu. Tidak boleh tumpang tindih soal data. Pemerintah juga terus mendorong pemda jangan terlalu mudah memberikan rekomendasi alih fungsi lahan," ujarnya.

Citra Satelit
Mengacu pada data BPS 2018, melalui data yang diperoleh dari citra satelit melalui skema kerangka sampel area [KSA], luas lahan baku sawah di Indonesia mengalami penurunan menjadi 7,1 juta hektare padahal sebelumnya mencapai 7,75 juta hektare [BPS 2013].

"Kita di Kementan, dalam 100 hari ini ingin memiliki kejelasan lahan yang akan panen di mana saja, seperti apa kemampuan kita. Kita kan harus jamin bisa beri makan 267 juta penduduk, maka hal itu menjadi langkah besar. Tidak boleh melihatnya sebagai masalah kecil," kata Mentan SYL.

Sebagaimana diketahui, Pasal 73 pada UU No 41/2009 menyatakan bahwa setiap pejabat pemerintah yang berwenang menerbitkan izin pengalihfungsian lahan yang tidak sesuai dengan ketentuan, maka dapat dikenakan pidana sanksi penjara paling singkat satu tahun dan paling lama lima tahun atau denda paling sedikit Rp1 miliar dan paling banyak Rp5 miliar.

"Pemerintah daerah saya minta memiliki komitmen yang sama untuk bisa mempertahankan lumbung pangan daerah, dengan mempertahankan lahan pertanian," katanya.

Konversi juga bisa dilakukan selama ada rekomendasi yang dikeluarkan dinas pertanian provinsi/kabupaten/kota, dengan syarat memiliki surat kesiapan menyediakan lahan pengganti terhadap lahan yang dikonversi tersebut.
Jakarta [B2B] - The Indonesian government is trying to prevent the conversion of agricultural land into non-agriculture by providing incentives to landowners such as agricultural machinery as well as subsidized seeds and fertilizers, according to Indonesian Agriculture Minister Syahrul Yasin Limpo.