Penegakan Disiplin, Provost Kampus Polbangtan YoMa Reorganisasi Kepemimpinan
Indonesian Campus Provost Supports Enforcement of Student Discipline
Editor : M. Achsan Atjo
Translator : Dhelia Gani

PUBLISHED: Kamis, 23 Januari 2020 , 20:00:00 WIB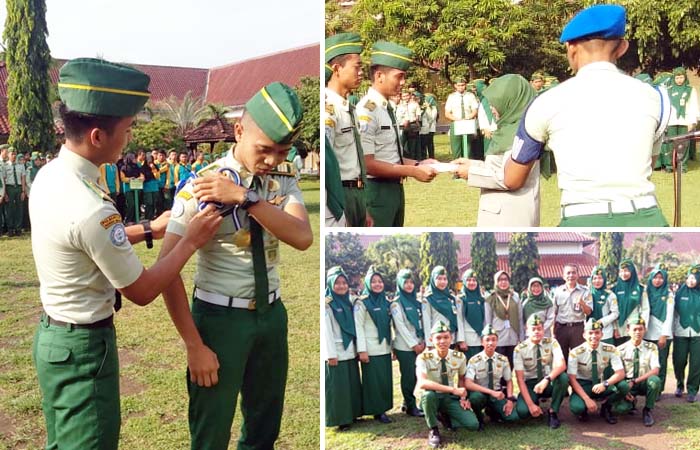 SERTIJAB KOMANDAN PROVOST: Ari Novianto memasangkan tanda pangkat Komandan Provost kepada Listian Syauqi Mubarok [kiri]; Kasubbag Sutinah menyerahkan sertifikat purna tugas dan anggota Menwa [Foto2: Humas Polbangtan YoMa]
Yogyakarta, DIY [B2B] - Unit penegakan disiplin kampus di Polbangtan YoMa melakukan reorganisasi kepemimpinan melalui serah terima jabatan Komandan Provost dari Ari Novianto kepada Listian Syauqi Mubarok untuk masa bakti 2019/2020, yang ditandai dengan penyerahan sertifikat purna tugas oleh Direktur Polbangtan YoMa, Dr Rajiman yang diwakili oleh Kasubbag Administrasi Akademik Kemahasiswaan dan Alumni [BAAKA] Sukinah disaksikan Wakil Direktur I Dr Ananti Yekti pada apel pagi di kampus Yogyakarta, Kamis pagi [23/1].
Direktur Polbangtan YoMa, Dr Rajiman mengatakan satuan organik pelaksana disiplin mahasiswa/i, provost di Politeknik Pembangunan Pertanian Yogyakarta - Magelang disingkat Polbangtan YoMa berperan penting mendukung rektorat membina dan menegakkan disiplin mahasiswa sesuai ketentuan kampus yang berlokasi di kawasan Tahunan, DI Yogyakarta maupun Tegalrejo di Kabupaten Magelang, Provinsi Jawa Tengah.
"Provost merupakan bagian dari resimen mahasiswa atau Menwa di Polbangtan YoMa sebagai wadah penyalur potensi mahasiswa dan pengembangan nilai-nilai, sikap dan perilaku, yang terampil serta mandiri," kata Dr Rajiman seperti dikutip Kasubbag BAAKA Sutinah dalam arahannya.
Menurutnya, kemandirian dan keterampilan serta berlatih kedisiplinan sebagai penegak hukum Menwa adalah menjadi unsur penting yang harus dimiliki setiap anggota Provost Menwa Polbangtan YoMa, mendukung pencapaian target dari Menteri Pertanian RI Syahrul Yasin Limpo [SYL] seperti dikemukakan Kepala BPPSDMP Prof Dedi Nursyamsi yang mendorong kampus pendidikan vokasi pertanian menjadi ´candradimuka´ untuk menghasilkan petani milenial maju, mandiri dan modern mencapai ketahanan pangan.
"Tugas pokok Provost adalah membantu pimpinan dalam menegakkan disiplin dan mengawasi kinerja baik saat berdinas maupun di luar dinas agar tidak menyalahi aturan yang ada dan melanggar hukum yang berlaku," kata Kabag Umum Polbangtan YoMa, Irwan Johan Sumarno melalui keterangan tertulis.
Dia menambahkan, dimensi perkembangan tugas Provos khususnya Menwa ke depan semakin tidak ringan, sehingga menuntut setiap anggota Provost Menwa untuk lebih siap siaga tugas menyelesaikan setiap permasalahan di lingkungan kampus. [IJS]
Yogyakarta [B2B] - Organic unit enforcing student discipline, provost in Indonesia´s Yogyakarta - Magelang Agricultural Development Polytechnic or the Polbangtan YoMa an important role in upholding student discipline according to campus regulations, according to senior official of the Polbangtan YoMa.