GFFA Berlin 2020, Mentan SYL Usung 3 Misi Indonesia untuk Pangan
Indonesia Proposes Three Missions for Food at the 2020 GFFA Berlin
Editor : Cahyani Harzi
Translator : Dhelia Gani

PUBLISHED: Selasa, 21 Januari 2020 , 21:04:00 WIB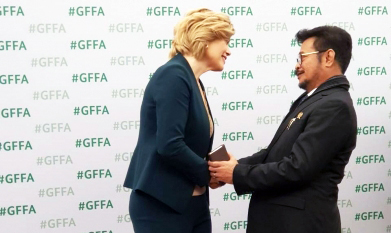 PANGAN DUNIA: Menteri Pertanian RI Syahrul Yasin Limpo [kanan] hadiri Global Forum Food and Agriculture 2020 di Berlin, Jerman [Foto: Biro Humas Kementan]
Berlin, Jerman [B2B] - Hadiri Global Forum Food and Agriculture 2020 di Berlin, Jerman yang berlangsung pekan lalu, 16 - 18 Januari, Menteri Pertanian RI Syahrul Yasin Limpo [SYL] menyampaikan tiga misi penting. Pertama, menghilangkan batasan yang menghambat intervensi bantuan pangan bagi kemanusiaan.
"Kedua, negara-negara maju harus memiliki komitmen yang kuat untuk membantu negara-negara berkembang dan terbelakang untuk dapat maju bersama melalui transfer ilmu pengetahuan, inovasi teknologi, keahlian, dan pengalaman," kata Mentan SYL dalam ´forum pertemuan dua tahunan menteri pertanian sedunia´ tersebut.
Ketiga, katanya, menjadikan pangan sebagai instrumen penting dan strategis sebagai bahasa perdamaian dunia.
"Misi tersebut kita usulkan untuk dideklarasikan dalam forum sebagai bagian dari kesepahaman bersama antara menteri pertanian sedunia. Itu misi yang diperjuangkan delegasi Indonesia dalam forum global tersebut," kata SYL, mantan gubernur Sulsel dua periode.
Forum global untuk pangan dan pertanian ke-11, Global Forum Food and Agriculture [GFFA] mengangkat topik ´Pertanian Menjadi Digital; Solusi Cerdas untuk Pertanian Masa Depan´.
GFFA adalah konferensi internasional yang berfokus pada pertanyaan-pertanyaan sentral mengenai masa depan industri pertanian-pangan global. Konferensi ini memberikan kesempatan bagi perwakilan dari dunia politik, bisnis, ilmu pengetahuan, dan masyarakat sipil untuk berbagi ide. Meningkatkan pemahaman tentang topik pilihan kebijakan pertanian saat ini.
Berlin of Germany [B2B] - Attending the 2020 Global Food and Agriculture Forum in Berlin, Germany, which took place last week, January 16-18, Indonesian Agriculture Minister Syahrul Yasin Limpo delivered three important missions for world food.