KonstraTani, Rektor IPB Dukung Mentan SYL Bangun `Agriculture War Room`
Bogor`s Agriculture Institute Support War Room of Indonesian Ministry
Editor : M. Achsan Atjo
Translator : Dhelia Gani

PUBLISHED: Selasa, 12 November 2019 , 02:05:00 WIB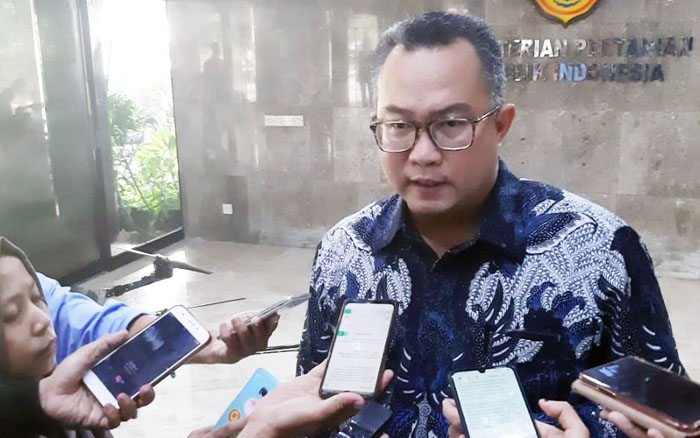 KOMITMEN IPB: Rektor IPB Dr Arif Satira SP, MSi menjawab pers usai pertemuan dengan Mentan Syahrul Yasin Limpo [Foto: Biro Humas Kementan]
Jakarta [B2B] - Civitas academica Institut Pertanian Bogor [IPB] memastikan dukungannya pada pengembangan Agriculture War Room [AWR] sebagai bagian integral dari Program ´Komando Strategis Pembangunan Pertanian di Kecamatan´ [KonstraTani] yang digagas oleh Menteri Pertanian RI Syahrul Yasin Limpo [SYL] untuk mendukung balai penyuluhan pertanian [BPP] di kecamatan sebagai pusat kegiatan pembangunan pertanian di seluruh Indonesia.
Rektor IPB Dr Arif Satira SP, MSi mengatakan bahwa tim dari IPB dalam waktu dekat akan mendukung penuh pengembangan AWR yang dikembangkan Kementan, untuk mendukung akselerasi pertanian yang berbasis 4.0 segera dilakukan, karena banyak aspek di sektor pertanian harus didukung teknologi digital.
"Dalam waktu dekat, IPB akan mendukung War Room di Kementan menjadi pusat pengendalian data pertanian nasional. Mentan juga meminta agar penguatan IT dan penguatan digitalisasi sangat penting," kata Rektor Arif Satria kepada pers usai pertemuan dengan Mentan SYL di Jakarta, Senin [11/11].
Mentan SYL mengapresiasi komitmen IPB mendukung kebijakan dan program Kementan, khususnya AWR dan KonstraTani, karena Kementan sangat membutuhkan dukungan perguruan tinggi dan akademisi sebagai kolaborasi dan sinergi pemerintah dengan institusi pendidikan tinggi.
"Saya butuh bapak rektor. Saya butuh teman-teman dari IPB semua. Jangan tinggalkan saya disini. Pak Rektor dan teman teman IPB tentu lebih tahu secara akademik perihal pertanian dari yang saya pahami. Saya mau kerja pak rektor, tentu saya harus punya sandaran," kata SYL, mantan Gubernur Sulsel dua peridoe [2008 - 2018].
Mentan SYL mengaku gembira dikunjungi Rektor IPB dan jajarannya, yang bertujuan membahas kolaborasi program Kementan dengan IPB, seraya mengingatkan jajaran eselon satu Kementan untuk selalu belajar melihat kondisi lapangan.
"Saya besar hati hari ini, karena saya tidak sendiri. Ada IPB, selama IPB bersama maka apabila Kementan salah berarti IPB yang salah. Saya minta guidance. Mohon maaf saya 25 tahun menjadi kepala daerah. Perguruan tinggi selalu menjadi sandaran saya, yang di-combine, karena saya tidak biasa jalan sendiri. Ada perguruan tinggi yang mendukung saya," kata SYL.
Jakarta [B2B] - Indonesia´s Bogor Agricultural Institute [IPB] academic community ensuring its support for the development of the Agriculture War Room as an integral part of the Strategic Command for Agricultural Development in the District [KonstraTani] which was initiated by Agriculture Minister Syahrul Yasin Limpo to support agricultural extension centers in the subdistrict as the center of agricultural development activities throughout the country, according to the Rector of IPB, Arif Satria.