Penguatan PWMP, Polbangtan YoMa Kawal Petani Milenial Sleman dan Kulon Progo
Indonesian Govt Encouraged Youth Farmers to become Entrepreneurs
Editor : M. Achsan Atjo
Translator : Dhelia Gani

PUBLISHED: Jum'at, 31 Januari 2020 , 03:45:00 WIB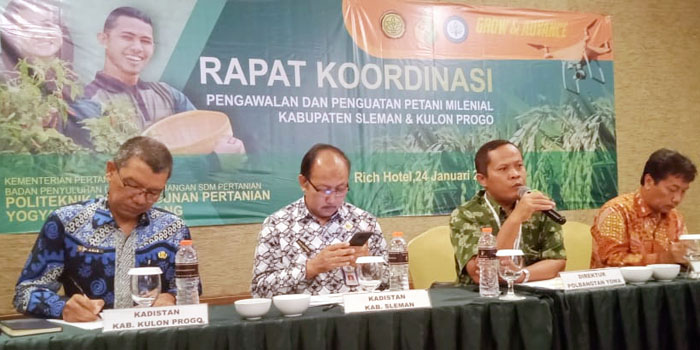 RAKOR PWMP: Direktur Polbangtan YoMa, Dr Rajiman [ke-2 kanan] membuka Rakor didampingi Kadistan DIY Sugeng Purwanto; Kadistan Kulon Progo, Aris Nugraha; dan Kadistan Sleman, Heru Saptono [kanan] Foto: Humas Polbangtan YoMa
Yogyakarta, DIY [B2B] - Potensi petani milenial di Provinsi DI Yogyakarta [DIY] menjadi pokok bahasan dalam 'Rapat Koordinasi Pengawalan dan Penguatan Petani Milenial Kabupaten Sleman dan Kulonprogo' untuk mewujudkan regenerasi petani melalui Program Penumbuhan Wirausahawan Muda Pertanian [PWMP] sehingga ke depan menjadi supporting system dari program yang digagas Menteri Pertanian Syahrul Yasin Limpo [SYL] mendorong Gerakan Ekspor Tiga Kali Lipat [GratiEks] dari komoditas pertanian.
Hal itu dikemukakan Direktur Polbangtan YoMa, Dr Rajiman saat membuka kegiatan Rakor di Yogyakarta, Kamis [30/1] yang dihadiri hampir 80 peserta. Hadir Kepala Dinas Pertanian Pemprov DIY, Sugeng Purwanto; Kepala Dinas Pertanian dan Pangan Kulon Progo, Aris Nugraha; dan Kepala Dinas Pertanian dan Perikanan Kabupaten Sleman, Heru Saptono selaku narasumber.
"Polbangtan YoMa berkomitmen untuk berperan aktif mendukung pengembangan petani milenial menjadi wirausahawan agribisnis melalui Program PWMP, sekaligus menjadi supporting system bagi program dan kebijakan Mentan SYL dengan GratiEks," kata Dr Rajiman.
Menurutnya, selama 2019 jumlah kelompok usaha petani milenial yang mengikuti PWMP sebanyak delapan kelompok untuk Kabupaten Sleman; dan enam kelompok untuk Kabupaten Kulon Progo maka kelompok-kelompok usaha tersebut menjadi tanggung jawab Polbangtan YoMa dalam upaya pendampingan dan pengawalan.
Kadistan Pemprov DIY, Sugeng Purwanto mengharapkan para petani milenial mampu menangkap peluang ide-ide usaha yang memungkinkan dengan kondisi saat ini dan tidak hanya bermain di hulu saja.
Dr Rajiman menambahkan sebagai tindak lanjut dari kegiatan Rakor akan diadakan bimbingan teknis [Bimtek] dalam rangka membekali para anggota kelompok usaha yang sudah ada dengan materi-materi yang sesuai dengan pengembangan PWMP.
Menurutnya, Polbangtan YoMa sebagai unit pelaksana teknis [UPT] dari Badan Penyuluhan dan Pengembangan SDM Pertanian [BPPSDMP Kementan] menerapkan berbagai strategi untuk meningkatkan minat pemuda dan sarjana mendukung pembangunan sektor pertanian, strategi awal adalah mengubah stigma tentang pertanian bukan hanya budidaya tanaman padi di sawah melainkan pengembangan sektor agribisnis dari subsistem hulu sampai hilir yang membuka peluang kerja dan peluang usaha.
"Polbangtan YoMa terus berupaya menjadi center of agrosociopreneur development berbasis inovasi agribisnis," kata Dr Rajiman. [Joni/Nuri]
Yogyakarta [B2B] - Indonesian Agriculture Ministry develops the potential of farmer youth and alumni of agricultural vocational education in Yogyakarta, Polbangtan YoMa become a young entrepreneur in the agricultural sector, as part of a farmer regeneration program designed for awareness, growth, development and independence of the interests, skills and entrepreneurial spirit of the young generation of agriculture.