Reaktor Nuklir, Menristek akan Ajukan Anggaran pada Presiden Jokowi
Indonesia Targets Development Nuclear Power Plants Completed in 2024
Reporter : Gusmiati Waris
Editor : Cahyani Harzi
Translator : Dhelia Gani

PUBLISHED: Sabtu, 29 Juni 2019 , 20:36:00 WIB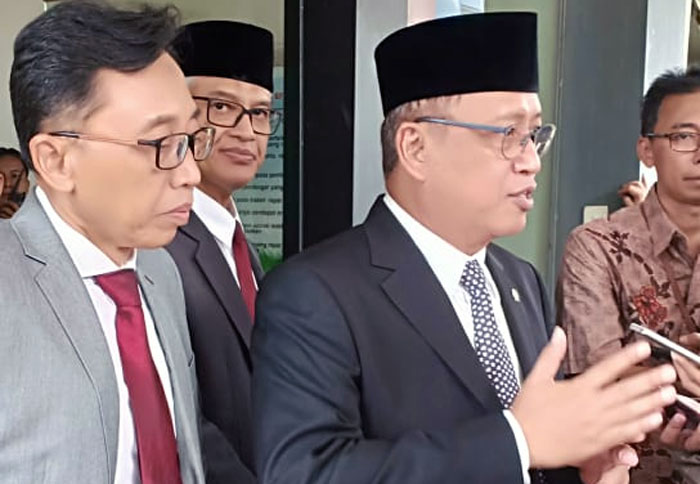 KEPALA BATAN: Menristek Dikti Mohammad Nasir menjawab pers didampingi Kepala Batan, Anhar Riza Antariksawan [kiri] yang baru dilantik menggantikan Djarot Sulistio Wisnubroto [Foto: Humas Batan]
Jakarta [B2B] - Kementerian Riset, Teknologi dan Pendidikan Tinggi RI [Kemenristek Dikti] akan mengusulkan anggaran pengembangan pembangkit listrik bertenaga nuklir kepada Presiden RI Joko Widodo, untuk memastikan pembangunannya sebagai proyek jangka panjang, yang ditarget rampung 2021 terpaksa diundur ke 2024, meskipun Indonesia berpengalaman mengelola nuklir sejak 1965 dan saat ini memiliki tiga reaktor nuklir di bawah kendali dan tanggung jawab Badan Tenaga Nuklir Nasional [Batan].
"Kami akan mengusulkan kepada Presiden Jokowi terkait anggaran pembangunan reaktor daya listrik. Anggarannya harus dipastikan ada, karena pembangunannya tidak cukup dalam waktu satu hingga dua tahun," kata Menristek Mohammad Nasir kepada pers di Jakarta, Jumat [28/6] usai pelantikan Anhar Riza Antariksawan sebagai Kepala Batan menggantikan Djarot Sulistio Wisnubroto.
Menurutnya, Kemenristek Dikti akan koordinasi dengan KemenESDM untuk membahas pembangunan reaktor daya eksperimental yang digunakan untuk penelitian itu.
Sebelumnya, Menristek Nasir menargetkan pembangunan reaktor nuklir rampung pada 2021 akan tetapi karena sampai saat ini belum dibangun, pihaknya menargetkan hingga akhir 2024.
Dia mengingatkan Anhar Riza Antariksawan sebagai Kepala Batan yang baru untuk melanjutkan pembangunan reaktor daya listrik untuk eksprimen tersebut, khususnya pengembangan riset ke depan dan melanjutkan pembangunan reaktor nuklir yang digunakan untuk riset.
"Kami berharap Batan bisa meningkatkan riset yang sangat penting bagi bangsa baik di bidang kesehatan, pangan dan juga energi. Ini sangat penting dilakukan," kata Menteri Nasir.
Menteri Nasir menambahkan Indonesia sudah memiliki tiga reaktor nuklir dan berpengalaman mengelola nuklir sejak 1965. "Kita punya kemampuan dalam mengelola reaktor nuklir dengan baik."
Anhar RA mengatakan akan berupaya mewujudkan apa yang diinginkan oleh Menristekdikti.
Sebelum menjabat sebagai Kepala Batan, Anhar RA yang lahir di Semarang pada 6 November 1962 menjabat sebagai peneliti utama. Dia menamatkan pendidikan program studi Teknik Nuklir di Universitas Gadjah Mada [UGM] kemudian melanjutkan pendidikan pascasarjana hingga meraih gelar doktor di Institut Nasional Politeknik Perancis.
Jakarta [B2B] - Indonesian Research, Technology and Higher Education Ministry [Kemenristek Dikti] will submit the budget development of nuclear power plants to to President Joko Widodo, to ensure that its development as a long-term project, which is targeted to be completed in 2021, has to be postponed to 2024 even though Indonesia has experienced managing nuclear since 1965 and currently has three nuclear reactors.