Ritual Potong Gigi Hindu Bali Disorot Asing sebagai `Penyiksaan` pada Remaja
Tenagers in an Indonesian`s Bali Have Their Teeth Filed Flat in Agonising Religious Rituals
Editor : Ismail Gani
Translator : Novita Cahyadi

PUBLISHED: Minggu, 06 Agustus 2017 , 22:36:00 WIB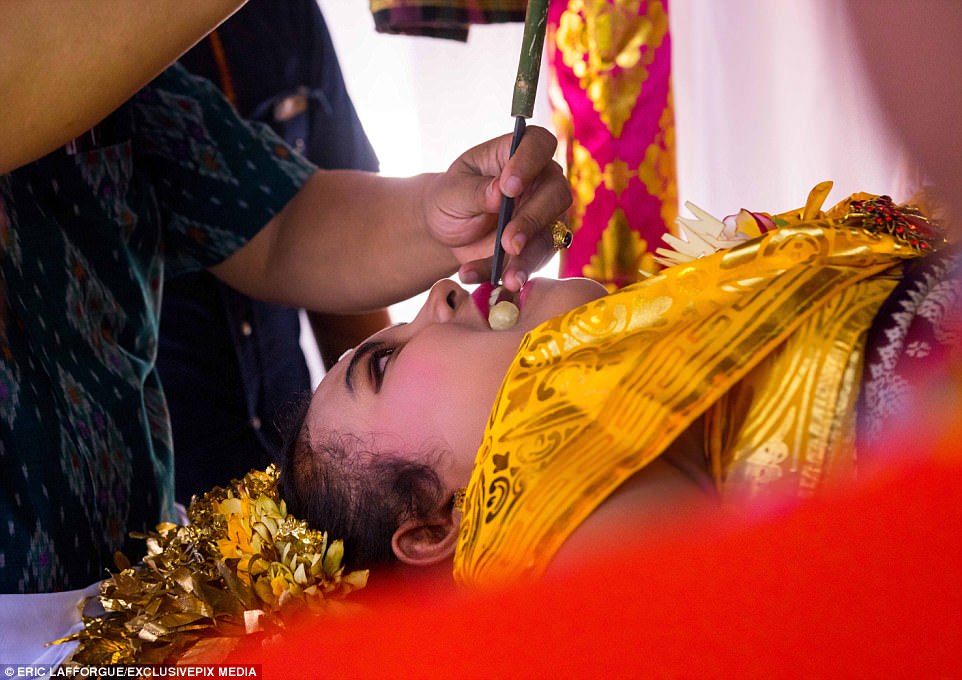 `Para remaja dari sebuah desa di selatan Bali, mengenakan pakaian adat berwarna keemasan dan hiasan kepala sebelum menjalani ritual keagamaan yang disebut untuk ´menangkal roh jahat.` Foto: MailOnline
FOTO-FOTO ini memperlihatkan tentang para remaja di Indonesia yang menjalani ritual potong gigi, dan menjadi sorotan media asing, karena dituding sebagai tindakan penyiksaan.

Para remaja dari sebuah desa di selatan Bali, mengenakan pakaian adat berwarna keemasan dan hiasan kepala sebelum menjalani ritual keagamaan yang disebut untuk 'menangkal roh jahat.'

Dalam tradisi yang disebut lebih dahulu menjadi tradisi sebelum datangnya agama Hindu di Bali pada abad ke 5 SM, seorang pendeta kemudian menggunakan semacam logam khusus untuk memotong gigi taringnya sebelum memasuki masa dewasa, yang harus tetap diam sepanjang menjalani ritual, untuk menjadi 'manusia sejati'.

Sebuah silinder tebu ditempatkan di sudut mulut untuk menjaga rahang terbuka sebelum ritual dimulai.

Remaja perempuan dan remaja pria harus berdoa selama dua hari sebelum ritual dilakukan di depan teman dan keluarga mereka, kata fotografer Prancis Eric Lafforgue yang memotret ritual tersebut.

Dia mengatakan: "Atmosfernya lebih mirip adegan film daripada kegiatan ritual keagamaan."

'Gigi para dewa dan roh selalu runcing dan panjang. Mereka disamakan dengan kejahatan binatang buas, atau anjing."

"Penganut Hindu Bali meyakini akan ditolak masuk ke surga apabila tidak mengikuti ritual potong gigi dikhawatirkan sebagai perwujudan mahluk liar."

Dia mengatakan bahwa upacara tersebut dimulai di sebuah kuil dengan 'mebyakala' - pemurnian dengan air suci yang dibuat oleh seorang pendeta terkemuka yang ditujukan untuk 'membersihkan' remaja sebelum gigi mereka dipotong, seperti dilansir MailOnline.

'Tujuan dari upacara tersebut adalah untuk secara simbolis' mengurangi 'enam sifat negatif yang melekat pada manusia; Nafsu, keserakahan, murka, kebanggaan, kecemburuan, dan keracunan.'
PICTURES have emerged showing how teenagers in an Indonesian village have their teeth filed flat in agonising religious rituals.

Young people from a village in southern Bali, are dressed in gold-coloured outfits and headdresses before being held down by villagers to 'ward off evil spirits'.

In a tradition that predates Hinduism's arrival on the island in the 5th Century BC, a priest then uses a metal file to grind down their canine teeth so the teenager, who must stay silent throughout, can become 'fully human.'

A cylinder of sugarcane is placed in the corner of the mouth to keep the jaws open before the filing begins.

Girls and boys must pray for two days before the ritual is carried out in front of their friends and family, says French photographer Eric Lafforgue who captured these images.

He said: 'The atmosphere looks more like a movie set than a religious celebration.

'The teeth of gods and spirits are always pointed and long. They are likened to those of ferocious evils, wild animals, or dogs.

'It's believed a Balinese may be denied entrance into heaven if the teeth are not filed because she might be mistaken for a wild creature.'

He said the ceremony starts in a temple with the 'mebyakala' - purification with holy water made by a leading priest aimed at 'cleansing' teenagers before their teeth are filed.

'The aim of the ceremony is to symbolically 'cut down' on the six negative traits that are inherent in humans; lust, greed, wrath, pride, jealousy, and intoxication.