12 Januari 2019, Alumni UI for Jokowi Deklarasi Dukung Paslon 01
Alumni of Jakarta`s University of Indonesia will Declaration Support Joko Widodo
Reporter : Heru Subroto
Editor : Cahyani Harzi
Translator : Dhelia Gani

PUBLISHED: Selasa, 18 Desember 2018 , 23:00:00 WIB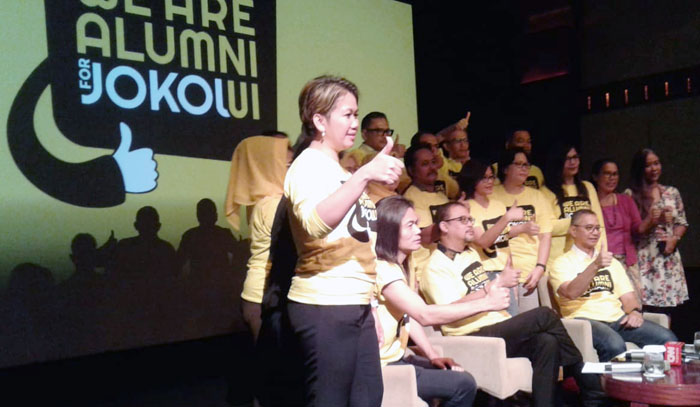 Foto: istimewa
Jakarta (B2B) - Gerakan Alumni UI untuk Jokowi-Amin akan menggelar deklarasi pada 12 Januari 2019 pukul 06.00-10.00 WIB di Plaza Selatan-Tenggara Gelora Bung Karno, Senayan Jakarta.
"Deklarasi diharapkan dihadiri ribuan alumnus Universitas Indonesia dari berbagai fakultas dan angkatan, beserta simpatisan dan keluarganya," kata Ketua Gerakan Alumni UI untuk Jokowi-Amin, Fajar Soeharto, kepada pers, di Jakarta, Selasa (18/12).
Menurutnya, gerakan kami terbentuk dari insiatif para alumnus UI. Mereka secara pribadi berhimpun untuk memberikan dukungan kepada pasangan calon presiden dan wakil presiden nomor 01 berlandaskan kehendak dan kesamaan pilihan para alumnus yang mendukung paslon 01."
"Kami percaya Jokowi dan Ma'ruf Amin merupakan paslon palin tepat, diukur dari rekam jejak, integritas dan prestasi yang sudah nyata terbukti, untuk meneruskan pembangunan di segala bidang demi kemajuan dan kesejahteraan seluruh rakyat Indonesia," kata Fajar.
Jay Subyakto, alumnus UI, selaku event director deklarasi mengemukakan, acaranya bukan hura-hura, melainkan serius dan khidmat. "Kami semua yang hadir menyanyikan bersama lagu-lagu patriotik kebangsaan di bawah pimpinan Addie MS dan Erwin Gutawa. Tompi akan membacakan deklarasi. Kami ingin menggugah semangat dan menyerukan dukungan bagi paslon nomor 01," kata Jay yang sudah 'meramaikan' Jokowi sejak dari Wali Kota Surakarta, Gubernur DKI Jakarta maupun Polpres 2014, dario bidang seni.
Wakil Ketua Gerakan Alumni Toto Sugito menyerukan dan mengundang semua alumnus UI yang mempunyai visi sama agar bergabung dalam gerakan dan hadir di acara deklarasi. "Karena ini mandiri, silakan kirim donasi ke rekening kami, berapa pun jumlahnya."
Jakarta (B2B) - Alumni of Jakarta´s University of Indonesia Students for Joko Widodo or the Gerakan Alumni UI untuk Jokowi-Amin will announce the support of Indonesian presidential candidates on January 12, 2019 at 06 to 10 am at the Jakarta´s Bung Karno Stadium.
"We hope that the declaration of Joko Widodo´s activities will be attended by thousands of University of Indonesia alumni of various faculties and classes with sympathizers and their families," Chairman of the UI Alumni for Jokowi-Amin, Fajar Soeharto told the press here on Tuesday (December 18).
According to him, our movement was formed from the initiative of UI alumni. They personally met to support presidential candidate Joko Widodo because of the will and similarity of choice."
"We believe Joko Widodo is the presidential candidate most appropriate according to the track record, integrity and achievements to continue development in the 2014-2019 government period," Mr Soeharto said.
UI Alumni Jay Subyakto as event director said the declaration would take place seriously and solemnly.
Deputy Chair of the UI Alumni Movement, Toto Sugito called for and invited UI alumni who had the same vision to join in the movement and attend the declaration.