Polri Disomasi Kuasa Hukum dari Pemilik Kapal Pesiar Mewah Equanimity
Indonesia Faces Challenge to Seizure of Yacht Wanted by US
Editor : Ismail Gani
Translator : Novita Cahyadi

PUBLISHED: Selasa, 20 Maret 2018 , 23:56:00 WIB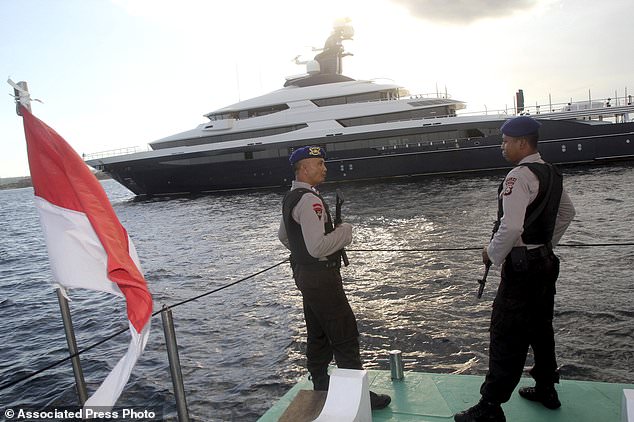 Foto: Associated Press/MailOnline
AKSI SITA kapal pesiar mewah Equanimity oleh Polri atas permintaan pihak berwenang AS, Biro Investigasi Federal (FBI) karena diduga dibeli dari dana ilegal oleh perusahaan investasi negara di Malaysia disomasi oleh pemilik kapal tersebut, kata polisi Senin.

Petinggi Badan Reserse dan Kriminal (Bareskrim) Polri, Kombes Daniel Silitonga mengatakan bahwa polisi belum menyerahkan kapal pesiar tersebut ke AS sejak disita pada 28 Februari karena Polri menunggu sidang pengadilan setelah pengacara dari pemilik kapal pesiar mewah Equanimity berbendera Kepulauan Cayman memulai upaya hukum terhadap aksi penyitaan tersebut.

"Sampai sekarang kita masih menunggu surat panggilan untuk hearing," katanya. "Kami menghadapi beberapa masalah hukum yang harus diselesaikan terlebih dahulu."

Equanimity, yang nilainya ditaksir Rp3,4 triliun (US$250 juta), termasuk di antara aset yang dikuasai Departemen Kehakiman A.S. dibeli oleh Jami Low Malaysia dengan uang yang dicuri dari 1MBD, perusahaan investasi Malaysia, dan pencucian uang dilakukan di Singapura, Swiss, Luksemburg dan A.S.

Polisi Indonesia menyita kapal pesiar sepanjang 92 meter di lepas pantai Bali dalam operasi gabungan dengan FBI.

Silitonga mengatakan bahwa dia belum mengetahui dasar gugatan tersebut.

Seorang juru bicara Low mengatakan kepada media Malaysia pada awal Maret bahwa "dan bukannya merenungkan tuduhan yang sangat cacat dan bermotif politik, DoJ melanjutkan pola penjangkauan global - semuanya didasarkan pada klaim pelanggaran yang sepenuhnya tidak didukung."

Departemen Kehakiman AS mengajukan kasus perdata pada Juni untuk mencari pemulihan aset senilai beberapa ratus juta dolar. Secara keseluruhan, ia mengatakan bahwa lebih dari $4,5 miliar telah dicuri antara 2009 dan 2014 dari 1MBD, yang didirikan oleh Perdana Menteri Malaysia Najib Razak untuk mempromosikan pembangunan ekonomi.

Rendah, rekan Najib, tidak memiliki peran formal dalam dana tersebut namun memiliki pengaruh yang besar terhadapnya, menurut dokumen pengadilan AS.

Fasilitas mewahnya yang mewah termasuk landasan pendaratan helikopter, kolam renang kecil, gimnasium dan bioskop. Dibangun pada 2014 oleh produsen kapal pesiar Belanda Oceano, yang mendapat instruksi terperinci dari Low tentang perlengkapannya, sesuai dengan dokumen kasus perdata.

Najib terlibat dalam skandal tersebut muncul ketika sekitar 700 juta dolar telah melewati rekening bank pribadinya. Dia membantah melakukan kesalahan dan mengatakan bahwa uang itu adalah sumbangan politik dari keluarga kerajaan Saudi, yang kemudian dikembalikan seperti dikutip Associated Press yang dilansir MailOnline.
INDONESIA'S seizure of a luxury yacht wanted as part of a U.S. probe into the alleged multibillion-dollar theft of funds from a Malaysian state investment company is being challenged by the vessel's owner, police said Monday.

National police deputy director of economic crimes Daniel Silitonga said police haven't handed the yacht over to the U.S. since its Feb. 28 seizure because they're waiting for a court hearing after lawyers for the owner of the Cayman Islands-registered Equanimity began a legal challenge.

"Until now we are still awaiting the summons for a hearing," he said. "We are facing some legal issues that have to be resolved first."

The Equanimity, worth $250 million, is among assets the U.S. Department of Justice alleges were bought by Malaysian national Jho Low using money stolen from 1MBD, the Malaysian fund, and laundered through Singapore, Switzerland, Luxembourg and the U.S.

Indonesian police seized the 92-meter (300-foot) yacht off Bali in a joint operation with the FBI.

Silitonga said he didn't yet know the basis of the lawsuit.

A spokesman for Low told Malaysian media in early March that "rather than reflecting on the deeply flawed and politically-motivated allegations, the DoJ is continuing with its pattern of global overreach - all based on entirely unsupported claims of wrongdoing."

The Department of Justic filed a civil case in June seeking recovery of assets worth several hundred million dollars. Overall, it says more than $4.5 billion was stolen between 2009 and 2014 from 1MBD, which was set up by Malaysian Prime Minister Najib Razak to promote economic development.

Low, an associate of Najib, had no formal role at the fund but considerable influence over it, according to the U.S. court documents.

Equanimity's lavish amenities include a helicopter landing pad, plunge pool, gymnasium and a cinema. It was built in 2014 by Netherlands yacht manufacturer Oceano, which received detailed instructions from Low about its outfitting, according to the civil case documents.

Najib was embroiled in the scandal when it emerged that some $700 million had passed through his personal bank accounts. He denied any wrongdoing and said the money was a political donation from the Saudi royal family, which was later returned.