Timnas Arab Saudi Tolak Pengheningan Cipta di Adelaide untuk korban Teror London
Saudi Arabia`s Football Team Snubs a Minute`s Silence in Adelaide for London Bridge
Editor : Ismail Gani
Translator : Novita Cahyadi

PUBLISHED: Jum'at, 09 Juni 2017 , 00:35:47 WIB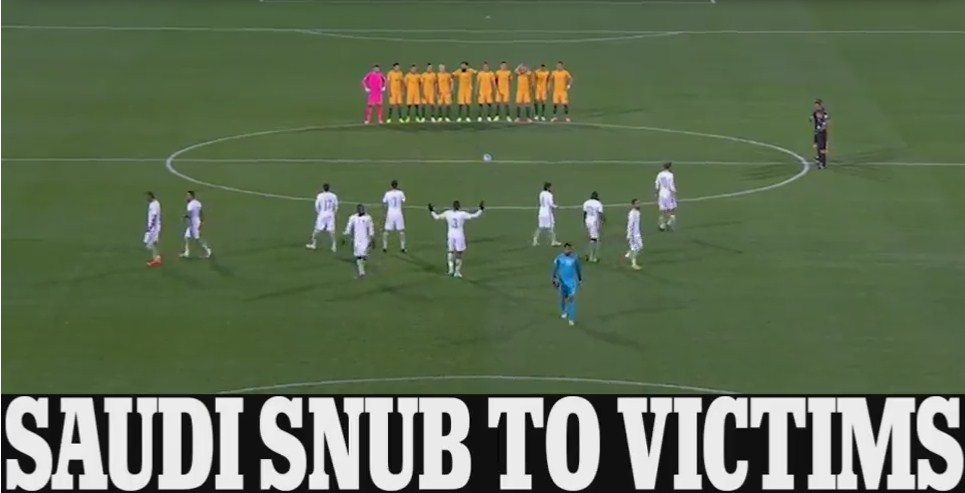 Timnas Australia berbaris di garis tengah, sementara pesepakbola Arab Saudi memperlihatkan gestur penolakan dan membentuk formasi untuk memulai pertandingan (Foto: MailOnline)
TIMNAS sepak bola Arab Saudi menolak mengheningkan cipta satu menit bagi para korban teror London pada Kamis malam, karena bertentangan dengan budaya Arab Saudi.

Juru bicara Federasi Sepak Bola Australia (FAA) mengatakan bahwa mereka mendapat informasi bahwa mengheningkan cipta satu menit adalah 'tidak sesuai dengan budaya Saudi' sebelum pertandingan berlangsung.

Pendukung tuan rumah menjadi gusar pada laga kualifikasi Piala Dunia melawan Australia di Adelaide.

Sejumlah foto memperlihatkan timnas Australia berbaris di garis tengah, sementara pesepakbola Arab Saudi memperlihatkan gestur penolakan dan membentuk formasi untuk memulai pertandingan.

Pemain cadangan Arab Saudi pun memilih duduk di bangku cadangan dan menolak untuk berdiri.

Juru bicara FAA mengatakan kepada Daily Mail Australia bahwa mereka telah diberi tahu sebelum pertandingan bahwa timnas Arab Saudi tidak akan ikut mengheningkan cipta.

"FFA meminta persetujuan dari Konfederasi Sepak Bola Asia dan tim nasional Saudi untuk mengheningkan cipta sejenak untuk mengenang korban tewas dalam serangan teror Sabtu malam di London dan khususnya yang menimpa dua wanita Australia," kata sang juru bicara.

"Baik AFC maupun tim Saudi sepakat bahwa mengheningkan cipta sejenak bisa dilakukan."

'FFA selanjutnya mendapat keterangan dari tim Arab Saudi bahwa hal itu tidak sesuai dengan budaya Arab Saudi dan mereka akan bergeser ke tepi lapangan dan menghormati kebiasaan Barat saat mereka membentuk formasi tim."

"Penyiar lokal, FOXSPORTS, diberitahu tentang hal ini sebelum mengheningkan cipta dilakukan."

Penggemar sepak bola Australia di media sosial sangat marah, dan mereka mengecam aksi sepihak tim Arab Saudi.

'Mengheningkan cipta untuk teror di London, para pemain Saudi berkeliaran seperti mereka tidak memberi f ***, pendukung Arab Saudi terus meneriakkan #AUSvKSA," kata pria bernama Adam via Twitter.

Yang lainnya meminta pemberian sanksi terhadap tim lawan tersebut seperti dilansir MailOnline.
THE SAUDI Arabian soccer team refused to line up for a minute's silence for the London terror victims on Thursday night because it is not in keeping with their culture.

A spokesman for Football Federation Australia explained they were told a minute of silence was 'not in keeping with Saudi culture' ahead of the match.

Fans were left outraged at the display ahead of the World Cup qualifier against Australia in Adelaide.

Pictures show the Australian team lined up at the halfway mark, with the Saudi players ignoring the gesture as they get in formation to start the game.

Saudi players on the bench refused to stand for the minute's silence.

A spokesperson from the Football Federation Australia told Daily Mail Australia they had been advised prior to the match that the Saudi team would not be taking part.

'The FFA sought agreement from the Asian Football Confederation and the Saudi national team to hold a minute's silence in memory of those lost in Saturday night's terror bombings in London and in particular the two Australian women,' the spokesperson said.

'Both the AFC and the Saudi team agreed that the minute of silence could be held.

'The FFA was further advised by Saudi team officials that this tradition was not in keeping with Saudi culture and they would move to their side of the field and respect our custom whilst taking their own positions on the field.

'The local broadcaster, FOXSPORTS, was informed of this prior to the minute's silence taking place.'

Australian football fans on social media were furious, and lashed out against the Saudi team.

'Minutes silence for London terror, Saudi players wandering around like they don't give a f***, Saudi fans shouting the whole time #AUSvKSA,' a man named Adam tweeted.

Others called for official measures to be taken against the team.