Piala Dunia U20 di Indonesia Batal jadi Sorotan Media Internasional
FIFA Strips Indonesia of Under-20 World Cup amid Israel Row
Editor : Cahyani Harzi
Translator : Dhelia Gani

PUBLISHED: Jum'at, 31 Maret 2023 , 01:22:00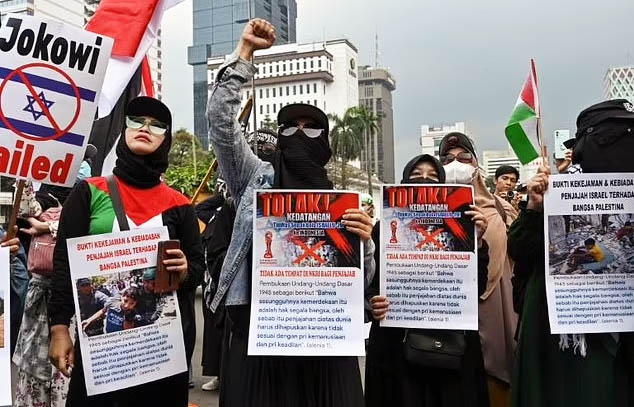 DICABUT FIFA: Unjuk rasa di Jakarta oleh kelompok Islam yang menentang kehadiran timnas Israel pada Piala Dunia U20, karena praktik Zionis Isreal di Palestina yang merupakan komitmen Indonesia bagi kemerdekaan Palestina. [Foto: MailOnline]
FIFA MENCORET Indonesia sebagai tuan rumah Piala Dunia U-20 di tengah penolakan hadirnya timnas Isreal di Indonesia, pada Rabu [29/3]. FIFA mengumumkan telah mencoret Indonesia sebagai tuan rumah Piala Dunia U-20 2023 menyusul protes sejumlah pihak di tanah air yang menentang partisipasi timnas Israel.

Keputusan tersebut mengacu "keadaan saat ini", kata FIFA dalam pernyataan resminya tanpa merinci lebih lanjut.

"Tuan rumah baru akan diumumkan sesegera mungkin, dengan tanggal turnamen saat ini tidak berubah," tambahnya.

Pengundian untuk turnamen 24 tim yang dimulai pada 20 Mei sedianya akan diadakan pada Jumat di Bali, tetapi FIFA membatalkan acara tersebut pekan lalu tanpa memberikan alasan atau menetapkan tanggal baru.

Indonesia dan Israel tidak memiliki hubungan diplomatik formal, dan dukungan untuk perjuangan Palestina di negara berpenduduk mayoritas Muslim terbesar di dunia tersebut semakin tinggi tensinya, memicu penentangan sejumlah pihak di Indonesia untuk menentang kehadiran timnas Israel.

Selain seruan Gubernur Bali I Wayan Koster agar Israel dikeluarkan dari turnamen, sekitar seratus demonstran Muslim melakukan unjuk rasa di Jakarta belum lama ini untuk menolak kehadiran Israel.

Pejabat Indonesia awal pekan ini mengatakan kegagalan menjadi tuan rumah Piala Dunia dapat mengakibatkan sanksi yang akan membuat Indonesia dilarang mengikuti kompetisi sepak bola internasional lainnya termasuk kualifikasi Piala Dunia dan Piala Asia.

Pejabat Indonesia menyatakan pembatalan tersebut mengakibatkan kerugian ekonomi bagi Indonesia hingga triliunan rupiah seperti dilansir MailOnline.

Sanksi Menanti Indonesia
FIFA menambahkan bahwa potensi sanksi terhadap Persatuan Sepak Bola Seluruh Indonesia (PSSI) "juga dapat diputuskan pada tahap selanjutnya".

"Saya sudah berusaha semaksimal mungkin. Setelah menyampaikan surat dari (Indonesia) Presiden Jokowi, dan berbicara panjang lebar dengan Presiden FIFA, Gianni Infantino, kita harus menerima keputusan FIFA untuk membatalkan penyelenggaraan acara yang kita nantikan bersama," kata Erick Thohir, Ketua Umum PSSI usai pembicaraan di Doha.

"Indonesia adalah anggota FIFA, jadi untuk urusan sepak bola internasional, kita harus mengikuti aturan yang sudah ditetapkan. FIFA menganggap situasi saat ini tidak bisa dilanjutkan, kita harus tunduk," kata Erick Tohir.

"Kita harus kuat. Saya meminta semua pecinta sepak bola untuk tetap menegakkan kepala atas keputusan berat FIFA ini. Karena saya berpendapat, karena itu, inilah saatnya kita harus membuktikan kepada FIFA untuk bekerja lebih keras lagi. mengubah sepak bola, menuju sepak bola bersih dan prestasi."

Indonesia belum pernah bermain di turnamen tersebut sejak 1979. Indonesia secara otomatis lolos ke turnamen sebagai tuan rumah tetapi sekarang akan kehilangan tempat itu dari tuan rumah baru setelah dipilih.

Itu akan menjadi turnamen sepak bola besar pertama yang diselenggarakan oleh Indonesia.

Pembatalan juga disinyair terjadi setelah Tragedi Kanjuruhan pada Oktober 2022 yang menewaskan 135 orang di Malang, Jawa Timur, salah satu bencana terburuk dalam sejarah olahraga Indonesia.

"FIFA ingin menggarisbawahi bahwa terlepas dari keputusan ini, tetap berkomitmen untuk aktif membantu PSSI, bekerja sama erat dan dengan dukungan pemerintah, dalam proses transformasi sepak bola Indonesia pasca tragedi yang terjadi pada Oktober 2022.

Israel lolos ke turnamen tersebut untuk pertama kalinya menyusul perjalanan mereka ke final Kejuaraan U-19 Eropa tahun lalu, di mana mereka menjadi runner-up di bawah Inggris.
FIFA announced on Wednesday it had removed Indonesia as hosts of this year´s under-20 World Cup amid political turmoil over Israel´s participation.

The decision was made "due to the current circumstances", FIFA said in a statement without specifying details.

"A new host will be announced as soon as possible, with the dates of the tournament currently remaining unchanged," it added.

The draw for 24-team tournament beginning on May 20 was due to be held on Friday in Bali, but FIFA cancelled the event last week without offering a reason or setting a new date.

Indonesia and Israel do not have formal diplomatic relations, and support for the Palestinian cause in the world´s most populous Muslim-majority nation runs high, fuelling local opposition to hosting the Israeli team.

As well as Bali´s governor calling for Israel to be kicked out of the tournament, around a hundred conservative Muslim demonstrators marched in the capital Jakarta this month to protest its participation.

Indonesian officials earlier this week said any failure to host the tournament could result in sanctions that would leave them out of other international football competitions including qualifiers for the World Cup and the Asian Cup.

They said losing the tournament could result in trillions of rupiah (1 trillion rupiah = $66 mn) in economic losses.

- Further sanctions possible -
FIFA added that potential sanctions against the Indonesian football association (PSSI) "may also be decided at a later stage".

"I have tried my best. After delivering a letter from (Indonesia) President Jokowi, and talking at length with the President of FIFA, Gianni Infantino, we must accept FIFA´s decision to cancel the holding of the event that we were both looking forward to," said Erick Thohir, head of the Indonesian FA, after the talks in Doha.

"Indonesia is a member of FIFA, so for international football matters, we must follow the rules that have been set. FIFA considers that the current situation cannot be continued, we must submit," he said.

"We have to be strong. I ask all football lovers to keep their heads held high over this tough decision by FIFA. Because I am of the opinion, because of that, this is the time we have to prove to FIFA to work harder to transform football, towards clean football and achievements."

Indonesia have not played in the tournament since 1979. They had automatically qualified for the tournament as hosts but will now lose that place to the new hosts once selected.

It was set to be the first major football tournament hosted by the Southeast Asian archipelago nation.

The cancellation also comes after a stadium stampede in October last year left 135 people dead in East Java, one of the worst disasters in the sport´s history.

"FIFA would like to underline that despite this decision, it remains committed to actively assisting the PSSI, in close cooperation and with the support of the government, in the transformation process of Indonesian football following the tragedy that occurred in October 2022."

Israel qualified for the tournament for the first time following their run to the final of last year´s European Under-19 Championship, where they finished runners-up to England.