Jet Tempur Inggris Hancurkan Gudang Militer dan Posisi Sniper ISIS di Irak
RAF Typhoon and Tornado Jets Destroy an ISIS Warehouse Packed with Explosives
Editor : Ismail Gani
Translator : Novita Cahyadi

PUBLISHED: Rabu, 26 Juli 2017 , 21:54:00 WIB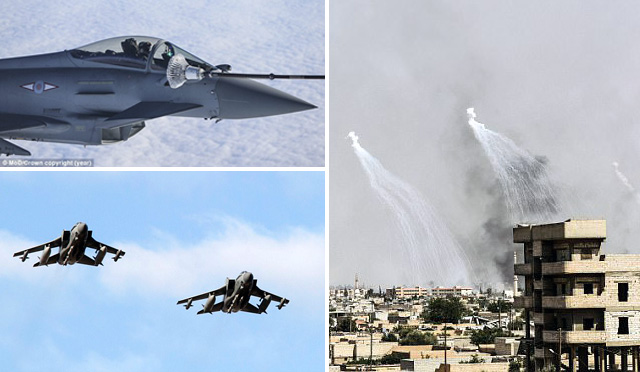 Jet Taifun dan Tornado AU Inggris (RAF) melumpuhkan gudang senjata dan posisi strategis sniper ISIS di Irak utara (Foto2: MailOnline)
SEBUAH gudang penuh bahan peledak buatan sendiri yang akan digunakan dalam serangan teror oleh ISIS di Irak utara telah dihancurkan dalam operasi militer Angkatan Udara Inggris (RAF).

Dalam sepekan terakhir, pilot-pilot RAF juga menewaskan puluhan jihadis ISIS di Irak dan Suriah, dengan melumpuhkan para penembak jitu dan posisi teroris yang berupaya menyerang Raqqa, ibukota 'khilafah' ISIS.

Gudang militer tersebut dilumpuhkan setelah para petugas intelijen mengidentifikasi pabrik bom tersebut di dekat Hawjah di provinsi Kirkuk, Irak, Rabu lalu.

RAF mengatakan bahwa 'sejumlah besar' bahan peledak disimpan oleh kelompok jihad, yang awal bulan ini kehilangan kendali atas kota Mosul Irak, yang dikuasai ISIS sejak 2014.

Pernyataan resmi Kementerian Pertahanan Inggris mengatakan "pesawat jet tempur Tornado RAF menyerang gedung tersebut dengan dua bom yang dipandu Paveway IV, dan menghancurkannya pada Rabu pekan lalu, 19 Juli.

Hari berikutnya jet tempur Taifun mengebom sebuah pos ISIS di Raqqa, ketika para ekstremis menembaki sebuah bangunan, dan sebuah kapal dan kendaraan transportasi dihancurkan di sebuah pulau di Tygris.

Keberhasilan lainnya termasuk pemboman terhadap lokasi pengikut fanatik ISIS yang digunakan pos pengamatan dan lokasi sniper di Raqqa pada Jumat, sementara armada jet tempur Tornado dan Taifun menghancurkan artileri anti serangan udara dan sebuah truk yang mengangkut senjata anti tank.

Dan pada Sabtu sebuah kendaraan rekayasa yang digunakan oleh teroris dibom oleh misi tempur Tornado.

Pasukan pemerintah Suriah dan sekutunya telah merebut wilayah dari ISIS di pedesaan di sebelah tenggara markas pertahanannya di Raqqa setelah serangan udara di wilayah tersebut, unit media militer pro Suriah dan pemantau perang melaporkan pekan ini.

Invasi militer menuju batas provinsi antara Raqqa dan Deir al-Zor terjadi Sabtu malam, unit media, yang dikelola oleh sekutu Suriah, Hizbullah di Lebanon, kata Observatorium HAM untuk Suriah yang berbasis di Inggris.

Militer menyita ladang minyak di daerah Sabkha sebagai bagian dari kemajuan serangan militer.

Hal itu adalah kemajuan penting bagi pasukan Suriah di daerah itu, yang dekat dengan wilayah yang dikuasai oleh Pasukan Demokratik Suriah yang didukung AS (SDF), sebuah aliansi yang didominasi Kurdi yang secara terpisah memerangi ISIS. Ini juga mendukung pasukan pemerintah lebih dekat ke provinsi Deir al-Zor, kubu pertahanan ISIS lainnya seperti dilansir MailOnline.
A WAREHOUSE full of homemade explosives set to be used in terrror attacks by ISIS in northern Iraq has been destroyed in an RAF operation.

In the past week, British air force pilots have also wiped out dozens of jihadists in Iraq and Syria, with sniper posts and terrorist positions targeted in strikes in Raqqa, the capital of ISIS's 'caliphate'.

The warehouse was struck after intelligence officers identified the bomb factory near Hawijah in the Kirkuk province of Iraq last Wednesday.

The RAF has said that 'large quantities' of explosives were being stored by the jihadist group, which earlier this month lost control of the Iraqi city of Mosul, which it had controlled since 2014.

A Ministry of Defence statement said: 'A flight of RAF Tornados attacked the building with two Paveway IV guided bombs, and demolished it on Wednesday 19 July.'

The following day Typhoons bombed an ISIS post in Raqqa, when extremists were firing from a building, and a boat and vehicle transport were destroyed on a Tygris island.

Other successes include the bombing of a grain silo used by ISIS fanatics as an observation and sniper post in Raqqa on Friday, while a fleet of Tornados and Typhoons destroyed an anti-aircraft machine gun and a truck carrying an anti-tank gun.

And on Saturday an engineering vehicle used by terrorist was bombed by a Tornado mission.

Syrian government forces and their allies have recaptured territory from Islamic State in countryside southeast of its stronghold Raqqa after air strikes in the area, a pro-Damascus military media unit and war monitors reported this week.

The advances towards the provincial boundary between Raqqa and Deir al-Zor took place late on Saturday, the media unit, run by Damascus ally Lebanese Hezbollah, and the British-based Syrian Observatory for Human Rights said.

The army seized an oil field in the Sabkha area as part of the advance.

It was a rare advance for Damascus's forces in that area, which is close to territory controlled by the U.S.-backed Syrian Democratic Forces (SDF), a Kurdish-dominated alliance separately fighting Islamic State. It also brings government forces closer to Deir al-Zor province, another Islamic State stronghold.