1.000 Ton Beras, Bantuan Kemanusiaan untuk Suriah Bertolak ke Turki
Indonesia Delivered 1,000 Tons of Rice to Syrian Refugees in Turkey
Reporter : Gusmiati Waris
Editor : Cahyani Harzi
Translator : Dhelia Gani

PUBLISHED: Minggu, 22 April 2018 , 00:33:00 WIB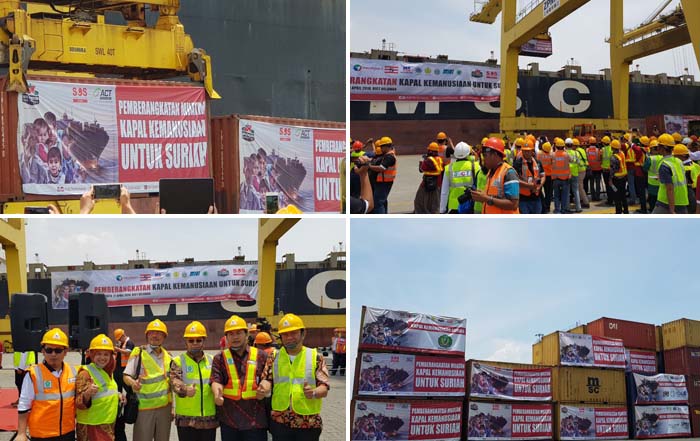 Staf Ahli Menteri Pertanian RI Mat Syukur didampingi Karo Humas dan IP Kementan, Kuntoro Boga Andri melepas kapal kemanusiaan menuju Suriah (Foto2: Humas Kementan)
Jakarta (B2B) - Indonesia mengirimkan 1.000 ton beras dikemas dalam 40 kontainer untuk pengungsi Suriah, yang bertolak dari Pelabuhan Belawan - Medan menuju Pelabuhan Iskanderun, Turki dan dilepas oleh Staf Ahli Menteri Pertanian RI, Mat Syukur mewakili Andi Amran Sulaiman pada Sabtu pagi (21/4).

"Bantuan seribu ton beras untuk pengungsi Suriah menunjukkan semangat gotong royong dan kepedulian Indonesia, sekaligus bukti bahwa beras Indonesia telah diterima oleh bangsa-bangsa lain, dan mensejahterakan petani Indonesia," kata Mat Syukur didampingi Kepala Biro Humas dan Informasi Publik Kementan, Kuntoro Boga Andri.

Senior Vice President ACT, N Imam Akbari mengapresiasi bantuan beras hasil produksi petani Aceh dari panen raya awal Maret 2018.

Kapal beras ke Suriah merupakan kapal kemanusiaan kelima yang dikirimkan ACT, sebelumnya mengangkut beras untuk rakyat Somalia, warga Rohingya di Bangladesh, Palestina, dan warga Asmat di Papua Barat.
Jakarta (B2B) - Indonesia delivered 1,000 tons of rice packed in 40 containers for Syrian refugees, departing from Medan´s Belawan Port to Iskanderun Harbor in Turkey, and released by expert staff of agriculture minister, Mat Syukur represents Minister Andi Amran Sulaiman here on Saturday morning (April 21).

"A thousand tons of rice for Syrian refugees shows the spirit of mutual cooperation and the Indonesian people care, and shows that Indonesian rice is accepted by other nations," said Mr Syukur who was accompanied by ministry spokesman, Kuntoro Boga Andri.

Senior Vice President of ACT, N Imam Akbari appreciated the rice grants from Acehnese farmers from the early rice yield of March 2018.

Rice ship to Syria is the fifth humanitarian ship that ACT delivered, previously to the Somalia people, Rohingyas in Bangladesh, Palestine and Asmat in West Papua.