Untung Rp19 T Setahun, Kementan `Blacklist` Enam Importir Bawang Putih
Indonesian Govt Revokes the Licenses of Six Garlic Importers
Editor : M. Achsan Atjo
Translator : Dhelia Gani

PUBLISHED: Sabtu, 02 Juni 2018 , 00:39:00 WIB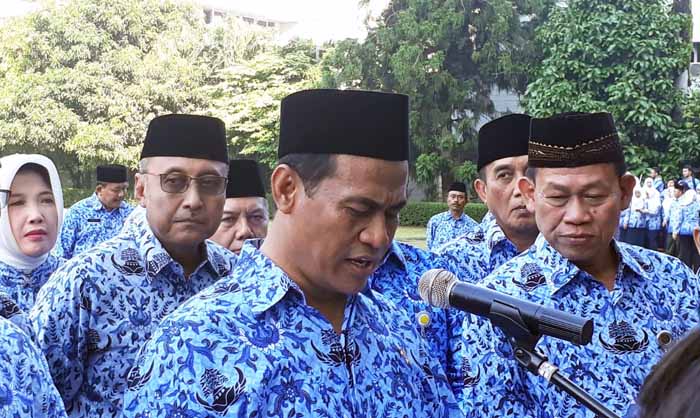 Mentan Andi Amran Sulaiman membacakan daftar importir yang di-blacklist, didampingi Kepala BPPSDMP Momon Rusmono (kanan) Dirjen PSP Pending Dadih Permanan (ke-2 kiri) dan Kepala Barantan Banun Harpini (Foto: B2B/Mac)
Jakarta (B2B) - Kementerian Pertanian RI berupaya keras membenahi tata niaga bawang putih setelah ditemukan anomali, yang merugikan konsumen dan petani hingga Rp19 triliun akibat disparitas harga hingga Rp50 ribu per kg bawang putih. Hasil pantauan penyidik PNS Kementan di China mendapati harga modal bawang putih Rp5.600 per kg, dijual hingga Rp10 ribu per kg mestinya importir sudah untung, namun harga pasaran pernah mencapai Rp50 ribu per kg.
Menyikapi hal itu, Menteri Pertanian Andi Amran Sulaiman mencabut dan memasukkan dalam daftar hitam (blacklist) enam perusahaan yang terindikasi menyalahgunakan izin importasi pangan. Keenam importir adalah PT PTI, PT TSR, PT CGM, PT FMT dan PT ASJ yang kini menjalani proses penyidikan di Badan Reserse dan Kriminal di Markas Besar Polri (Bareskrim Mabes Polri) atas dugaan menyalahgunakan izin impor bawang putih.
"Marjin keuntungan importir sangat tinggi. Aroma busuk mafia sudah tercium sejak awal, terlihat dari tingginya marjin pelaku usaha. Dalam setahun bisa menangguk untung Rp19 triliun. Keuntungan fantastik yang dinikmati segelintir orang tapi menyengsarakan jutaan rakyat," kata Mentan Amran Sulaiman usai memimpin upacara Hari Lahir Pancasila di kantornya, Jumat (1/6).
Dia menambahkan, bagi importir nakal yang pemiliknya telah ditetapkan sebagai tersangka oleh Polri tersebut, maka Kementan langsung bersikap tegas dengan menerapkan blacklist. "Perusahaan dan kroninya kami tutup. Tidak boleh bisnis di sektor pangan."
Menurut Mentan, indikasi kecurangan juga terjadi pada pelaksanaan wajib tanam, yang terkonfirmasi dari laporan staf di Kementan, untuk disuap agar importir nakal lolos tidak melakukan wajib tanam bawang putih. Uang gratifikasi dari importir yang menyogok staf Kementan langsung dilaporkan dan dikembalikan kepada Komisi Pemberantasan Korupsi (KPK).
"Membangun pertanian tidak hanya menata aspek teknis dan produksi saja, melainkan juga membenahi tata kelolanya. Sesuai arahan Presiden Joko Widodo, Kementan membenahi secara komprehensif termasuk proses bisnis dan revolusi mental. Nilai tambah pada hilirisasi dan tata niaga harus diraih untuk kesejahteraan petani," kata Mentan yang didampingi Kepala Badan Penyuluhan dan Pengembangan SDM Pertanian (BPPSDMP) Momon Rusmono.
Tampak hadir pula Dirjen Prasarana dan Sarana Pertanian (PSP) Pending Dadih Permana, dan Kepala Badan Karantina Pertanian (Barantan) Banun Harpini.
"Bertepatan dengan hari lahir Pancasila 1 Juni, saya serukan perangi mafia pangan. Tutup perusahaan nakal, dan buka lebar-lebar bagi perusahaan dan investor yang profesional dan berintegritas," kata Mentan.
Jakarta (B2B) - Indonesian Agriculture Ministry seeks to fix the garlic trading system after being found anomalous, so that consumers and farmers lose 19 trillion rupiah due to price disparity up to 50 thousand rupiah per kg. Prices in China 5,600 rupiah per kg, and sold Rp10 thousand per kg in Indonesia should be the importer is profitable, but the market price has reached 50 thousand rupiah per kg, according to the minister.
In response, the Agriculture Minister Andi Amran Sulaiman revoked the permission of six companies indicated to abuse food import permit in blacklist. The six importers are PT PTI, PT TSR, PT CGM, PT FMT and PT ASJ who are currently undergoing investigation at the Criminal Investigation Division of National Police headquarters or Mabes Polri on suspicion of abusing the garlic import permit.
"The profit margin of importers is very high. Mafia practice is already known, as seen from the high margin of importers. In a year profit of 19 trillion rupiah. Fantastic profits obtained a number of importers but misery to millions of people," said Minister Sulaiman here on Friday (June 1).
He said, for the fraudulent importers who have been designated as suspects by the Police, the ministry apply blacklist. "The company and our cronies are closed, No business in the food sector."
According to Mr Sulaiman, the indication of fraud also occurs on the provisions of importers obliged to plant garlic, from the confirmation of ministry staff, to be bribed so that importers do not obligate to plant garlic. Gratuity money from importers who bribe ministry staff directly reported and returned to the Indonesian Antigraft Commission or KPK.
"Developing agriculture is not only managing the technical and production aspects, but also improving its governance. As per the direction of President Joko Widodo, the ministry to improve comprehensively, including business processes and mental revolution," he said who was accompanied by Director General of Agricultural Extension and Agricultural Human Resources or the BPPSDMP, Momon Rusmono.
Also attended Director General of Infrastructure and Agricultural Facility, Pending Dadih Permana, and and Director General of Indonesian Agricultural Quarantine Agency Banun Harpini.
"I call on against the food mafia," Minister Sulaiman said.