Ekspor Jagung NTB ke Filipina, Kepala BKP Kementan Apresiasi Komitmen Petani
NTB Managed to Increase Corn Production to become an Exporter
Reporter : Gusmiati Waris
Editor : Cahyani Harzi
Translator : Dhelia Gani

PUBLISHED: Rabu, 21 Maret 2018 , 01:03:00 WIB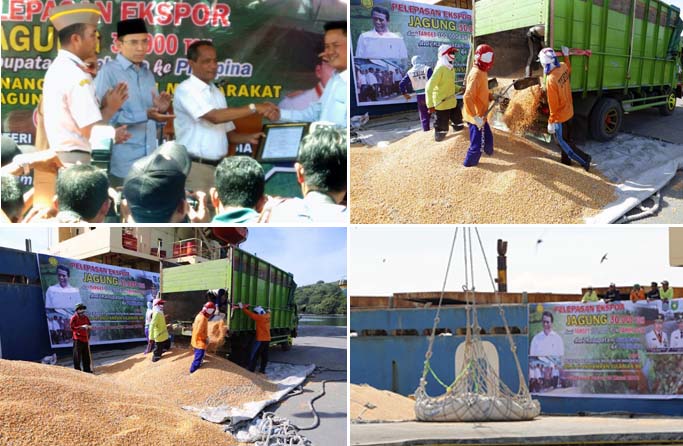 EKSPOR JAGUNG NTB: Kepala BKP Kementan Agung Hendriadi didampingi Gubernur NTB TGH Zainul Majdi mengapresiasi eksportir yang mendukung ekspor jagung dari Pelabuhan Badas, Sumbawa (Foto2: Humas BKP Kementan)
Sumbawa, NTB (B2B) - Sekitar 11.500 ton jagung bertolak dari Pelabuhan Badas di Sumbawa Besar, Nusa Tenggara Barat (NTB) menuju Filipina, Selasa (20/3), yang menandai kegiatan ekspor ketiga dari target 100.000 ton. Kegiatan serupa dilakukan di Gorontalo sebanyak 57.650 ton pada pertengahan Februari (14/2), dan 60.000 ton dari Pelabuhan Makassar, Sulawesi Selatan awal Maret (9/3).

Pelepasan 11.500 ton jagung disaksikan oleh Kepala Badan Ketahanan Pangan (BKP) Kementerian Pertanian RI, Agung Hendriadi didampingi Gubernur NTB TGH Zainul Majdi di Sumbawa Besar sekaligus pencanangan inovasi bidang dan gerakan masyarakat jagung integrasi sapi (Gemajipi).

Agung Hendriadi mengapresiasi kinerja dan komitmen petani di NTB mendukung peningkatan produksi untuk mencapai swasembada jagung, sehingga dapat mengubah mindset Indonesia dari negara pengimpor menjadi eksportir jagung.

"Peluang ekspor inilah yang harus kita ambil agar petani sebagai produsen jagung mendapat keuntungan dari usahatani," katanya.

Gubernur Zainul Majdi menambahkan ekspor jagung merupakan bentuk apresiasi pemerintah kepada petani dan pihak-pihak terkait lainnya yang telah bekerja keras.

"Dengan ekspor ini, diharapkan kesejahteraan petani meningkat sehingga bergairah dalam berusahatani. Jangan sampai produksi berlimpah tetapi harganya merugikan. Dengan ekspor ini, jelas akan menguntungkan dan mengairahkan petani," kata Gubernur NTB.

Tampak hadir perwakilan dari Kemenko Perekonomian, Pangdam IX/Udayana, Mayjen TNI Benny Susianto, Wakil Kapolda NTB Kombes Tajuddin MH, dan Bupati Sumbawa Husni Djibril.

Target Ekspor
Petani Indonesia berhasil membalik keadaan, dari importir menjadi eksportir jagung, hal itu memancing haru sekaligus bangga Menteri Pertanian RI Andi Amran Sulaiman saat melepas 57.650 ton, dari target 100.000 ton jagung dari Gorontalo ke Filipina.

"Alhamdulillah, kita bisa ekspor jagung. Kita putar keadaan dari importir jadi eksportir, padahal 2015 lalu kita masih impor 3,6 juta ton," kata Mentan Amran Sulaiman di Gorontalo, Rabu pagi (14/2).

Ekspor jagung Gorontalo sesuai instruksi Presiden RI Joko Widodo bahwa pemerintah harus mampu mengangkat kesejahteraan masyarakat, dengan mendorong ekspor dan investasi," kata Mentan.

Gubernur Gorontalo Rusli Habibie mengatakan total nilai produksi jagung 2017 dibanding 2016 dapat meningkatkan pendapatan petani jagung hingga Rp 4 triliun.

Sebelum melepas ekspor, Mentan panen jagung di lahan 100 hektar dengan provitas 7,2 ton per hektar, didampingi Ketua Komisi Pengawasan Persaingan Usaha (KPPU) Syarkawi Rauf dan Wakil Ketua Komisi IV DPR RI Roem Kono.
Sumbawa of West Nusa Tenggara (B2B) - Indonesia exports 11,500 tons of Sumbawa maize to the Philippines from Badas Port in Sumbawa Besar, West Nusa Tenggara or NTB which marks the third export maize Indonesia of the target of 100,000 tons. Previously, Indonesia exported 57,540 tons of Gorontalo maize in mid-February, and 60,000 tons from Makassar Port, South Sulawesi early March.

11.500 tons export of maize witnessed by Director General of Food Security Agency at Indonesian Agriculture Ministry, Agung Hendriadi accompanied by NTB Governor TGH Zainul Majdi in Sumbawa Besar.

Mr. Hendriadi appreciated commitment of Sumbawa farmers to support achievement of corn self-sufficiency, so that Indonesia can change the mindset of the importing country into an exporter of maize.

"The export opportunity must be seized so that farmers as corn producers benefit from farming," he said.

Governor Majdi said that corn export is a form of government appreciation to farmers and other related parties who have worked hard.

"Corn exports are expected to improve the welfare of farmers, not to abundant production but low prices," he said.

There were representatives from the coordinating ministry for economic affairs, Commanders of Udayana´s Military Regional Command, Maj. Gen. Benny Susianto; Deputy Chief of the NTB´s Regional Police, Commissioner Tajuddin MH and Sumbawa Regent Husni Djibril.

Export Target
Indonesia farmers everses the situation, importers become corn exporters, it made Agriculture Minister Andi Amran Sulaiman touched and proud as witnessed the export of 57,650 tons of Gorontalo corn to the Philippines, targeting 100,000 tons.

"Thank God, we can export corn. We turn the situation of importers into exporters, whereas in 2015 we still import 3.6 million tons," said Minister Sulaiman here on Wednesday morning (February 13).

"The corn exports are instruction of President Joko Widodo that the government is required improve the welfare of people by exports and investment," Mr Sulaiman said.

Gorontalo Governor Rusli Habibie said total corn production of 2017 compared to 2016 thereby increasing the income of corn farmers up to 4 trillion rupiah.

Prior to the exports, Minister Sulaiman harvested 100 hectares of maize, productivity of 7.2 tons per hectare, accompanied by Chairman of the Supervisory Commission on Business Competition Syarkawi Rauf and member of parliament Roem Kono.