Soppeng Diminta Kelola Lahan Tidur, Kementan dan PUPR Pasok Alsintan dan Bangun Irigasi
Indonesian Govt Uses Abandoned Land for New Paddy Fields
Reporter : Gusmiati Waris
Editor : Cahyani Harzi
Translator : Dhelia Gani

PUBLISHED: Sabtu, 18 November 2017 , 02:24:00 WIB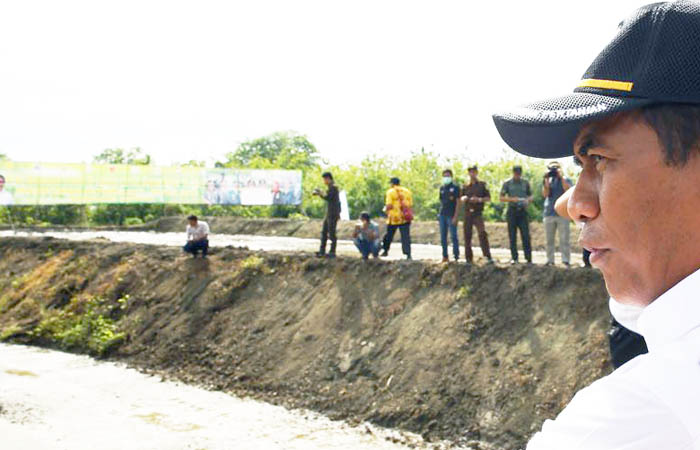 Mentan Andi Amran Sulaiman di Kabupaten Soppeng, Sulsel (Foto: Humas Kementan)
Jakarta (B2B) - Pemerintah RI mendorong Kabupaten Soppeng di Provinsi Sulawesi Selatan mengembangkan sawah baru dengan memanfaatkan lahan tidur, khususnya lahan kering, yang akan didukung oleh Kementerian Pekerjaan Umum dan Perumahan Rakyat (PUPR) membangun sarana irigasi, sementara Kementerian Pertanian (Kementan) akan memasok kebutuhan alat mesin pertanian (Alsintan).

"Kita ingin manfaatkan lahan tidur. Bangun sumber daya alam yang masih terbengkalai, di Soppeng masih banyak lahan tidur yang merupakan lahan kering, dan hal itu bisa diatasi dengan membangun irigasi," kata Mentan Andi Amran Sulaiman saat kunjungan kerja di Kabupaten Soppeng pada Jumat (17/11) bersama Menteri Desa, Pembangunan Daerah Tertinggal dan Transmigrasi, Eko PS.

Ketika mendapati lahan persawahan yang dipenuhi semak belukar, Mentan menargetkan untuk mengubahnya menjadi sawah baru dalam waktu dua bulan, langkah pertama dengan menyediakan eskavator gratis dari Kementan plus 10 unit traktor tangan, mesin tanam transplanter, kemudian combine harvester setelah padi siap dipanen.

Mentan mengharapkan dukungan Kementerian Desa PDTT dan PUPR bersinergi dengan Kementan mengangkat perekonomian Soppeng dengan membangun embung dan pompanisasi.
Jakarta (B2B) - The Indonesian government is encouraging Soppeng district in South Sulawesi province to develop new paddy fields on abandoned land, especially on dry land, which is supported by the public works ministry to develop irrigation, while the agriculture ministry will supply agricultural machinery, according to the minister.

"The government wants to utilize abandoned land, to develop natural resources to be useful for agriculture, because in Soppeng a lot of dry land, and can be overcome by building irrigation," said Agriculture Minister Andi Amran Sulaiman on the working visit in Soppeng district on Friday (November 17) with Village and Transmigration Minister, Eko Putro Sanjoyo.

When he found farmland filled with bushes, he attempted to transform into a new rice field within two months. First step, provide free escavator from ministry plus 10 units of hand tractor, transplanter machine, and combine harvester for rice harvest.

Minister Sulaiman expects both ministries to synergize with the ministry of agriculture to build Soppeng economy by building irrigation infrastructure.