Izin Benih Dijual Konsumsi: Importir Bawang Putih Diancam Bui 2 Tahun, Denda Rp2 Miliar
Indonesian Govt will Crack Down on Illegal Importers of Agricultural Commodities
Reporter : Gusmiati Waris
Editor : Cahyani Harzi
Translator : Dhelia Gani

PUBLISHED: Selasa, 13 Maret 2018 , 03:26:00 WIB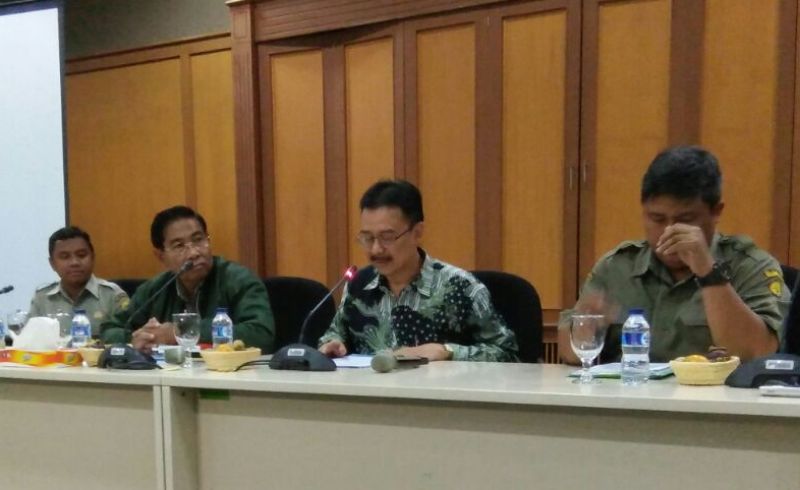 Kiri ke kanan: Kasubbag Humas Barantan, Arief Cahyono; Direktur Perbenihan Hortikultura, Sukarman; Dirjen Hortikultura Kementan, Syukur Iwantoro; dan Direktur Budidaya Tanaman Sayur dan Tanaman Obat, Prihasto Setyanto (Foto: B2B/Gusmiati Waris)
Jakarta (B2B) - Sanksi pidana penjara dua tahun dan denda Rp2 miliar bagi importir bawang putih apabila terbukti menyalahgunakan ijin impor benih bawang putih dari Kementerian Pertanian RI untuk penanaman atau pengembangan bawang putih, namun disalahgunakan sebagai bawang konsumsi dan dijual bebas kepada konsumen, dan akan memecat pejabat atau PNS yang terlibat kegiatan ilegal tersebut.

Hal itu dikemukakan oleh Pelaksana Tugas (Plt) Dirjen Hortikultura, Syukur Iwantoro didampingi Direktur Budidaya Tanaman Sayur dan Tanaman Obat, Prihasto Setyanto; Direktur Perbenihan Hortikultura, Sukarman dan Kasubbag Humas Badan Karantina Pertanian, Arief Cahyono kepada pers di Jakarta, Senin malam (12/3).

"Kementan akan bertindak tegas apabila terbukti ada pelanggaran dari hasil pemeriksaan penyidik, sanksinya pidana penjara dua tahun berikut denda Rp2 miliar, perusahaan importir beserta kelompok usahanya akan kami blacklist. Sementara pejabat atau PNS di Kementan yang terlibat akan dipecat," kata Syukur Iwantoro kepada pers.

Mengacu pada UU Hortikultura No 13/2010 Pasal 63 juncto Peraturan Menteri Pertanian (Permentan) tentang Pemasukan dan Pengeluaran Benih Hortikultura No 15/2017 mengatur tentang ijin impor dan ekspor dikeluarkan oleh Kementan, sementara untuk produk pertanian seperti bawang putih untuk konsumsi maka ijin impor dan ekspornya dari Kementerian Perdagangan.

Menurut Syukur Iwantoro, tindakan tegas dari Kementan terkait hasil sitaan Kemendag terhadap lima ton benih bawang putih tanam yang dijual untuk bawang konsumsi di Pasar Kramat Jati.

"Apabila izin impor benih bawang putih disalahgunakan, sesuai Pasal 126 UU nomor 13 tahun 2010 importir dapat dikenakan sanksi pidana paling lama 2 tahun atau denda paling banyak Rp 2 miliar," kata Prihasto Setyanto.

Sukarman menambahkan, sebelum memberikan izin impor benih bawang putih, Kementan mempersyaratkan adanya surat pernyataan bermaterai bahwa benih yang diimpor hanya dipakai untuk penanaman atau pengembangan bawang putih dan tidak diperjualbelikan sebagai bawang konsumsi.

Karantina Pertanian
Importasi benih perlu diatur karena sebagai benih berpotensi menularkan hama dan penyakit tumbuhan sehingga perlu dilakukan pemeriksaan secara ketat oleh Badan Karantina Pertanian (Barantan).

"Benih masuk melalui Pelabuhan Tanjung Priok di Jakarta, setelah dilakukan pemeriksaan dokumen impor benih sudah dipenuhi, selanjutnya Barantan melakukan proses lebih lanjut yaitu melakukan pemeriksaan dan tindakan teknis perkarantinaan terhadap benih tersebut," kata Arief Cahyono di tempat yang sama.

Selama pemeriksaan, benih disimpan di instalasi karantina tumbuhan (IKT) atau gudang pemilik yang sudah ditetapkan sebagai instalasi karantina tumbuhan sesuai peraturan perundangan tentang perkarantinaan.

"Dari hasil pemeriksaan, ditemukan nematoda atau sejenis cacing, karena itu Barantan akan melakukan tindakan perkarantinaan lebih lanjut dengan melakukan fumigasi. Namun pada saat petugas akan melakukan tindakan perkarantinaan ternyata benih bawang putih sudah tidak ditemukan sehingga dilakukan pengecekan," kata Arief.

Syukur Iwantoro menambahkan, untuk proses penegakan hukumnya diserahkan kepada pihak yang berwenang.
Jakarta (B2B) - Importers of garlic seeds are threatened with two years imprisonment and 2 billion rupiah fine if proven to misuse import permits from the Indonesian Ministry of Agriculture, which is supposed to be garlic planted but sold as consumption garlic and sold to consumers and will dismiss civil servants who proved involved in such illegal activities, according to senior officials

It was stated by the Acting Director General of Horticulture of Agriculture Ministry, Syukur Iwantoro was accompanied by the Director of Horticulture Cultivation, Prihasto Setyanto; Director of Seed Horticulture, Sukarman; and Public Relations Senior Officer of Indonesia Agriculture Quarantine Agency (IAQA) Arief Cahyono told the press here on Monday night (March 12).

"The agriculture ministry will act decisively if it is found unlawful, the sanction of two years imprisonment and a fine of 2 billion rupiah, the importer company and its business group will be blacklisted. While the officials or civil servants involved will be fired," Mr Iwantoro said.

Referred to the Horticulture Law Number 13/2010 Article 63 conjunction with the Ministerial Decree Number 15/2017 regulating the import and export permits issued by the agriculture ministry, while for agricultural products such as garlic for consumption, import and export licenses from the trade ministry.

According to Mr Iwantoro, decisive action of agriculture ministry related to the trade ministry confiscated five tons of garlic seed planting onions sold for consumption in Jakarta´s Kramat Jati Central Market.

"If the import license of garlic seed is misused, according to the law, the importer will be punished with imprisonment of two years or fine 2 billion rupiah," Prihasto Setyanto said.

Sukarman added that before the garlic seed import permit was issued, the agriculture ministry required stamped notes that the imported seeds were only for the cultivation of garlic and not sold as garlic consumption.

Agricultural Quarantine
Seed imports need to be regulated because as seeds have the potential to carry pests and plant diseases, so it must undergo a rigorous examination by the agricultural quarantine agency.

"Garlic seeds into Indonesia through the Jakarta´s Tanjung Priok Port, after inspection of documents imported seeds have been met, the IAQA continues the process of examination and technical action of quarantine," said Arief Cahyono.

During the inspection, the seeds are stored in plant quarantine plants, or exporter´s warehouses that have been designated as plant quarantine installations in accordance with the law of quarantine.

"After the examination, found nematodes or a kind of worm, therefore IAQA will perform further quarantine action by doing fumigation. But when the officer will perform quarantine action, garlic seeds are gone," Mr Cahyono said.

Mr. Iwantoro said, for law enforcement process submitted to the authorities.