`Car Wash` PLBN Skouw, Vital Cegah Penyakit Kelapa Sawit dari PNG Masuki NKRI
The Border Post of Indonesia and Papua New Guinea is Equipped with Car Wash Facility
Reporter : Gusmiati Waris
Editor : Cahyani Harzi
Translator : Dhelia Gani

PUBLISHED: Minggu, 15 April 2018 , 23:37:00 WIB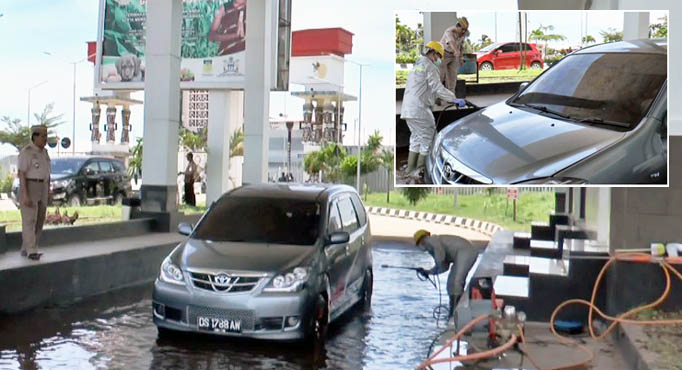 seluruh kendaraan dari PNG yang masuk ke wilayah NKRI melalui PLBN Skouw harus melalui car wash, karena PNG belum bebas dari penyakit lethal yellowing yang sangat berbahaya bagi tanaman kelapa sawit (Foto2: Humas Barantan)
Jakarta (B2B) - Kantor Karantina Pertanian di pos lintas batas negara terpadu - PLBN Skouw di Distrik Muara Tami, Kota Jayapura, pos perbatasan RI dan Papua Nugini (PNG) menjadi satu-satunya ´garda terdepan´ dari Badan Karantina Pertanian Kementerian Pertanian - Barantan di seluruh RI , yang dilengkapi fasilitas cuci mobil (car wash) untuk memastikan kendaraan dari PNG bebas dari hama penyakit lethal yellowing, penyakit berbahaya bagi kelapa sawit.

Kepala Balai Karantina Pertanian Jayapura, LM Mastari mengatakan bahwa seluruh kendaraan dari PNG yang masuk ke wilayah NKRI melalui PLBN Skouw harus melalui car wash, karena PNG belum bebas dari penyakit lethal yellowing yang sangat berbahaya bagi tanaman kelapa sawit (crude palm oil/CPO).

"Selain car wash, pos karantina PLBN Skouw didukung empat bagian utama seperti ruang tunggu, laboratorium, area fumigasi, dan car wash. Fasilitas cuci mobil ini menjadi satu-satunya car wash yang ada di kantor karantina pertanian di seluruh Indonesia," kata Mastari.

Dia pun merujuk pada data ekspor CPO Indonesia sebagai yang tertinggi di dunia, volume ekspor 31,05 juta ton atau senilai US$22,97 miliar, dan Kementan terus mendorong ekspor CPO dan melakukan proteksi dalam upaya mencegah penyakit berisiko bagi CPO khususnya penyakit lethal yellowing.

"Penyakit ini sangat mungkin terbawa melalui benih dan tanah yang terbawa kendaraan yang melintas. Kita tidak ingin ambil risiko. Kelapa sawit kita harus dijaga dari kehancuran. Kita masih menjadi produsen utama CPO dunia. Barantan tidak main-main untuk ini," kata Mastari.

Hal itu pula yang mendorong Barantan melengkapi fasilitas PLBN Skouw dengan car wash untuk membersihkan tanah dan kotoran yang dapat menjadi media pembawa penyakit tumbuhan tidak masuk ke wilayah RI, begitu pula komoditas pinang dan lainnya terus diawasi dan diperiksa kesehatannya oleh petugas karantina pertanian PLBN Skouw.

PLBN Skouw adalah pos perbatasan strategis sebagai jalur lalu lintas manusia dan barang, karena hubungan kekerabatan antarwarga. Apalagi hari pasar pada Selasa dan Kamis menjadi puncak lalu lintas manusia, diperkirakan 1.500 orang bergerak dari PNG untuk belanja di Pasar Skouw, yang dikenal menyediakan barang dengan harga lebih murah bagi mata uang PNG, dan peluang tersebut dimanfaatkan oleh warga setempat untuk berdagang.
Jakarta (B2B) - Indonesia Agricultural Quarantine Office at Skouw integrated cross-border post or PLBN Skouw in Muara Tami district, Jayapura city, the border post of Indonesia and Papua New Guinea or PNG being the only ´front guard´ of the Indonesian Agricultural Quarantine Agency or IAQA across the country that owns the car wash to ensure vehicles from PNG are lethal yellowing pests, a dangerous disease for palm oil.

Head of Jayapura agricultural quarantine office, L Mastari said that all vehicles from PNG entering Indonesia via Skouw must be washed in car wash, because PNG has not been free from lethal yellowing disease which is very dangerous for crude palm oil (CPO).

"In addition to car wash, quarrel quake post PLBN Skouw supported four main parts such as waiting room, laboratory, fumigation area, and car wash. Skouw car wash facility is the only car wash in agricultural quarantine offices across the country," Mastari said.

He also referred to Indonesia´s CPO export data as the highest in the world, export volume of 31.05 million tons or worth US $ 22.97 billion, and the Indonesian government continues to encourage CPO exports and protect against risky diseases for CPO, especially yellowing lethal diseases.

"This disease is very likely carried through the seeds and soil carried by vehicles into the territory of Indonesia. We do not want to take risks. Our palm oil must be guarded from destruction. We are still the world´s major CPO producer. IAQA is very serious about handling this threat," Mastari said.

It also encourages the IAQA to complete the PLBN Skouw facility with car wash to clean the soil and dirt that can be the carrier of plant diseases, as well as the areca nut commodities and other health inspection by agricultural quarantine officer in PLBN Skouw.

The PLBN Skouw is a strategic border post as a traffic lane for people and goods, because of kinship between people. Moreover, the market day on Tuesday and Thursday became the peak of human traffic, an estimated 1,500 people moved from PNG to shopping at Skouw Market, which is known to provide goods at lower prices for the PNG currency, and the opportunity is used by local people to trade.