Tim Upsus Swasembada Jabar Siapkan Dem Area Benih untuk Petani Bogor
Indonesian Govt Support Farmers to Develop Self-sustaining Seeds
Reporter : Gusmiati Waris
Editor : Cahyani Harzi
Translator : Dhelia Gani

PUBLISHED: Senin, 21 Mei 2018 , 02:33:00 WIB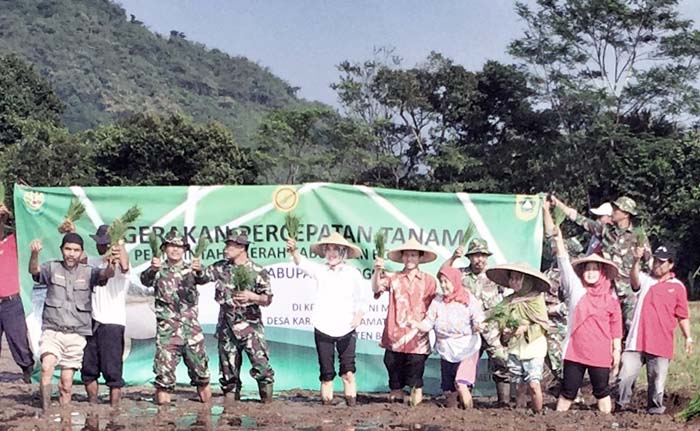 Ketua Tim Upsus Pajale Jabar, Banun Harpini (ke-5 kiri) memimpin gerakan percepatan tanam (Gertam) di Kecamatan Leuwiliang, Kabupaten Bogor (Foto: Humas Barantan)
Bogor, Jawa Barat (B2B) - Ketua Tim Upaya Khusus Swasembada (Upsus) Provinsi Jawa Barat, Banun Harpini memperkenalkan benih varietas unggul tahan hama dan produktivitas tinggi kepada petani Desa Karekhel, untuk menjawab keluhan para petani yang berhasil menangkar benih padi Mekonga dan Ciherang namun kini rentan terhadap organisme pengganggu tumbuhan (OPT), dengan bantuan pendampingan penangkaran benih varietas unggul berupa dem area dari Kementerian Pertanian.
"Saya menilai, penangkaran benih disini sudah sangat baik, dan saya hadir disini bersama Tim Upsus untuk meningkatkan kapasitas agar lebih maju," kata Banun Harpini saat dialog dengan 100 petani di Posko Gerakan Percepatan Tanam Luas Tambah Tanam (Gertam LTT) di Kecamatan Leuwiliang, Kabupaten Bogor, Jumat (18/5).
Satiri, Ketua Poktan Tani Makmur, menyampaikan bahwa desanya menangkar benih Mekonga dan Ciherang. Namun kini sudah mulai tidak tahan terhadap OPT.
Banun mengingatkan tentang varietas unggul hasil teknologi Kementerian Pertanian, Inpari yang tahan terhadap OPT. "Gunakan teknologi yang telah disiapkan oleh Kementerian Pertanian. Jangan lupa cermati ketersediaan air, lakukan olah tanam, tanam dan panen serentak, maka saya yakin kita dapat panen sampai tiga kali setahun," kata Banun yang juga menjabat Kepal Badan Karantina Pertanian (Barantan) Kementan.
Menurutnya, berdasarkan informasi dari Badan Meteorologi, Klimatologi dan Geofisika (BMKG) bahwa musim kering untuk wilayah Jawa Barat masih cukup baik dibanding tahun lalu. "Air masih tersedia, namun kita harus cermat. Untuk itu gerakan tanam serentak ini akan terus saya kawal."
Kepala Dinas Pertanian Kabupaten Bogor, Siti Nuryanti melaporkan bahwa luas baku sawah kabupaten Bogor seluas 46.009 ha. Dengan target luas tanam bulan Mei 9.766 ha dan sudah terealisasi sampai 17 Mei mencapai 5.415 ha, untuk itu sisa lahan 4.351 hektar hingga 31 Mei terus dikejar dengan program Gertam LTT yang dikawal Tim Upsus.
"Pengawalan kebijakan terhadap aturan yang mengatur lahan pembangunan pangan berkelanjutan atau LP2B juga diharapkan, mengingat penurunan lahan baku sawah yang terus tergerus. Kebijakan lahan abadi untuk pertanian perlu terus didorong Kementan, agar pangan terjamin ketersediaannya," kata Siti Nuryanti.
Dengan dukungan dari para pendamping dari dinas terkait dan bintara pembina desa (babinsa) di wilayah Koramil 2116 Leuwiliang dan Kodim 0621 Kabupaten Bogor, selama bulan Ramadan tidak beralih dan tetap bersemangat menanam padi di musim tanaman.
Untuk mengapresiasi kemandirian benih oleh kelompok Tani Maju Makmur ini, Banun berjanji segera merealiisasikan bantuan pendampingan penangkaran benih varietas unggul berupa dem area dari Kementerian Pertanian. Benih hasil teknologi unggul pertanian varietas Inpari 33, 42 dan 43, pupuk dan petugas POPT terlatih segera diterjunkan.
Bogor of West Java (B2B) - The Person in Charge of increased production of strategic food called the PJ Upsus Pajale for West Java province, Banun Harpini introducing superior varieties seeds to the farmers of Karekhel village, to answer the farmers´ complaints after successfully developing the Mekonga and Ciherang rice seedlings but are now vulnerable to plant pest organisms (OPT).
"I consider the breeding of rice seeds here is very good, and I am here with the team to support capacity building," said Mrs. Harpini at a dialogue with farmers in Leuwiliang subdistrict of Bogor district on Friday (May 18).
Satiri, head of the Tani Makmur farmer group complained that his village succeeded in developing Mekonga and Ciherang rice seeds but became vulnerable to plant pest organisms.
Mrs. Harpini reminded of the superior varieties of technological innovation of the ministry of agriculture, Inpari that is resistant to plant pests. "Do not forget to observe the availability of water, planting, planting and harvesting, I am sure we can harvest rice up to three times a year."
According to her, based on information from the Meteorology, Climatology and Geophysics Agency or BMKG that the dry season for the West Java region is still quite good compared to last year. "Water is enough but we must be careful, for that simultaneous planting movement will continue to be monitored."
Head of Bogor district agriculture office, Siti Nuryanti reported that the rice field area of Bogor district reached 46,009 hectares. Of the target planted area in May 9,766 hectares and the realization until May 17 reached 5,415 hectares.
"Support for policies governing sustainable food development or LP2B is also expected. The policy of sustainable agricultural land needs to be encouraged by the government, so that food security is guaranteed," Mrs Nuyanti said.
With the support of related agencies and non-government officers in the sub-districts of Leuwiliang and Kabupaten Bogor, during the month of Ramadan still eager to plant rice.
Mrs Harpini promised immediate realization of superior seed breeding assistance in the dem area of the agriculture ministry.