Asian Games 2018, Mentan Pastikan Kementan Kawal Kesehatan Kuda
Indonesian Minister Monitors the Jakarta Equastrian Park for 2018 Asian Games
Editor : M. Achsan Atjo
Translator : Dhelia Gani

PUBLISHED: Minggu, 15 Juli 2018 , 02:37:00 WIB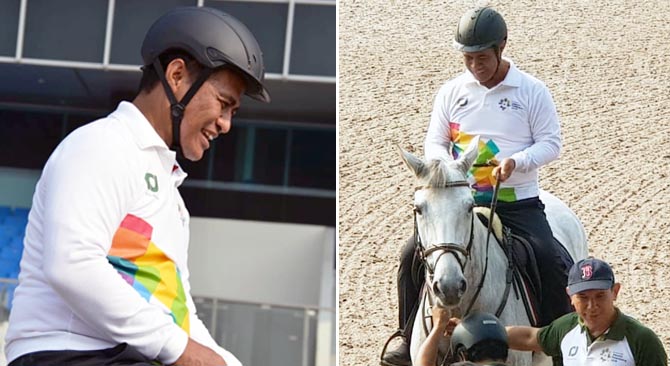 Mentan Andi Amran Sulaiman mencoba salah satu kuda yang akan digunakan atlet berkuda Indonesia pada Asian Games 2018 yang akan dibuka Presiden Joko Widodo pada 18 Agustus di Jakarta (Foto: Humas Kementan)
Jakarta (B2B) - Sekitar 130 ekor kuda akan dibawa oleh atlet berkuda dari 17 negara peserta Asian Games 2018, Kementerian Pertanian RI didukung Ditjen Peternakan dan Kesehatan Hewan (PKH) yang menetapkan Jakarta Equstrian Park (JEP) sebagai ´zona bebas penyakit kuda´ atau Equine Disease Free Zone (EDFZ). Langkah tersebut untuk menyikapi tiga penyakit kuda yang belum ada di Indonesia, dan harus diwaspadai yakni dourine, glanders, dan equine infectious anemia.
Badan Karantina Pertanian (Barantan) menetapkan istal atau stables Arthayasa sebagai ´tempat karantina kuda´ atau Registrered Animal Quarantine Installation (RAQI) bagi kuda non-european approval, seperti India, Cina dan lainnya.
"Sementara untuk kuda asal negara Eropa dan negara di luar Eropa yang telah memiliki pengakuan European Approval dapat langsung menuju area balap kuda milik Pemda DKI yakni Jakarta Equastrian Park di kawasan Pulo Mas, Jakarta Timur," kata Menteri Pertanian RI Andi Amran Sulaiman di Jakarta, Sabtu (14/7) saat meninjau kesiapan Ditjen PKH dan Barantan mendukung persiapan Asian Games 2018 khususnya pada cabang olahraga berkuda.
Menurutnya, persiapan mulai dilakukan sejak awal 2018, dengan meminta persetujuan instalasi dari World Organisation for Animal Health atau OIE di Prancis didukung payung hukum dan SDM khususnya dokter hewan, paramedis dan petugas karantina.
Dalam kunjungan di Jakarta Equestrian Pulo Mas yang merupakan arena berkuda terbesar di Asia Tenggara seluas 40 hektar, sebagai arena balap kuda bertaraf internasional pertama di Indonesia, Mentan meninjau kesiapan dari personel Kementan mendukung Asian Games 2018.
Jakarta (B2B) - At least 130 horses will enter Indonesia from 17 countries participating in the 2018 Asian Games, Indonesian Agriculture Ministry supported by the Directorate General of Livestocks and Animal Health or PKH aet the Jakarta Equstrian Park as the Equine Disease Free Zone or EDFZ. The goal is to anticipate the three horse disease that does not exist in Indonesia, and must be aware such as the dourine, glanders, and equine infectious anemia, according to minister.
The Indonesian Agricultural Quarantine Agency or Barantan set the Arthayasa stables as Registrered Animal Quarantine Installation or RAQI for non-european approval horses from India, China and others.
"While horses from Europe and countries outside Europe who have got the European Approval can go to Jakarta Equastrian Park in Pulo Mas of East Jakarta," said Indonesian Agriculture Minister, Andi Amran Sulaiman here on Saturday (July 14).
According to him, preparations made since early 2018, by requesting approval from the World Organization for Animal Health or OIE in France supported by legal and human resources, especially vets, paramedics and quarantine officers.
During a visit in Jakarta Equestrian Pulo Mas as the largest horse race in Southeast Asia on an area of 40 hectares, Minister Sulaiman review the readiness of his personnel of the ministry supports the 2018 Asian Games.