Barantan Dukung Ekspor, Pisang Mas Tanggamus Tembus China Susul Cavendis
Banana Indonesia Penetrated the Chinese Market
Editor : Ismail Gani
Translator : Novita Cahyadi

PUBLISHED: Jum'at, 27 April 2018 , 01:21:00 WIB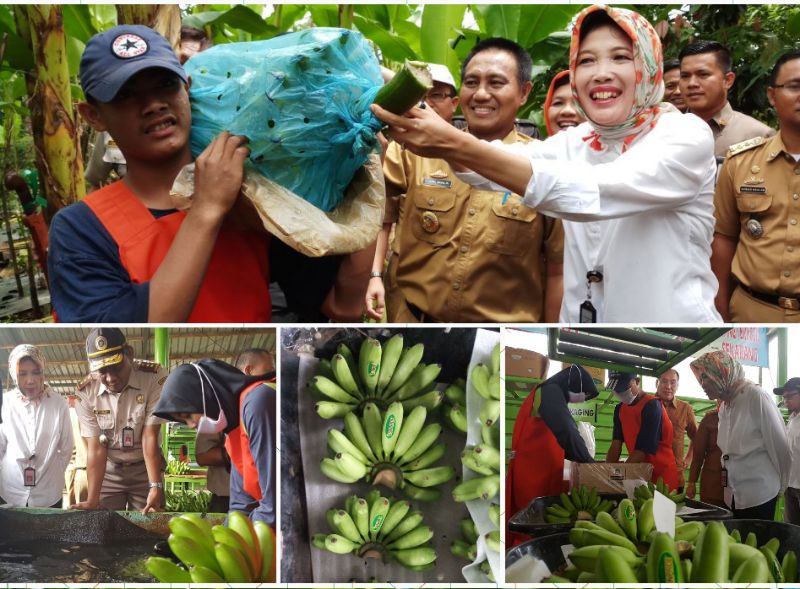 Kepala Barantan Banun Harpini menyatakan apresiasi setinggi-tingginya kepada Ketua Poktan Hijau Makmur, Mudjianto mewakili 275 petani dari Desa Sumbermulyo (Foto2: Humas Barantan)
Jakarta (B2B) - Badan Karantina Pertanian (Barantan) Kementerian Pertanian RI mengapresiasi kerja keras 275 petani Lampung membudidayakan pisang mas Tanggamus menembus pasar China, dengan ekspor perdana 61 ton dari kemitraan dengan PT Great Giant Pineapple (GGP) yang pada 1993 berhasil membuka peluang ekspor perdana pisang cavendish ke mancanegara.

Kepala Barantan Banun Harpini menyatakan apresiasi setinggi-tingginya kepada Ketua Poktan Hijau Makmur, Mudjianto mewakili 275 petani dari Desa Sumbermulyo, Kecamatan Sumber Rejo, Kabupaten Tanggamus, Provinsi Lampung yang sukses membudidayakan pisang mas Tanggamus yang dikelola secara kemitraan dengan GGP seluas 210 hektar.

"Saya menilai bentuk kemitraan ini sangat strategis dalam rangka pemantapan pembangunan hotrikutura di tingkat petani," kata Banun Harpini pada pelepasan ekspor perdana pisang mas Tanggamus di Lampung, belum lama ini.

Banun menambahkan, arahan Mentan Andi Amran Sulaiman tentang peningkatan pendapatan petani dan negara dari ekspor komoditas pertanian maka pihaknya, Barantan akan berperan aktif mendorong akselerasi ekspor melalui diplomasi harmonisasi peraturan perkarantinaan di negara-negara tujuan ekspor.

"Didukung layanan inline inspection, pelayanan sertifikasi jaminan kesehatan tumbuhan atau phytosanitary certificate, dan memfasilitasi sarana kegiatan ekspor produk pertanian," kata Banun.

Menurutnya, untuk komoditas ekspor baru, pisang mas Tanggamus secara teknis mendapat pendampingan agar standar mutu pisang tujuan ekspor dapat memenuhi persyaratan karantina negara tujuan melalui penetapan instalasi karantina tumbuhan yang dikhususkan untuk eskpor komoditas buah pisang segar.

"Keberadaan instalasi karantina tumbuhan memberikan kemudahan serta mendorong percepatan ekspor komoditas pisang dimana kegiatan ekspor dapat langsung dilakukan di kebun atau farm tanpa mengabaikan persyaratan yang diminta oleh negara tujuan," kata Banun.

Ketua Poktan Hijau Makmur, Mudjianto mengatakan luas lahan kemitraan dengan GGP saat ini adalah 210 hektar, akan meningkat menjadi 300 hektar pada 2018, 600 hektar pada 2019 dan 1.000 hektar pada 2020.

Direktur Hubungan Pemerintahan GGP, Welly Sugiono mengatakan peningkatan luasan lahan pisang Tanggamus diharapkan meningkat dari 137 ton pada 2017 ke 20 ribu ton pada 2020. "Saat ini produksinya masih dominan untuk pasar domestik dan terus dialokasikan hingga 75 persen untuk ekspor agar petani mendapat nilai tambah."
Jakarta (B2B) - Indonesian Agricultural Quarantine Agency appreciate 275 Lampung farmers cultivate banana mas Tanggamus to penetrate the Chinese market, with an initial export of 61 tons after partnership with the Great Giant Pineapple company which in 1993 succeeded in opening export opportunities of cavendish bananas to foreign countries.

Director General of IAQA Banun Harpini appreciated Hijau Makmur farmer group chairman, Mudjianto represents 275 farmers from Sumbermulyo village, Sumber Rejo sub-district, Tanggamus district in Lampung province.

"I consider this partnership very strategic to support the development of hotrikutura at the farm level," said Mrs Harpini.

She said the direction of Agriculture Minister Andi Amran Sulaiman on increasing the income of farmers and countries from export of agricultural commodities, Barantan will play an active role in encouraging export acceleration through diplomacy of harmonization of quarantine regulations in export destination countries.

"Supported by inline inspection service, plant health certification services or phytosanitary certificate, and facilitation of agricultural product export facilities," Mrs Harpini said.

According to her, for the new export commodity, banana mas Tanggamus technically gets the assistance so that the export quality standard of banana can meet the quarantine requirements of the destination country through the establishment of plant quarantine installation which is devoted to the export of fresh banana commodity.

"Plant quarantine installations facilitate and encourage the export acceleration of banana commodities where export activities can be directly done in the farm without ignoring the requirements demanded by the destination country," Mrs Harpini said.

Hijau Makmur farmer group chairman, Mudjianto said the of partnership with GGP is currently 210 hectares, will increase to 300 hectares in 2018, 600 hectares in 2019 and 1,000 hectares by 2020.

Director of Government Relations GGP, Welly Sugiono said the Tanggamus banana area increase is expected to increase from 137 tons in 2017 to 20 thousand tons by 2020. "Currently, production is still dominant for the domestic market and continues to be allocated up to 75 percent for export so that farmers get added value."