Sepekan, Tenggat Waktu Barantan Buka Cabang di Tojo Una Una Sulteng
Indonesia`s AQA should Support export of Agricultural Commodities: Minister
Editor : M. Achsan Atjo
Translator : Dhelia Gani

PUBLISHED: Kamis, 26 Juli 2018 , 06:31:00 WIB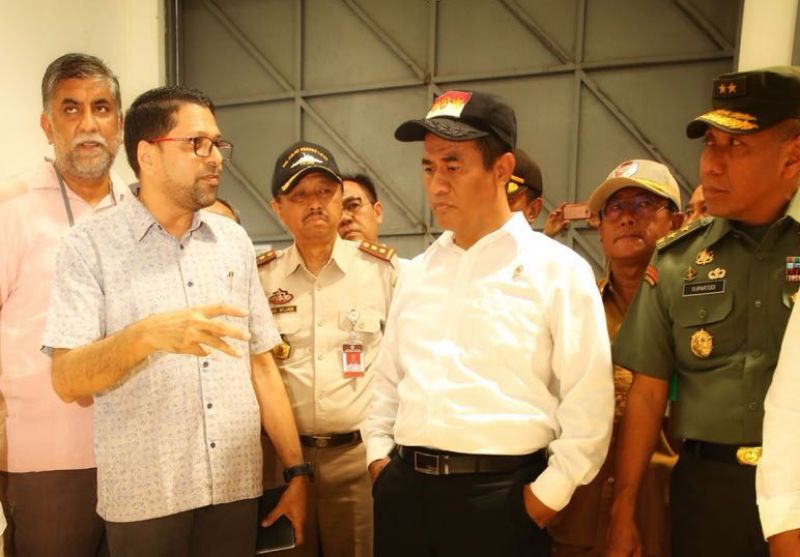 Mentan Andi Amran Sulaiman (bertopi) berbincang dengan eksportir jagung di Tojo Una Una, Sulteng (Foto: Humas Kementan)
Tojo Una Una, Sulteng (B2B) - Badan Karantina Pertanian (Barantan) diberi waktu sepekan oleh Mentan Amran Sulaiman untuk membuka kantor cabang di Kabupaten Tojo Una Una, Provinsi Sulawesi Tengah, untuk mempermudah perizinan ekspor ketimbang harus mengurus perizinan ke Palu, ibukota provinsi, yang jarak tempuhnya delapan jam melalui darat.
"Kami perintahkan Barantan dalam sepekan sudah buka kantor untuk melayani perizinan ekspor, ekspor tak perlu jauh-jauh ke Palu," kata Mentan Amran Sulaiman pada kunjungan di Desa Mantangisi, Kecamatan Ampana Tete, Selasa (24/7).
Instruksi Mentan terkait potensi produksi jagung Tojo Una Una untuk ekspor ke Filipina melalui Pelabuhan Matangisi hingga saat ini mencapai 14.000 ton. Direncanakan Agustus akan ekspor 5.000 ton setelah Juli lalu mengekspor 3.900 ton melalui pelabuhan yang sama.
Mentan menyesalkan tidak sigapnya Barantan mengantisipasi potensi produksi jagung di Tojo Una Una dinilai sangat baik dengan ketersediaan lahan, masyarakatnya juga punya semangat menanam. Keberhasilan beberapa daerah seperti Sumbawa dan Dompu dalam meningkatkan produksi jagung dinilai bisa ditularkan di Tojo Una Una.
"Kita dorong perekonomian daerah berdasarkan keunggulannya. Produksi di sini sudah 55 ribu ton jagung tahun lalu, perlu terus didorong. Iklimnya cocok dan kebiasaan tanam masyarakat juga mendukung," kata Amran Sulaiman.
Tojo Una Una of Central Sulawesi (B2B) - Indonesian Agricultural Quarantine Agency or the Barantan is given one week by Agriculture Minister Amran Sulaiman to open a service office in Tojo Una Una district, Central Sulawesi province, to ease export licensing rather than to Palu, the provincial capital, which is eight hours by road.
"We ordered Barantan within a week to serve the export license, not necessarily to Palu," said Minister Sulaiman here on Tuesday.
The minister´s instruction regarding the potential of Tojo Una Una corn production for export to the Philippines through Matangisi Port to date reaches 14,000 tons. It is planned that August will export 5,000 tons after July exporting 3,900 tons through the same port.
Minister Sulaiman regrets Barantan not immediately anticipate the potential of corn production in Tojo Una Una is considered very good because the land is available and the local people are high-spirited to grow corn.
"We encourage the regional economy of superior agricultural production. The production of maize here has been 55 thousand tons last year, need to be encouraged," he said.