Mentan Ajak Kementerian, Instansi dan BUMN Sajikan Buah Nusantara untuk Tamu
Indonesia`s Agriculture Minister Invites People to Love Local Fruit
Reporter : Gusmiati Waris
Editor : Cahyani Harzi
Translator : Dhelia Gani

PUBLISHED: Senin, 14 Agustus 2017 , 02:06:00 WIB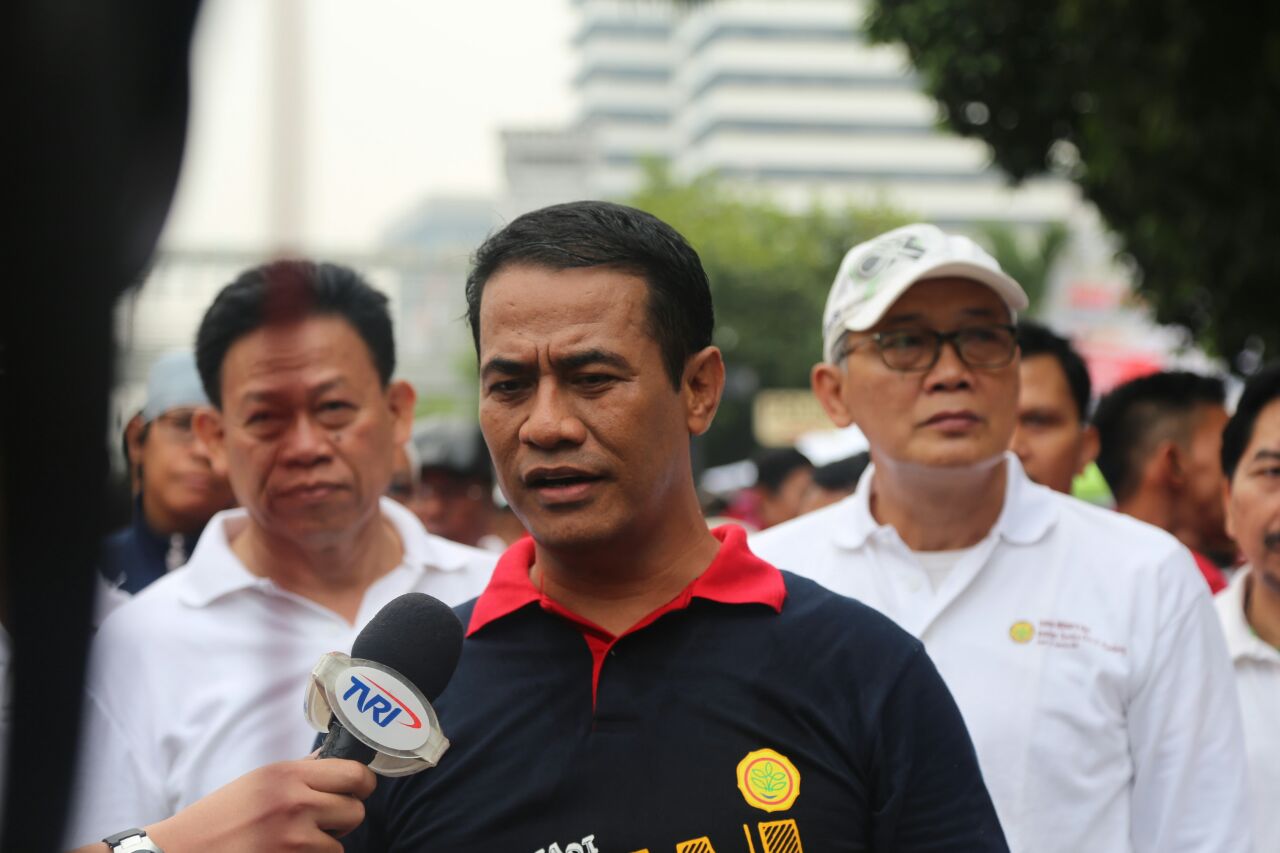 Mentan Andi Amran Sulaiman menjawab pers didampingi Sekjen Kementan Hari Priono (kanan) dan Kepala BPPSDMP Kementan Momon Rusmono (Foto: Humas Kementan)
Jakarta (B2B) - Menteri Pertanian RI Andi Amran Sulaiman mengharapkan kepada kementerian, instansi pemerintah dan badan usaha milik negara (BUMN) untuk menyuguhkan buah-buahan lokal kepada para tamu untuk menanamkan cinta produk dalam negeri, karena hal itu sama dengan mencintai petani Indonesia.

"Saya minta kepada kementerian, instansi pemerintah dan BUMN menyuguhkan buah lokal untuk tamu. Hal itu sama dengan mencintai produksi (buah) kita, sama seperti mencintai merah putih. Mencintai bangsa dan petani. Ayo kita konsumsi buah lokal, mari makan buah nusantara," kata Mentan Amran Sulaiman seraya membagikan buah lokal kepada warga DKI Jakarta yang berada di kawasan Car Free Day di Sarinah Thamrin pada Minggu (13/8).

Ribuan kilogram buah lokal dibagikan Mentan Amran Sulaiman didampingi Sekjen Kementan Hari Priono dan Kepala Badan Penyuluhan dan Pengembangan SDM Pertanian (BPPSDMP). Buah-buahan nusantara yang dibagikan antara lain jeruk, pisang, belimbing, salak, jambu air, buah naga, duku, mangga, jambu kristal, nanas dan lain-lain.

"Kami imbau kepada seluruh masyarakat Indonesia agar mencintai buah lokal, buah produksi kita sendiri. Saat ini, kualitas buah nusantara tidak kalah dengan buah impor. Bahkan petani buah kita sudah mengekspor buah unggulan seperti mangga, nanas dan manggis ke mancanegara," kata Amran Sulaiman.
Jakarta (B2B) - Indonesian Agriculture Minister Andi Amran Sulaiman expects the ministries, government agencies and state-owned enterprises (SOEs) to serve local fruits to their guests to instill love of domestic products, because it is the same as loving Indonesian farmers.

"I ask the ministries, government agencies and state-owned companies to serve local fruits to guests, which is the same as loving our (fruit) production. Loved the nation and farmers. Let´s consumption of local fruits, let´s eat the fruit of the archipelago," Minister Sulaiman said while distribute local fruits local fruits to Jakarta residents on Car Free Day activities on Sunday (August 13).

Thousands of kilograms of local fruit were distributed by Minister Sulaiman accompanied by Secretary General of Agriculture Ministry Hari Priono, and the Director General of Agency for Agricultural Extension and Human Resources Development (BPPSDMP) Momon Rusmono. Local fruits are distributed such as oranges, bananas, starfruit, salak, water guava, dragon fruit, duku, mango, guava crystal, pineapple and others.

"I urge Indonesian people to love local fruit, our own production. Currently, the quality of local fruit is better than imported fruit. Fruit farmers have been exporting fruits to foreign countries such as mango, pineapple and mangosteen," Minister Sulaiman said.