April - Agustus 2017, Barantan Soetta 231 Kali Cegah Komoditas Ilegal Pertanian Masuk RI
Jakarta`s IAQA Prevent Illegal Entry of Agricultural Commodities to Indonesia
Reporter : Gusmiati Waris
Editor : Cahyani Harzi
Translator : Dhelia Gani

PUBLISHED: Sabtu, 02 September 2017 , 01:41:00 WIB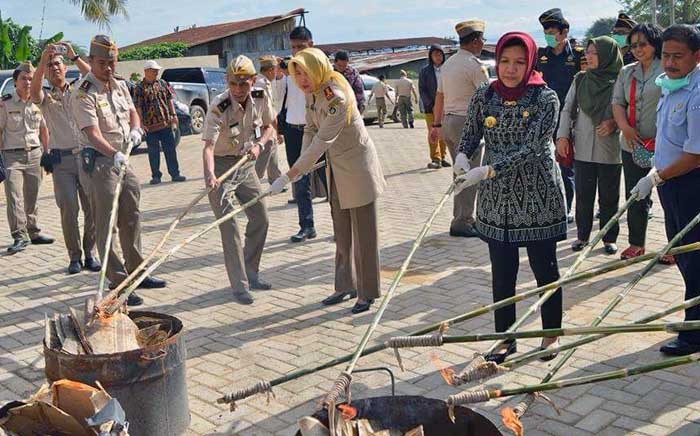 Kepala Badan Karantina Pertanian (Barantan) Kementan Banun Harpini (ke-2 kanan) membakar komoditas pertanian ilegal di BBKP Soetta Jakarta (Foto: istimewa)
Jakarta (B2B) - Badan Karantina Pertanian (Barantan) di Bandara Soekarno - Hatta pada April hingga Agustus 2017 melakukan 231 kali upaya pencegahan dengan memusnahkan komoditas pertanian yang masuk ke Indonesia tanpa dokumen persyaratan dari negara asal, dari kawasan yang dilarang pemasukannya, dan atau ditemukan organisme pengganggu tumbuhan karantina (OPTK) berdasarkan hasil uji laboratorium.
Komoditas pertanian tersebut antara lain rice seeds sample dari Filipina 2,2 kg setelah ditemukan OPTK A2 golongan I, aphelencoides besseyi; bibit sorgum 200 kg dari Taiwan karena ditemukan OPTK A2 golongan I, pantoea stewartii subsp. stewartii; benih bawang, kacang, rumput, cabai, kedelai dan jagung yang sebagian besar berasal dari China; bibit tin dari Malaysia dan bawang dari China; kurma dari Kerajaan Arab Saudi; durian dan buah naga dari Malaysia; mangga dari Dubai; dan berbagai macam produk tanaman.
Keterangan pers dari Humas Barantan menyatakan bahwa selain komoditas tumbuhan, Balai Besar Karantina Pertanian (BBKP) Soekarno - Hatta juga memusnahkan 3.314 ekor ayam berumur satu hari (day old chicken/DOC) dari Amerika Serikat (AS) yang telah mati dalam perjalanan.
Begitu pula 386 kg produk hewan lain turut dimusnahkan antara lain daging ayam dari China dan Korea, daging babi dari China, daging sapi wagyu dari Jepang, dan daging olahan dari China dan Vietnam.
"Tindakan karantina pemusnahan ini dilakukan guna mencegah masuk dan tersebarnya hama penyakit hewan karantina atau HPHK dan OPTK dari luar negeri. Dengan demikian, karantina berusaha melindungi pertanian dalam negeri dan sumber daya alam Indonesia," demikian keterangan pers Barantan yang diterima B2B.
Jakarta (B2B) - Indonesian Agricultural Quarantine Agency (IAQA) at Jakarta's Soekarno - Hatta International Airport in April to August 2017 conducted 231 times prevention by destroying illegal agricultural commodities to Indonesia without documents from home country, from restricted areas, and or found quarantine plant disturbing organisms based on laboratory test results.
Agricultural commodities such as rice seeds sample from the Philippines 2.2 kg after found quarantine plant disturbing organism class I, aphelencoides besseyi; sorgum seeds 200 kg from Taiwan after found pantoea stewartii subsp. stewartii; onion seeds, peanuts, grass, chili, soybeans and corn mostly from China; tin seeds from Malaysia and onions from China; dates from the Kingdom of Saudi Arabia; durian and dragon fruit from Malaysia; mango from Dubai; and various kinds of plant products.
Press release from IAQA Public Relations stated that it also destroyed 3,314 day old chicken from USA who had died on the way to Indonesia.
386 kg of animal products are also destroyed such as chicken meat from China and Korea, pork from China, wagyu beef from Japan, and processed meat from China and Vietnam.
"Destruction is done to prevent the entry and spread of quarantine animal pest from abroad. The quarantine agency seeks to protect the domestic agriculture and natural resources of Indonesia," the quarantine agency press statement.