Pola Kemitraan, Kiat Kementan Lindungi Petani Cabai Saat Panen Raya
Indonesian Chili Farmers Driven Partner with Merchants and Industry
Reporter : Gusmiati Waris
Editor : Cahyani Harzi
Translator : Dhelia Gani

PUBLISHED: Rabu, 23 Agustus 2017 , 03:38:00 WIB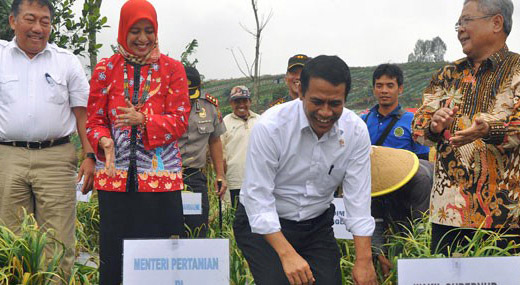 Mentan Andi Amran Sulaiman (ke-2 kanan) panen cabai di Jawa Tengah bersama Wagub Jawa Tengah Heru Sudjatmoko (kanan) dan Dirjen Hortikultura Spudnik Sujono (kiri) Foto: istimewa)
Jakarta (B2B) - Kementerian Pertanian RI menerapkan pola kemitraan antara petani cabai dengan pedagang besar dan industri, untuk mengantisipasi turunnya harga cabai lantaran hasil panen melimpah khususnya di Pulau Jawa, dan Direktorat Jenderal Hortikultura akan menerapkan pola kerjasama seperti petani cabai champion di Kabupaten Magelang, Provinsi Jawa Tengah untuk memasok industri, rumah makan dan usaha kecil menengah (UKM).

"Pola kemitraan ini dilakukan untuk mengatasi fluktuasi harga cabai termasuk untuk solusi jangka panjang. Kita buat kemitraan petani dengan produsen bubuk cabai, produsen sambal, dan langsung ke konsumen melalui Toko Tani Indonesia. Jadi cabai petani, dibeli langsung, ada kontrak yang mengikat," kata Dirjen Hortikultura, Spudnik Sujono melalui pernyataan tertulis, Selasa (22/8).

Dia menambahkan, pola kemitraan juga dikembangkan Ditjen Hortikultura melalui petani-petani andalan yang dikategorikan sebagai petani champion, untuk berkoordinasi dengan industri sehingga produksi cabai di tingkat petani dapat terserap maksimal dengan harga yang menguntungkan petani.

"Saat ini misalnya, champion di Magelang sudah membangun kerjasama dengan industri, khususnya untuk cabai rawit merah. Kerja sama dilakukan antara lain dengan rumah makan dan industri kecil lainnya", kata Spudnik.

Data Kementan menyebutkan ketersediaan cabai rawit merah pada Agustus mencapai 81.864 ton dari kebutuhan 73.197 ton atau surplus 8.667 ton. Ketersediaan September 78.606 ton, kebutuhan 69.615 ton dan surplus 8.991. Begitu pula Oktober, cabai surplus 8.669 ton dengan ketersediaan 77.983 ton dari kebutuhan 69.314 ton.

"Bahkan ketersediaan aneka cabai mulai Agustus sampai Oktober mencukupi bahkan surplus jika dibandingkan dengan kebutuhan secara nasional," kata Spudnik.

Manajemen Tanam
Kementerian Pertanian juga mengatur manajamen tanam cabai sesuai UU No 13/2010 tentang Hortikultura yang mewajibkan pemerintah pusat dan daerah menjamin ketersediaan distribusi dan pemasaran di dalam ataupun luar negeri yang bertujuan menjaga ketersediaan dapat berlangsung setiap bulan dan sepanjang tahun, sehingga pertanaman terjaga setiap saat.

Hal ini telah disepakati bersama antara Dirjen Hortikultura dengan dinas pertanian provinsi/kabupaten/kota dalam mengatur pola tanam di lapangan.

Pola tanam juga turut diatur dengan mematok target luas untuk mengantisipasi permintaan, sehingga fluktuasi yang timpang bisa diatasi dengan melakukan pemerataan produksi antarbulan sekaligus menyebar di banyak daerah sentra.

"Untuk panen Agustus telah dirancang dan diperoleh dari luas tanam pada Mei seluas 16.878 hektar dan panen September telah dirancang dan disiapkan dari areal tanam pada Juni seluas 15.976 hektare," kata Spudnik.

Sebelumnya diberitakan, Menteri Pertanian Andi Amran Sulaiman telah melakukan koordinasi untuk menolong petani cabai karena produksi melimpah saat masa panen dan ada gerakan tanam cabai serentak seluruh Indonesia.

"Pemerintah selalu hadir dan berpihak pada petani. Kami sudah minta Bulog, kami sudah koordinasi dengan kementerian perdagangan, dengan dirjen untuk bergerak cepat menolong petani. Kita harus bela petani cabai seperti halnya petani jagung, bawang merah dan beras. Petani cabai juga insya Allah akan kita bantu," kata Mentan.
Jakarta (B2B) - Indonesian Agriculture Ministry develops a partnership of chili farmers with traders and industry, to anticipate price fluctuations due to abundant crops especially in Java, and the Directorate General of Horticulture will develop cooperation patterns such as chili farmers in Magelang regency of Central Java province to supply the needs for industries, restaurants and small and medium enterprises (SMEs), according to senior official.

"The partnership pattern is to overcome the fluctuation of the price of chili as a long-term solution.We create a partnership of farmers with chili powder producers, sambal producers, and directly to consumers through the Indonesian Farmer's Kiosk," said Director General of Horticulture, Spudnik Sujono here recently.

He added that the partnership pattern is also developed by Directorate General of Horticulture through mainstay farmers, to coordinate with the industry so that the production of chili at the farm level is purchased at reasonable prices for the benefit of farmers.

"Currently, for example, Magelang chili farmers have cooperated with industry, especially for red pepper, also cooperation with restaurants and small industries," Mr Sujono said.

Production of chilli farmers for September is estimated at 78,606 tons, consumers need 69,615 tons or surplus of 8,991 tons. While the October surplus estimate is about 8,669 tons, consumer demand is 69,314 tons and production is 77,983 tons.

"Even the supply of chili from August to October suffices even surplus compared to national needs," Mr Sujono said.

Planting Management
The agriculture ministry also regulates planting management in accordance with Law No. 13/2010 on Horticulture which requires central and regional governments to ensure the availability of distribution and marketing within or outside the country, to aim to maintain supply every month and throughout the year.

This has been mutually agreed between the Director General of Horticulture with the provincial/district/cities the head of local agriculture agency in planting management. Also set broad targets to anticipate demand and equity of production every month as well as spread in various production centers.

"For August harvest has been designed from 16,878 hectares of planted area in May, and the September harvest has been designed from a planting area in June of 15,976 hectares," Mr Sujono said.

Previously reported, the Agriculture Minister Andi Amran Sulaiman has coordinated to help chili farmers because of abundant production during the harvest, with simultaneous planting across the country.

"The government works for farmers, we have asked the logistics agency, coordination with the trade ministry, and the director general to move quickly to help the farmers, we must defend the chili farmers like corn, shallots and rice farmers," Minister Sulaiman said.