Presiden Jokowi Instruksikan TNI dan Polri Buru KKB di Papua
Indonesia Hunts Suspects in Alleged Papua Mass Killing
Editor : Ismail Gani
Translator : Novita Cahyadi

PUBLISHED: Kamis, 06 Desember 2018 , 00:17:00 WIB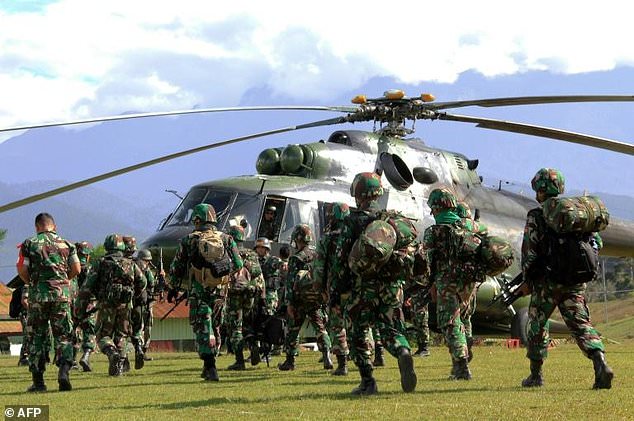 Foto: AFP/MailOnline
TNI dan Polri memburu kelompok kriminal bersenjata yang diduga membunuh 24 pekerja konstruksi di provinsi Papua, saksi mata di tempat kejadian berhasil menyelamatkan diri dari eksekusi massal.
Laporan korban menjelaskan pembunuhan setidaknya 19 tewas, yang dinilai sebagai serangan paling mematikan dalam beberapa tahun terakhir di Papua.
Sebuah akun Facebook yang konon dijalankan oleh Tentara Pembebasan Nasional Papua Barat (TPNPB) mengatakan kelompok bersenjata itu telah menewaskan 24 pekerja atas perintah komandan regional Ekianus Kogoya.
Pihak berwenang belum mengkonfirmasi berapa banyak yang tewas dalam serangan akhir pekan lalu.
Pada Rabu, sekitar 150 personil militer memfokuskan operasi mereka di Nduga, sebuah daerah pegunungan terpencil di mana kontraktor milik negara telah membangun jembatan dan jalan sebagai bagian dari upaya untuk meningkatkan infrastruktur.
Presiden RI Joko Widodo mengatakan, Rabu, ia mendukung pengejaran orang-orang di belakang KKB yang digambarkan sebagai "dugaan penyerangan".
"Saya telah memerintahkan Panglima TNI dan Kapolri nasional untuk mengejar dan menangkap semua pelaku tindakan biadab dan tidak manusiawi ini," katanya kepada pers di Jakarta.
Polisi dan tim militer yang dikirim ke daerah itu pada Senin diserang oleh pemberontak mengakibatkan seorang prajurit TNI tewas dan satu lagi terluka dalam baku tembak, kata pihak berwenang.
Empat pekerja - termasuk tiga korban luka tembak - berada di antara selusin warga sipil yang telah dievakuasi dari lokasi kejadian.
Pada Rabu, militer memberikan laporan dari seorang korban yang diidentifikasi oleh inisialnya "JA" yang mengklaim sekitar 50 pemberontak memasuki kamp pekerja pada Sabtu dan membawa mereka pergi dengan tangan terikat di belakang punggung mereka.
Hari berikutnya, pemberontak menembak mati sekelompok pekerja, sementara beberapa lainnya mencoba melarikan diri, kata akun itu.
Para penyerang diduga menangkap kembali enam pekerja dan menggorok leher mereka, menurut saksi yang tidak terluka, yang mengatakan sedikitnya 19 karyawan telah tewas seperti dikutip AFP yang dilansir MailOnline.
INDONESIAN soldiers hunted Wednesday for rebels suspected of killing as many as 24 construction workers in restive Papua province, as an eyewitness account supplied by the military described a grisly mass execution.
The survivor´s account detailed the killing of at least 19 people, which if confirmed would mark the deadliest bout of violence in years to hit a region wracked by a low-level independence insurgency.
A Facebook account purportedly run by the National Liberation Army of West Papua (TPNPB) said the armed group had killed 24 workers on the orders of regional commander Ekianus Kogoya.
Authorities have yet to confirm how many were killed in the weekend attack.
On Wednesday, some 150 military personnel were focusing their operation at Nduga, a remote mountainous region where a state-owned contractor has been building bridges and roads as part of efforts to boost infrastructure.
Many Papuans view Indonesia as a colonial occupier and its building work as a way to exert more control over an impoverished region that shares a border with Papua New Guinea, an independent nation.
Indonesian president Joko Widodo said Wednesday he backed the hunt for those behind what he described as the "alleged assault".
"I have ordered the chiefs of the military and national police to chase and arrest all the perpetrators of these barbaric and inhumane acts," he told reporters in Jakarta.
Police and military teams sent to the area on Monday came under rebel gunfire with one soldier killed and another wounded in the firefight, authorities have said.
Four workers -- including three suffering gunshot wounds -- were among a dozen civilians who have been evacuated from the area so far.
On Wednesday, the military supplied an account from one survivor identified by his initials "JA" who claimed about 50 rebels entered the workers´ camp on Saturday and led them away with their hands tied behind their backs.
The following day, the rebels shot dead a group of workers, while some tried to escape, the account said.
The attackers allegedly recaptured six workers and slit their throats, according to the uninjured witness, who said at least 19 employees had been killed in all.