Nyepi di Bali, Bandara hingga Jalan dan Pantai Ditutup
Bali`s Day of Silence Shuts Airport, Clears Beaches, Streets
Editor : Ismail Gani
Translator : Novita Cahyadi

PUBLISHED: Minggu, 18 Maret 2018 , 00:25:00 WIB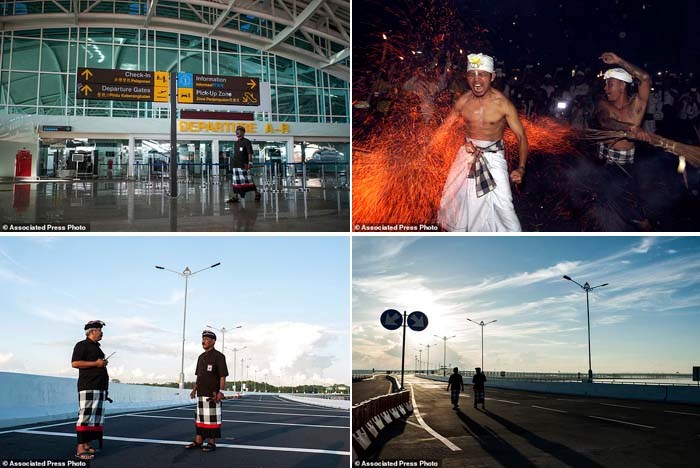 Malam sebelum Nyepi ditandai dengan prosesi ´ogoh-ogoh´ ritual untuk mengusir setan dan roh jahat dalam kepercayaan Hindu Bali (Foto2: Associated Press/MailOnline)
PULAU BALI yang biasanya ramai kini harus menghentikan internet dan media sosial, bandara ditutup begitu pula dengan semua toko untuk merayakan Hari Raya Nyepi yang menandai tahun baru di ´pulau dewata´ yang mayoritas beragama Hindu.
Ritual ´Nyepi´ dimulai pada Sabtu pukul 6 pagi hari, jalan dikosongkan begitu pula dengan kawasan pantai selama 24 jam kecuali patroli khusus yang disebut pecalang untuk memastikan tidak ada aktifitas di luar rumah. Tahun ini, operator seluler sepakat untuk pertama kalinya mematikan layanan internet bergerak di Bali, yang dihuni empat juta orang.
Selain tidak ada aplikasi Facebook, Instagram atau instant messaging, siaran televisi dan radio telah berhenti dan orang Bali tinggal di dalam rumah, menutup jendela dan bahkan dilarang menyalakan lampu, untuk hari refleksi yang paling suci dalam agama Hindu Bali.
"Nyepi adalah waktu bagi kita untuk membasuh hati dan pikiran kita dari pikiran dan perbuatan buruk, memohon kepada Tuhan untuk menyucikan diri kita, manusia dan alam semesta," kata Kadek Chantini, pemandu wisata Bali.
Tidak semua orang senang dengan keputusan untuk menghentikan akses internet, mengatakan bahwa hal itu terjadi terlalu jauh dan ketidaknyamanan bagi turis dan penduduk non-Hindu di Bali, namun ada pula yang menyambutnya.
"Ini tentu akan memberikan suasana yang lebih tenang sehingga kita bisa fokus dan berkonsentrasi untuk menyempurnakan meditasi dan doa kita," kata Komang Suda, warga Denpasar, ibu kota provinsi Bali.
"Keputusan tersebut juga sangat membantu kita dalam mendisiplinkan remaja kita, yang terkadang menyelinap pergi bermain dengan gadget mereka selama Nyepi," katanya.
Malam sebelum Nyepi ditandai dengan prosesi ´ogoh-ogoh´ ritual untuk mengusir setan dan roh jahat dalam kepercayaan Hindu Bali seperti dikutip Associated Press yang dilansir MailOnline.
INDONESIA´S normally bustling Bali has shut down social media, closed the airport and shuttered all shops for a Day of Silence that marks New Year on the predominantly Hindu resort island.
"Nyepi" began at 6 a.m. Saturday, emptying streets and beaches for 24 hours except for special patrols to ensure silence is observed. This year, phone companies agreed for the first time to turn off the mobile internet on the island, home to more than 4 million people.
Aside from no Facebook, Instagram or instant messaging apps, television and radio broadcasts have ceased and Balinese are staying indoors, covering the windows and not even turning on lights, for the day of reflection that is the most sacred in Balinese Hinduism.
"Nyepi is the time for us to wash our hearts and minds of bad thoughts and deeds, plead with God to purify ourselves, human beings and the universe," said Kadek Chantini, a Bali tour guide.
Not everyone was happy with the decision to disrupt internet access, saying it was going too far and an inconvenience for tourists and non-Hindu residents of Bali, but others welcomed it.
"It will certainly provide a quieter atmosphere so we can focus and concentrate on perfecting our meditation and prayers," said Komang Suda, a resident of Denpasar, the Bali provincial capital.
"The decision also really helps us in disciplining our teenagers, who sometimes sneak off to play with their gadgets during Nyepi," he said.
The night before Nyepi is marked by noisy "ogoh-ogoh" processions of giant scary figures representing evil spirits.