Bawa Misi Perdamaian Ukraina, Jokowi Terbang ke Luar Negeri
Jokowi´s Visits Abroad Bring Peace Missions to Ukraine and Russia
Editor : Ismail Gani
Translator : Novita Cahyadi

PUBLISHED: Senin, 27 Juni 2022 , 00:14:00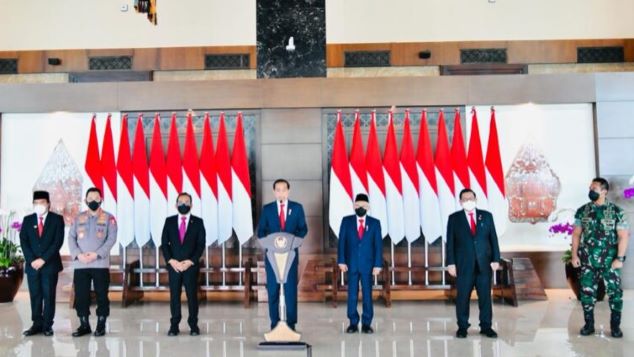 KUNJUNGAN KERJA: Presiden Joko Widodo saat memberikan keterangan di Bandara International Soekarno-Hatta sebelum memulai kunjungan ke luar negeri.
Jakarta [B2B] - Presiden Joko Widodo bersama rombongan memulai rangkaian agenda kunjungan ke empat negara yakni Jerman, Ukraina, Rusia, dan Persatuan Emirat Arab, pada Minggu [26/6].
Jokowi terlebih dahulu mengunjungi Jerman untuk menghadiri Konferensi Tingkat Tinggi (KTT) G7 sebelum kemudian memulai perdamaian ke Ukraina dan Rusia.
"Setelah dari Jerman, saya akan mengunjungi Ukraina dan akan bertemu dengan Presiden Zelenskyy. Misinya adalah mengajak Presiden Ukraina, Presiden Zelenskyy, untuk membuka ruang dialog dalam rangka perdamaian, untuk membangun perdamaian, karena memang perang harus dihentikan dan juga yang berkaitan dengan rantai pasok pangan harus diaktifkan kembali," ujar Jokowi dalam keterangannya di Bandara Internasional Soekarno-Hatta, Tangerang.
Selepas berkunjung ke Ukraina, Presiden Jokowi akan menuju Rusia untuk bertemu dengan Presiden Vladimir Putin. Pada kesempatan tersebut, Jokowi mengusung misi perdamaian yang sama dan akan mengajak Presiden Putin untuk membuka ruang dialog dan menghentikan perang.
"Sekali lagi, dengan misi yang sama saya akan mengajak Presiden Putin untuk membuka ruang dialog dan sesegera mungkin untuk melakukan gencatan senjata dan menghentikan perang," lanjutnya.
Dari Rusia, Jokowi kemudian akan berkunjung ke Persatuan Emirat Arab untuk melanjutkan kembali pembahasan kerja sama ekonomi dan investasi antara Indonesia dengan Persatuan Emirat Arab. Presiden memandang penting kunjungan ini, bukan hanya untuk Indonesia, melainkan juga untuk negara-negara berkembang lain.
"Kunjungan ini bukan hanya penting bagi Indonesia, tetapi juga penting bagi negara-negara berkembang untuk mencegah rakyat negara-negara berkembang dan berpenghasilan rendah jatuh ke jurang kemiskinan ekstrem dan kelaparan," jelasnya.
Di akhir pernyataannya, Jokowi memastikan bahwa selama ia melakukan lawatan ke luar negeri, roda pemerintahan akan dijalankan oleh Wakil Presiden Ma'ruf Amin.
Jakarta [B2B] - President Joko Widodo and his entourage started a series of agenda visits to four countries, namely Germany, Ukraine, Russia, and the United Arab Emirates, on Sunday [26/6].
Jokowi first visited Germany to attend the G7 Summit before starting peace in Ukraine and Russia.
"After Germany, I will visit Ukraine and will meet with President Zelenskyy. Its mission is to invite the President of Ukraine, President Zelenskyy, to open a space for dialogue in the context of peace, to build peace, because war must be stopped and those related to the food supply chain must be reactivated," said the President in his statement at Soekarno-Hatta International Airport, Tangerang.
After visiting Ukraine, President Jokowi will head to Russia to meet with President Vladimir Putin. On that occasion, President Jokowi carried the same mission of peace and would invite President Putin to open a space for dialogue and stop war.