Warga Muna Ditelan Ular Piton jadi Sorotan Dunia
Indonesian Villagers Swallowed by Giant Python
Editor : Ismail Gani
Translator : Novita Cahyadi

PUBLISHED: Minggu, 17 Juni 2018 , 01:50:00 WIB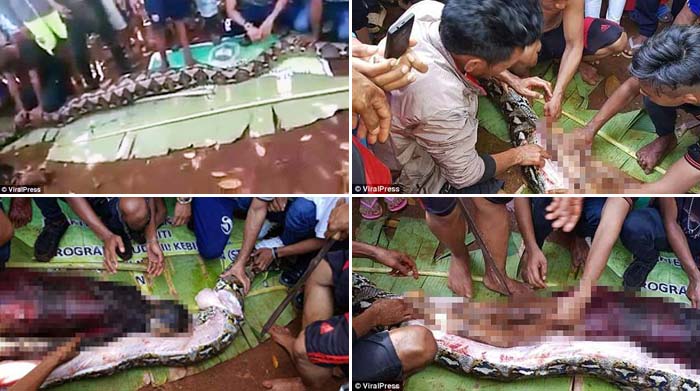 Kepalanya menghadap ke ekor ular dan kakinya di atas mulutnya - yang berarti kepala korban lebih dulu ditelan oleh tersebut (Foto2: MailOnline)
REKAMAN yang mengerikan memperlihatkan jasad seorang ibu dua anak dikeluarkan dari perut seekor ular piton yang panjangnya lebih delapan meter setelah kepala korban lebih dulu ditelan sang ular.
Penduduk setempat yang histeris kemudian membelah perut ular dengan pisau dan menarik keluar jasad Wa Tiba yang tertutup lumpur.
Wanita berusia 54 tahun, mengenakan celana coklat dan atasan merah gelap, masih berpakaian lengkap ketika dia dimangsa sang ular.
Wa Tiba terakhir terlihat berkebun di rumahnya di Provinsi Sulawesi Tenggara, pada Kamis malam.
Kedua putranya kemudian khawatir ketika ibu mereka tidak pulang ke rumah hingga keesokan harinya.
Mereka mulai mencarinya pada pukul 6 pagi dan kemudian menemukan sandal, parang, dan obornya sejauh 30 meter dari semak-semak yang tampak acak-acakan.
Kedua anak mendiang mendapati seekor ular besar sedang teronggok malas.
Seorang warga bernama Ayu Kartika mengatakan: ´Semua orang menangis, semua orang terkejut. Wanita yang malang.
´Ini seperti film horor. Orang-orang ketakutan. Kami takut pergi keluar. Kami hanya bisa berdoa untuk keselamatan.´
Anak mendiang yang panik memanggil polisi dan sekitar pukul 9 pagi ratusan warga desa berkumpul di desa terpencil Mabolu di Kecamatan Lohia di Kabupaten Muna.
Mereka membunuh ular piton sebelum memotongnya dan mengeluarkan jasad mendiang.
Kepalanya menghadap ke ekor ular dan kakinya di atas mulutnya - yang berarti kepala korban lebih dulu ditelan oleh tersebut.
Kapolres Muna, AKBP Agung Ramos Kepolisian Nasional, mengatakan Wa Tiba pergi keluar rumah untuk memeriksa kebunnya malam sebelumnya dan tidak pernah pulang.
Agung mengatakan: ´Anak-anak dan penduduk mencari Wa Tiba setelah dia tidak pulang ke rumah.
´Beberapa barang milik korban, sandal, parang, dan senter, ditemukan tetapi korban tidak ada di sana.
´Keluarga kemudian melaporkan ini ke polisi dan pencarian mencapai kesimpulannya pada jam 9 pagi.´
´Penduduk menemukan ular piton yang terlihat seperti tidak bisa bergerak. Warga kemudian menduga ular itu menelan Wa Tiba.´
´Warga kemudian membawa bangkai ular ke desa dan kemudian membelah perut ular. Kecurigaan itu terbukti benar dan ada jasad manusia di dalam perut ular. Sayangnya korban sudah tidak bernyawa´´, seperti dilansir MailOnline.
HORRIFYING footage shows a mother-of-two being cut from the stomach of a 27ft python after being swallowed head first.
Hysterical locals can be seen slicing the enormous snake open with a blade and pulling out the slime-covered corpse of Wa Tiba.
The 54-year-old, wearing brown leggings and dark red top, was still fully clothed when she was scooped out of the serpent´s belly.
Wa Tiba was last seen gardening at her home in Southeast Sulawesi, Indonesia, on Thursday evening.
Her two sons became concerned when there was no sign of her the next morning.
They began looking for her at 6am and a later found her sandals, machete and torch around 30 metres from a patch of bushes that appeared ruffled.
The kids discovered the enormous with a bulge in its belly.
Resident Ayu Kartika said: ´Everybody was crying, everybody was shocked. The poor woman.
´This is like a horror movie. People are terrified. We are scared to go outside. We can only pray for a safety.´
Her frantic children called police and by 9am hundreds of villagers had gathered in the remote Mabolu Village in the Lohia Regency of Muna province.
They killed the python before cutting it open and rescuing the mother´s body.
Her head was facing the snake´s tail and her feet was up at its mouth - meaning she´d been swallowed head first.
Police superintendent Agung Ramos, from the Muna district Indonesian National Police, said Wa Tiba had went out to check her garden the previous evening and never returned.
He said: ´Children and residents had been looking for Wa after she did not return home.
´Some items belonging to victim, sandals, machete, and flashlights, were found but the victim was not there.´
´The family then reported this to the police and the search reached its conclusion at 9am.´
´Residents found a python that looked like it was unable to move. Residents then suspected the snake swallowed Wa Tiba.´
´People took the snake into the village and started splitting the snake. The suspicions were true and there was a body in tact inside the snake. Unfortunately the victim was lifeless.´´