Enam Kota, Sahabat Rakyat Indonesia Tetap Jokowi Pagi Ini Kumpul di `Car Free Day`
Jokowi`s Victory Team in 2014 Indonesian`s Presidential Election will Gather in Six Cities
Editor : M. Achsan Atjo
Translator : Dhelia Gani

PUBLISHED: Minggu, 08 Juli 2018 , 03:40:00 WIB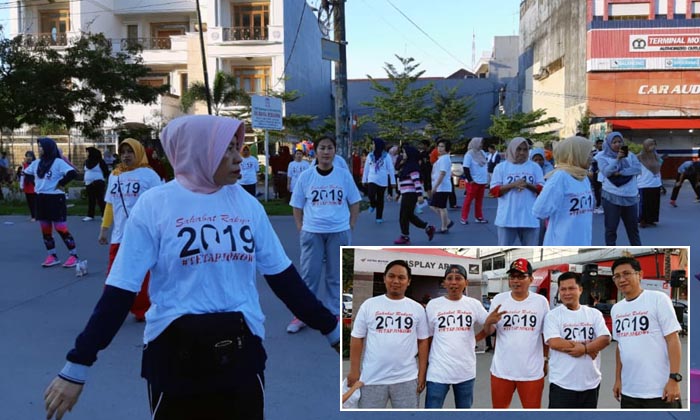 Simpatisan dan relawan akan silaturahim pada CFD di enam kota pagi ini, dan tim inti Sahabat Rakyat Indonesia Tetap Jokowi (inset bawah) Foto2: Sukriansyah S Latief
Makassar, Sulsel (B2B) - Hari ini, Minggu (8/7) para relawan dan simpatisan Jokowi yang tergabung pada Tim Sahabat Rakyat Indonesia Tetap Jokowi dijadwalkan adakah silaturahim sambil berolahraga di kawasan bebas kendaraan bermotor atau car free day (CFD) serentak di enam kota yakni Bogor, Bekasi, Makassar, Kendari, Menado dan Ambon.
Ketua Umum Sahabat Rakyat Indonesia Tetap Jokowi, Sukriansyah S Latief mengatakan kegiatan utama di kawasan CFD pada enam kota bertujuan silaturahim dengan sesama simpatisan dan pendukung Jokowi maupun masyarakat sekaligus senam kebugaran dan aksi simpatik.
"Ini menjadi momen yang bagus untuk menjalin persahabatan serta silaturrahim masyarakat simpatisan dan relawan Jokowi," kata Sukriansyah yang akrab disapa Uki melalui pernyataan tertulis kepada B2B.
Sebagaimana diketahui, Tim Sahabat Rakyat merupakan Tim Pemenangan Jokowi pada Pilpres 2014, yang digagas Andi Amran Sulaiman merupakan tim pemenangan terbesar Jokowi di Kawasan Timur Indonesia (KTI) yang turut mendukung Jokowi menjadi Presiden RI ketujuh.
"Saat ini Tim Sahabat Rakyat Tetap Jokowi kembali mendeklarasikan dukungan pada Jokowi untuk maju dalam Pilpres 2019, kali ini bukan hanya fokus di KTI tapi meluas dengan mengembangkan jaringan ke seluruh Indonesia," kata Uki.
Ini daftar lokasi kegiatan CFD enam kota; Kota Bogor di sepanjang Jl Sudirman hingga ke Lapangan Sempur; Bekasi di Jl Ahmad Yani dan Stadion Patriot; Makassar dipusatkan di kawasan Pantai Losari, Jl Sudirman dan Karebosi; khusus Provinsi Sulawesi Utara akan disebar di tiga kota: Manado, Minahasa, dan Minahasa Selatan; Kendari di sepanjang Jl Ahmad Yani, Jl Balaikota, dan Jl Made Sabara; Ambon dipusatkan di Jl AY Paty dan Lapangan Merdeka.
Makassar of South Sulawesi (B2B) - Today, Sunday (July 8) volunteers and sympathizers of Indonesian President Joko Widodo who joined in community organization called the ´Tim Sahabat Rakyat Indonesia Tetap Jokowi´ scheduled to gather and exercise in car free day area or CFD simultaneously in six cities: Bogor, Bekasi, Makassar, Kendari, Menado and Ambon.
Chairman of the ´Tim Sahabat Rakyat Indonesia Tetap Jokowi´ Sukriansyah S Latief said the main activity in the CFD area in six cities aims to friendship with the community while exercising and sympathetic action.
"This is a good moment to establish the silaturrahim Jokowi sympathizers with the community," said Mr Latief through a written statement to the B2B.
As known, the ´Tim Sahabat Rakyat Indonesia Tetap Jokowi´ is the Jokowi´s victory team in 2014 Presidential Election, which was initiated by Andi Amran Sulaiman and became the biggest winning team of President Widodo in Eastern Indonesia or the KTI.
"Currently, the ´Tim Sahabat Rakyat Indonesia Tetap Jokowi´ re-declared support for Jokowi to advance in the 2019 presidential election, but extends across the country," Mr Latief said.
This lists the locations of the six-city CFD activities; Bogor City in Sudirman Avenue and Sempur Field; Bekasi in Ahmad Yani Avenue and Patriot Stadium; Makassar is centered in the Losari Beach area, Sudirman Avenue and Karebosi; special North Sulawesi province will be spread in three cities: Manado, Minahasa, and South Minahasa; Kendari in Ahmad Yani Avenue, Balaikota Street and Made Sabara Street; Ambon is centered in AY Paty Street and Merdeka Field.