`Jokoburg` dan `Jokograd` Nama Ibukota baru yang diusulkan WargaNet
How about Jokograd? Indonesians Suggest Names for New Capital
Editor : Ismail Gani
Translator : Novita Cahyadi

PUBLISHED: Rabu, 28 Agustus 2019 , 10:45:00 WIB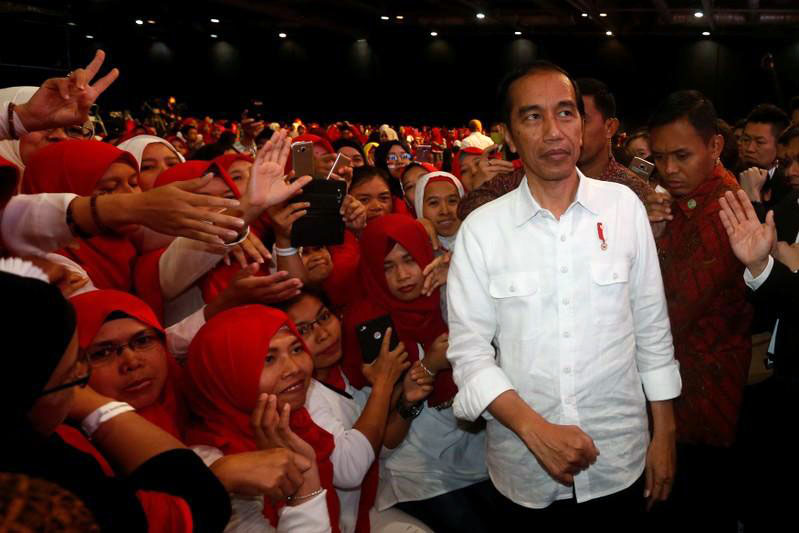 Presiden RI Joko Widodo deklarasi kemenangan Pilpres 2019 bersama para pendukungnya [Foto: Reuters]
LOKASI 'ibukota baru' sudah ditentukan oleh Presiden RI Joko Widodo yakni di Kalimantan Timur, jagat maya pun diramaikan oleh kicauan warganet, yang memberi saran nama untuk ibukota baru Indonesia pada Selasa setelah pengumuman yang lama ditunggu-tunggu dari lokasi kota baru.
'Saint Jokoburg' dan 'Jokograd' adalah nama ibukota yang mencuat dari 11 saran pengguna Twitter, yang dilontarkan pengguna Twitter @Enggalpm setelah Presiden Jokowi mengumumkan nama daerah yang akan dikembangkan menjadi ibukota baru RI.
Asal tahu saja, nama tersebut merujuk pada nama Johannesburg, kota terbesar di Afrika Selatan yang diambil dari nama penguasa Belanda di Afrika Selatan pada penghujung abad 19, maupun nama Saint Petersburg, sebuah kota di Rusia yang didirikan Tsar Rusia, Peter yang Agung pada 1703.
Sementara Jokograd, merujuk pada nama kota Leningrad dan Stalingrad di Rusia di masa Uni Soviet [1924 - 1991] untuk mengenang Vladimir Lenin dan Joseph Stalin.
"Semoga dapat dipertimbangkan," tulis pengguna medsos tersebut.
Saran serius dan bergurau, muncul di media sosial setelah Jokowi mengatakan ibukota akan pindah pada 2024 ke pulau Kalimantan dari lalu lintas yang padat, megapasitas Jakarta di pulau Jawa.
Lokasi baru di Provinsi Kalimantan Timur akan berada di wilayah Penajam Paser Utara dan Kutai Kartanegara, tetapi ada pendapat lain yang mengatakan menggabungkan kedua nama kabupaten itu akan terlalu sulit.
"Mandalanusa", yang diterjemahkan secara longgar sebagai pusat kepulauan, disarankan oleh pengguna Twitter @IdThalamus.
Itu mencerminkan fakta bahwa lokasi baru ibukota itu jauh lebih dekat dari Jakarta ke pusat geografis negara dengan 17.000 pulau yang membentang di area lebih dari 5.000 km (3.100 mil) - lebih luas dari benua Amerika Serikat.
Seorang juru bicara untuk Badan Perencanaan Pembangunan Nasional [Bappenas] mengatakan nama itu belum diputuskan. Seorang juru bicara kementerian dalam negeri juga menolak berkomentar.
Dalam mengidentifikasi lokasi untuk ibukota baru, Jokowi menjadi lebih dekat dari pendahulunya untuk mewujudkan ide yang pertama kali diperdebatkan setelah kemerdekaan pada 1945 seperti dikutip Reuters yang dilansir MailOnline.
INDONESIANS leapt in with suggestions of a name for their future capital on Tuesday after the long-awaited announcement of the new city's location gave no clue what it would be called.
"Saint Jokoburg" and "Jokograd" were among 11 suggestions from Twitter user @Enggalpm after President Joko Widodo revealed the planned location of the new capital on Monday.
"Hopefully they can be taken into consideration," the user wrote.
Suggestions, serious and lighthearted, swept social media after Widodo - known as Jokowi - said the capital would move in 2024 to the forested island of Borneo from the traffic-clogged, sinking megacity of Jakarta on the island of Java.
The new site in the province of East Kalimantan will straddle the regions of North Penajam Paser and Kutai Kartanegara, but there was broad agreement that combining those names would be too much of a mouthful.
"Mandalanusa", which loosely translates as centre of the archipelago, was suggested by Twitter user @IdThalamus.
That reflected the fact that the site is much nearer than Jakarta to the geographic centre of a country of 17,000 islands that stretch across an area of more than 5,000 km (3,100 miles) - wider than the continental United States.
A spokesman for the national development planning agency said the name has not been decided. A spokesman for the home ministry could not immediately comment.
In identifying a site for the new capital, Widodo has got closer than any predecessor to realising an idea first mooted after independence in 1945.