Presiden Jokowi Ajak Masyarakat Vaksin Booster Covid-19
President Jokowi Encourages People to Vaccine Booster Covid-19
Editor : Ismail Gani
Translator : Novita Cahyadi

PUBLISHED: Kamis, 24 November 2022 , 11:07:00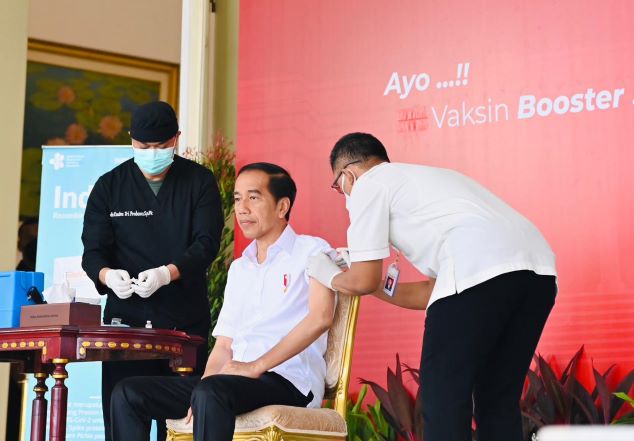 COVID-19: Presiden Joko Widodo saat melakukan vaksin booster Covid-19 yang kedua menggunakan vaksin IndoVac di Istana Negara Bogor. (Foto: Setkab RI)
Bogor, Jabar [B2B] - Presiden RI Joko Widodo [Jokowi] mengajak seluruh elemen masyarakat untuk melakukan vaksinasi COVID-19 secara lengkap dengan ditambah dosis tambahan atau booster.
Ajakan tersebut disampaikan Jokowi usai melakukan vaksinasi COVID-19 penguat kedua yang digelar di halaman Istana Kepresidenan Bogor, Jawa Barat, pada Kamis [24/11].
"Pada pagi hari ini saya tadi baru saja divaksin booster, vaksin penguat, dan ini saya ajak seluruh masyarakat utamanya tenaga kesehatan, utamanya lansia, dan juga orang-orang yang interaksinya tinggi antarmasyarakat," ujar Jokowi.
Menurut Jokowi, saat ini Indonesia telah menyuntikkan 205 juta dosis vaksin yang pertama, 172 juta dosis vaksin yang kedua, 66 juta dosis vaksin penguat pertama, dan 730 ribu dosis vaksin penguat yang kedua. Jokowi pun menegaskan pentingnya vaksinasi penguat untuk meningkatkan imunitas dan mencegah penularan COVID-19.
"Agar imunitas kita terjaga dan dapat memutus penularan COVID dari orang ke orang, ini yang paling penting," ungkapnya.
Sementara itu, Menteri Kesehatan [Menkes] Budi Gunadi Sadikin dalam keterangannya menjelaskan bahwa 84 persen dari kasus COVID-19 yang meninggal dunia belum mendapatkan vaksinasi penguat. Selain itu, 74 persen kasus COVID-19 yang mendapatkan perawatan di rumah sakit dengan gejala sedang dan berat juga belum mendapatkan vaksinasi penguat.
"Jadi buat teman-teman, buat masyarakat, tolong diingatkan agar cepat-cepat di-booster. Baru 66 juta dari 234 juta target sasaran kita yang di-booster, cepat di-booster, khususnya untuk tenaga kesehatan dan lansia diatas 60 tahun juga segera lakukan booster yang kedua," ucap Menkes Budi.
Dalam kesempatan tersebut, Jokowi menggunakan vaksin IndoVac untuk vaksinasi COVID-19 penguat yang kedua. Menkes Budi pun menyatakan bahwa vaksin produksi dalam negeri tersebut sudah terbukti ampuh mencegah penularan COVID-19.
"Jangan lupa booster-nya pakai IndoVac, karena itu sudah terbukti sangat ampuh, tidak kalah dengan produksi luar negeri," ujar Menkes Budi.
Bogor of West Java [B2B] - Indonesian President Joko Widodo [Jokowi] invites all elements of society to carry out a complete COVID-19 vaccination with an additional or booster dose.
This invitation was conveyed by Jokowi after carrying out the second booster COVID-19 vaccination which was held in the courtyard of the Bogor Presidential Palace, West Java, on Thursday [11/24].
"On this morning I just received a booster vaccine, booster vaccine, and I invite the whole community, especially health workers, especially the elderly, and also people who have high interaction between communities," Jokowi said.
According to Jokowi, currently Indonesia has injected 205 million doses of the first booster vaccine, 172 million doses of the second vaccine, 66 million doses of the first booster vaccine, and 730 thousand doses of the second booster vaccine. Jokowi also emphasized the importance of booster vaccinations to increase immunity and prevent transmission of COVID-19.
"So that our immunity is maintained and we can stop the transmission of COVID from person to person, this is the most important thing," he said.