Wisatawan Meningkat, Jokowi Perluas Bandara Komodo Labuan Bajo
Indonesian Govt Expands Komodo Labuan Bajo Airport
Editor : Ismail Gani
Translator : Novita Cahyadi

PUBLISHED: Kamis, 21 Juli 2022 , 12:10:00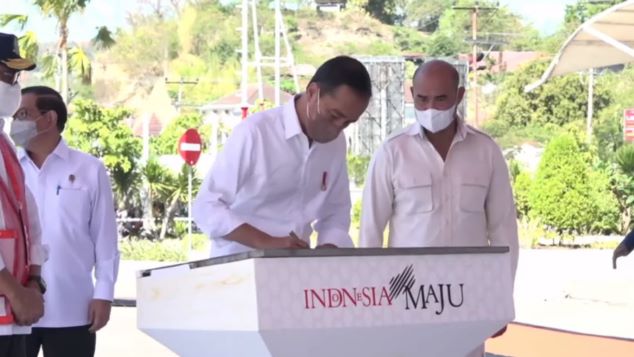 PARIWISATA: Presiden Joko Widodo saat menandatangani peresmian Bandar Udara Komodo di Labuan Baju. (Foto: Setkab RI)
Manggarai Barat, NTT [B2B] - Presiden Joko Widodo meresmikan perluasan Bandara Komodo di Labuan Bajo, Kabupaten Manggarai Barat, pada Kamis [21/7].
"Dengan mengucap Bismillahirrahmanirrahim, saya resmikan perluasan Bandara Komodo di Labuan Bajo," ujar Jokowi yang disiarkan melalui kanal YouTube Sekretariat Presiden.
Jokowi menegaskan pentingnya peningkatan fasilitas yang ada di wilayah Labuan Bajo, seperti perpanjangan landasan pacu [runway] dan perluasan terminal penumpang di Bandara Komodo mengikuti jumlah wisatawan yang terus meningkat.
"Ini Bandara Komodo, terminal sudah diperlebar, masih kurang? Ya diperlebar lagi, kalau nanti makin penuh, makin penuh ya harus diperluas lagi," tutur Jokowi.
Jokowi meminta agar landasan pacu dapat diperpanjang lagi sehingga pesawat-pesawat dengan penerbangan langsung dari mancanegara bisa mendarat di Labuan Bajo.
"Tadi Menteri Perhubungan menyampaikan runway-nya masih kurang, kalau ditambah 100 meter sudah wide body bisa masuk, ya tambah. Kalau enggak bisa tahun ini maksimal tahun depan harus selesai," ucapnya.
Lebih lanjut, Jokowi berharap dengan terus dilakukannya pengembangan fasilitas, pertumbuhan ekonomi dan pariwisata di wilayah Labuan Bajo dapat terus meningkat.
"Kita harapkan dengan tambahannya turis baik dari mancanegara maupun wisatawan nusantara Labuan Bajo menjadi makin dikenal dan yang paling penting bisa mensejahterakan masyarakat kita utamanya khususnya masyarakat Nusa Tenggara Timur," tutur Kepala Negara.
Turut mendampingi Presiden dan Ibu Iriana dalam kegiatan tersebut antara lain Sekretaris Kabinet Pramono Anung, Menteri Pariwisata dan Ekonomi Kreatif Sandiaga Salahuddin Uno, Menteri Perhubungan Budi Karya Sumadi, Menteri Pekerjaan Umum dan Perumahan Rakyat Basuki Hadimuljono, Menteri Komunikasi dan Informatika Johnny G. Plate, Gubernur NTT Viktor Bungtilu Laiskodat, dan Bupati Manggarai Barat Edistasius Endi.
West Manggarai of East Nusa Tenggara [B2B] - President Joko Widodo inaugurated the expansion of Komodo Airport in Labuan Bajo, West Manggarai Regency, on Thursday [21/7].
"By saying Bismillahirrahmanirrahim, I inaugurate the expansion of Komodo Airport in Labuan Bajo," said Jokowi, broadcast via the Presidential Secretariat's YouTube channel.
Jokowi emphasized that the improvement of existing facilities in the Labuan Bajo area, such as the extension of the runway and the expansion of the passenger terminal at Komodo Airport, follows the increasing number of tourists.
"This is Komodo Airport, the terminal has been widened, is it still lacking? Yes, it will be widened again, if it gets fuller, it will be fuller, so it must be expanded again," said Jokowi.