Presiden Jokowi Sampaikan Lima Arahan Integrasi Transportasi Publik
Five Presidential Directions for Integrating Public Transportation Modes
Editor : Ismail Gani
Translator : Novita Cahyadi

PUBLISHED: Rabu, 27 September 2023 , 12:11:00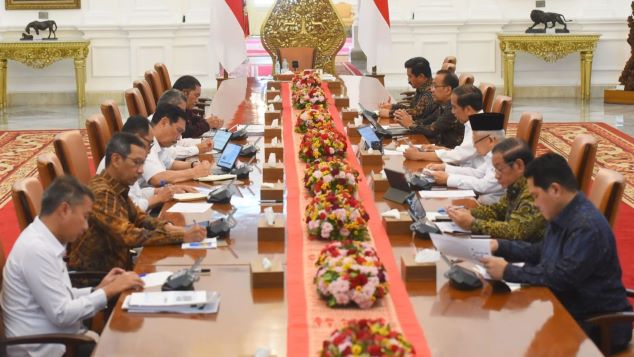 TRANSPORTASI PUBLIK: Presiden Jokowi saat memimpin rapat terbatas yang membahas mengenai integrasi moda transportasi publik, di Istana Merdeka, Jakarta. (Foto: Setkab RI)
Jakarta [B2B] - Presiden RI Joko Widodo [Jokowi] menekankan, setelah pembangunan moda transportasi massal mulai dari moda raya terpadu [MRT], lintas raya terpadu [LRT], hingga kereta cepat, langkah selanjutnya yang harus dilakukan adalah mengintegrasikan moda-moda transportasi tersebut sehingga memberikan kemudahan dan kenyamanan bagi pengguna.
Hal tersebut disampaikan Jokowi saat memimpin rapat terbatas yang membahas mengenai integrasi moda transportasi publik, Rabu [27/9], di Istana Merdeka, Jakarta.
"Setelah kita memiliki MRT, LRT, kereta cepat,kemudian ada kereta bandara, yang harus kita segera selesaikan, segera eksekusi adalah bagaimana kita mengintegrasikan moda transportasi ini dengan moda transportasi lainnya seperti Transjakarta, bus, taksi online, ojek online. Sehingga dibutuhkan sebuah sistem yang memudahkan masyarakat, yang akhirnya mendorong masyarakat menggunakan transportasi publik, karena kuncinya adalah kemudahan dan kenyamanan," ujar Jokowi.
Untuk itu, Jokowi menekankan lima hal yang perlu menjadi perhatian. Pertama, pembangunan infrastruktur penghubung antara moda transportasi satu dengan lainnya perlu dipercepat.
"Percepat pembangunan infrastruktur penghubung. Jembatan penghubung misalnya antara LRT Halim dengan stasiun kereta cepat. Kemudian juga penghubung Stasiun Kereta Api Manggarai dengan Transjakarta, penghubung Stasiun Tanah Abang dengan Dukuh Atas. Dan, kita harus memastikan semuanya memiliki penerangan, memiliki lampu jalan, dan bisa melindungi dari hujan," kata Jokowi.
Kedua, Jokowi meminta adanya kerja sama dan kolaborasi dengan penyedia transportasi yang mengantar sampai titik akhir tujuan sehingga masyarakat mendapatkan kemudahan dalam berganti-ganti moda transportasi.
"Akan sangat bagus jika masyarakat cukup satu kali pesan, kemudian sistem sudah merencanakan dan multimoda transportasi apa yang harus digunakan. Semuanya sudah tersiapkan. Misalnya, pertama, naik ojek ke stasiun, kemudian naik kereta, naik kereta naik Transjakarta sampai ke titik tujuan, sehingga tidak perlu dicari-cari, tidak perlu menunggu-nunggu, karena semuanya sudah terintegrasi," jelasnya
Selanjutnya, Jokowi meminta agar sistem pembayaran dapat terintegrasi pada semua moda transportasi. Presiden juga meminta agar dapat dilakukan kajian terkait pemotongan harga untuk pembayaran langganan.
"Harus dibangun sistem pembayaran yang terintegrasi, dan alat pembayaran tersebut biasa digunakan masyarakat dan dapat digunakan di semua moda transportasi. Kaji juga mengenai mekanisme pembayaran langganan, diskonnya seperti apa, ini saya akan menarik masyarakat untuk berbondong-bondong naik transportasi massal," ujarnya.
Selanjutnya, Jokowi ingin agar segera dilakukan studi pembangunan LRT hingga ke Kota Bogor dan perluasan jalur LRT Kelapa Gading.
"Saya minta juga segera distudi pembangunan LRT hingga ke Kota Bogor, karena kalau kita lihat LRT yang sekarang sudah penuh terus. Dan juga pembangunan jalur LRT Kelapa Gading menuju Manggarai, agar cakupan dan jangkauan transportasi massal ini semakin luas," kata Jokowi.
Jokowi juga menekankan pentingnya memastikan transportasi publik yang ada ramah bagi penyandang disabilitas, dan kelompok masyarakat lanjut usia, ibu hamil, dan anak-anak.
"Yang terakhir, pastikan moda transportasi kita ramah terhadap pengguna lanjut usia, disabilitas, juga bagi anak-anak dan ibu hamil," tandasnya.
Jakarta [B2B] - Indonesian President Joko Widodo (Jokowi) emphasized that after the development of mass transportation modes starting from integrated highways (MRT), integrated highways (LRT), to high-speed trains, the next step that must be taken is to integrate these modes of transportation so as to provide convenience and comfort for users.
President chaired a limited meeting discussing the integration of public transportation modes, Wednesday (27/09), at the Merdeka Palace, Jakarta.
"After we have the MRT, LRT, fast train, then there is the airport train, what we must immediately complete, immediately execute is how we integrate this mode of transportation with other modes of transportation such as Transjakarta, buses, online taxis, online motorcycle taxis . "So we need a system that makes it easier for people, which ultimately encourages people to use public transportation, because the key is convenience and comfort," said the President.
For this reason, the President emphasized five things that need attention. First, the development of connecting infrastructure between one mode of transportation and another needs to be accelerated.
"Accelerate the development of connecting infrastructure. For example, a connecting bridge between the Halim LRT and the fast train station. Then it also connects Manggarai Train Station with Transjakarta, connecting Tanah Abang Station with Dukuh Atas. "And, we have to make sure everything has lighting, has street lights, and can protect against rain," said the President.
Second, the President asked for cooperation and collaboration with transportation providers who take them to their final destination so that people can easily change modes of transportation.
"It would be great if people just ordered once, then the system would already plan and what multi-modal transportation should be used. Everything is ready. "For example, first, take a motorbike taxi to the station, then take the train, take the Transjakarta train to the destination point, so you don't need to look for it, you don't need to wait, because everything is integrated," he explained.
Furthermore, the President requested that the payment system be integrated into all modes of transportation. The President also requested that a study be carried out regarding price cuts for subscription payments.