Usai dari Ukraina, Jokowi Lanjutkan Lawatan Perdamaian ke Rusia
After leaving Ukraine, Jokowi continues his peace trip to Russia
Editor : Ismail Gani
Translator : Novita Cahyadi

PUBLISHED: Kamis, 30 Juni 2022 , 12:52:00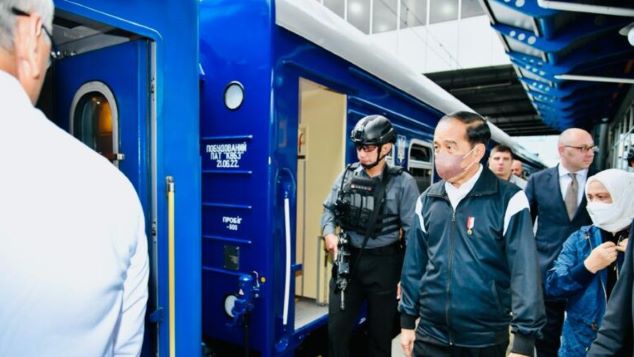 KUNJUNGAN PERDAMAIAN: Presiden Joko Widodo dan Ibu Iriana Jokowi bersama rombongan melanjutkan perjalanan dari Ukraina menuju Rusia dengan menaiki Kereta Luar Biasa (KLB) dari Stasiun Central Kyiv.
JAKARTA - Usai melakukan lawatannya di Ukraina, Rabu [29/6], Presiden Joko Widodo dan Ibu Iriana beserta rombongan terbatas kembali menuju Polandia.
Berangkat dengan menggunakan Kereta Luar Biasa [KLB] dari Stasiun Central Kyiv tepat pukul 19.00 waktu setempat Jokowi dan rombongan menuju Stasiun Przemysl Glowny di kota Przemysl, Polandia dan dijadwalkan tiba esok hari.
Berdasarkan keterangan dari Biro Pers dan Media Sekretariat Presiden, dari Stasiun Przemysl Glowny, Jokowi dan rombongan akan langsung menuju Bandar Udara Internasional Rzeszow-Jasionka, Polandia untuk kemudian melanjutkan lawatannya ke Moskow, Rusia.
Turut mendampingi Jokowi dan Ibu Iriana yaitu Menteri Luar Negeri Retno Marsudi dan Sekretaris Kabinet Pramono Anung.
JAKARTA - After their visit to Ukraine, Wednesday [29/6], President Joko Widodo and Mrs. Iriana and their limited entourage returned to Poland.
Departing by using the Extraordinary Train [KLB] from Kyiv Central Station at exactly 19.00 local time Jokowi and his entourage headed to Przemysl Glowny Station in the city of Przemysl, Poland and are scheduled to arrive tomorrow.
Based on information from the Press and Media Bureau of the Presidential Secretariat, from Przemysl Glowny Station, Jokowi and his entourage will go directly to Rzeszow-Jasionka International Airport, Poland and then continue their visit to Moscow, Russia.
Also accompanying Jokowi and Mrs. Iriana were Minister of Foreign Affairs Retno Marsudi and Cabinet Secretary Pramono Anung.