Tiba di Jerman, Jokowi Akan Hadiri KTT G7
Jokowi Arrives in Germany to Attend G7 Summit
Editor : Ismail Gani
Translator : Novita Cahyadi

PUBLISHED: Senin, 27 Juni 2022 , 13:34:00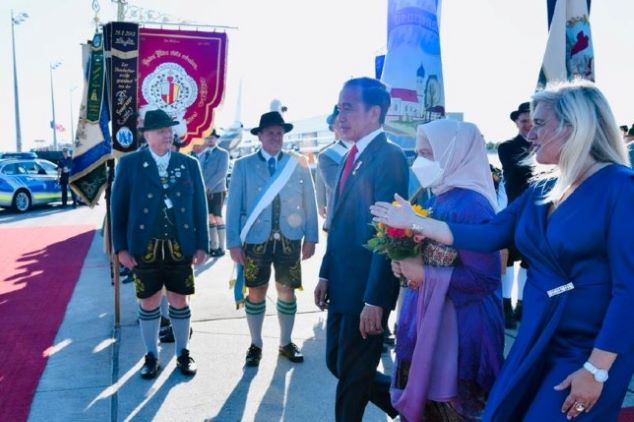 CUACA CERAH: Presiden Joko Widodo dan Ibu Iriana Jokowi tiba di Munich, Jerman disambut pasukan dengan menggunakan baju adat Bavaria. (dok: Biro Pers Sekretariat Presiden)
MUNICH - Presiden Joko Widodo dan Ibu Iriana Jokowi bersama rombongan tiba di Munich International Airport, Munich, Jerman untuk menghadiri Konferensi Tingkat TInggi [KTT] G7.
Jokowi menggunakan pesawat Garuda Indonesia dengan kode penerbangan GIA-1 mendarat setelah terbang selama 13 jam.
Berdasarkan keterangan dari Biro Pers Sekretariat Presiden, Senin [27/6], cuaca cerah khas musim panas sekitar 28 derajat celcius menyambut kedatangan Jokowi dan rombongan di ibu kota negara bagian Bavaria, Jerman pada pukul 18.40 waktu setempat, pada Minggu [26/6].
Jokowi dan Iriana menuruni tangga pesawat, lalu disambut oleh Menteri Urusan Eropa dan Internasional, Negara Bagian Bavaria Melanie Huml, Duta Besar RI untuk Jerman Arif Havas Oegroseno beserta istri, dan Atase Pertahanan RI Kolonel Budi Wibowo beserta istri.
Tampak pula pasukan dengan menggunakan pakaian adat Bavaria, turut menyambut kedatangan Jokowi dan Ibu Iriana.
Kemudian, Jokowi dan Ibu Iriana beserta rombongan menuju ke hotel tempatnya bermalam dengan menggunakan kendaraan mobil.
Setibanya di hotel, tampak ratusan masyarakat Indonesia yang membentangkan bendera merah putih meneriakkan "Pak Jokowi… Pak Jokowi", sudah menanti kedatangan Jokowi.
Jokowi yang melihat banyaknya antusias masyarakat langsung turun dari mobil dan menyapa masyarakat.
Sementara di pintu hotel tampak menyambut Menteri Luar Negeri Retno Marsudi yang telah tiba lebih awal untuk mempersiapkan kunjungan Presiden di Jerman.
Selanjutnya, Jokowi diagendakan mengikuti KTT G7 esok hari di Istana Elmau, Jerman.
Turut mendampingi Presiden Jokowi dan Ibu Iriana Jokowi dalam kunjungan kali ini yaitu Sekretaris Kabinet Pramono Anung.
Munich - President Joko Widodo and Mrs. Iriana Jokowi and their entourage arrived at Munich International Airport, Munich, Germany to attend the G7 Summit.
Jokowi using a Garuda Indonesia plane with flight code GIA-1 landed after flying for 13 hours.
Based on information from the Press Bureau of the Presidential Secretariat, Monday (27/6), sunny summer weather around 28 degrees Celsius welcomed the arrival of Jokowi and his entourage in the state capital of Bavaria, Germany at 18.40 local time, on Sunday (26/6). .
Jokowi and Iriana descended the plane steps, and were greeted by the Minister of European and International Affairs, State of Bavaria Melanie Huml, the Indonesian Ambassador to Germany Arif Havas Oegroseno and his wife, and the Indonesian Defense Attaché Colonel Budi Wibowo and his wife.
Troops also seen wearing traditional Bavarian clothes, also welcomed the arrival of President Jokowi and Mrs. Iriana