Berinvestasi di IKN, Jokowi Apresiasi Gerak Cepat Investor Dalam Negeri
President Jokowi Appreciates Domestic Investors´ Quick Action to Invest in IKN
Editor : Cahyani Harzi
Translator : Novita Cahyadi

PUBLISHED: Kamis, 02 November 2023 , 13:39:00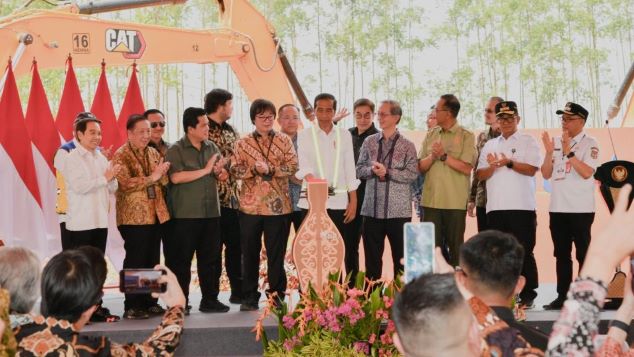 IKN BARU: Presiden Joko Widodo melakukan pelatakan batu pertama Pakuwon Nusantara di Kawasan IKN, Provinsi Kalimantan Timur. (Foto: Setkab RI)
Penajam Paser Utara, Kaltim [B2B] - Presiden Joko Widodo mengapresiasi gerak cepat sejumlah investor dalam negeri untuk berinvestasi dan memulai pembangunan di kawasan Ibu Kota Nusantara (IKN).
Hal tersebut disampaikan Presiden saat melakukan peletakan batu pertama atau groundbreaking Pakuwon Nusantara di kawasan IKN, Provinsi Kalimantan Timur, pada Rabu [1/11].
"Saya senang ini PT Pakuwon sudah mendahului membangun dan saya sangat menghargai, mengapresiasi, dan kita harapkan ini akan memberikan gelombang yang lain yang tadi juga," ujar Jokowi.
Menurut Presiden, pemerintah selalu memprioritaskan dan mendahulukan investor lokal dalam investasi di IKN. Namun, jika tidak ada minat dari investor lokal, maka pemerintah akan mencari investor dari luar negeri yang minat untuk berinvestasi di IKN juga tinggi.
Jokowi memerinci, sedikitnya 130 investor dari Singapura telah datang melihat langsung IKN beberapa bulan lalu. Selain itu ada juga investor dari Korea Selatan, Jepang, Malaysia, hingga Persatuan Emirat Arab.
"Tapi kami memang rem dulu. Saya sampaikan kepada Kepala Otorita, rem untuk yang dari luar, berikan kesempatan, kalau bisa juga di-joint-kan dengan yang dari dalam sehingga zona-zona yang sudah kita rencanakan nanti semuanya akan terisi," imbuhnya.
Jokowi pun meyakini bahwa para investor akan berbondong-bondong datang ke IKN, terutama jika infrastruktur jalan tol dan bandara telah selesai dibangun. Presiden Jokowi sebelumnya meninjau progres pembangunan Jalan Tol IKN yang telah mencapai 55 persen dan melakukan groundbreaking Bandara IKN. Presiden menargetkan keduanya bisa dipakai pada Juni 2024.
"Saya yakin kalau semuanya memulai dan jalan, airport itu selesai, akan berbondong-bondong investor datang ke Nusantara," ungkapnya.
Penajam Paser Utara of East Borneo [B2B] - President Joko Widodo appreciated the quick movement of a number of domestic investors to invest and start development in the Archipelago Capital (IKN) area. This was conveyed by the President when laying the first stone or groundbreaking of Pakuwon Nusantara in the IKN area, East Kalimantan Province, on Wednesday, November 1 2023.
"I am happy that PT Pakuwon has taken the lead in building it and I really appreciate it, appreciate it, and we hope that this will provide another wave as well," said the President.
According to the President, the government always prioritizes and prioritizes local investors in investing in IKN. However, if there is no interest from local investors, the government will look for investors from abroad whose interest in investing in IKN is also high.
The President detailed that at least 130 investors from Singapore had come to see IKN in person several months ago. Apart from that, there are also investors from South Korea, Japan, Malaysia and the United Arab Emirates.
"But we did brake first. "I conveyed to the Head of the Authority, give brakes to those from outside, give them a chance, if possible also join them with those from within so that the zones that we have planned will all be filled," he added.