Pemerintah Berkomitmen Hadirkan Lembaga Pendidikan di IKN
Indonesian Govt Commitment to Present Educational Institutions at IKN
Editor : Cahyani Harzi
Translator : Novita Cahyadi

PUBLISHED: Kamis, 02 November 2023 , 13:45:00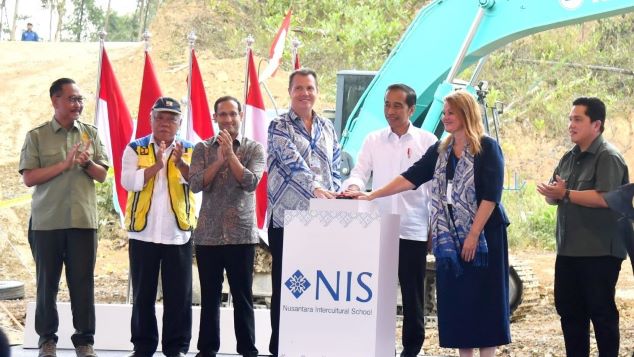 LEMBAGA PENDIDIKAN: Presiden dalam sambutannya pada acara groundbreaking Nusantara Intercultural School (NIS) di Kabupaten Penajam Paser Utara, Provinsi Kalimantan Timur. (Foto: Setkab RI)
Penajam Paser Utara, Kaltim [B2B] - Presiden Joko Widodo menyampaikan komitmen pemerintah dalam membangun fasilitas pendukung dalam bidang pendidikan di Ibu Kota Nusantara. Keseriusan tersebut ditunjukkan dengan melakukan groundbreaking sekolah bertaraf internasional pertama di Nusantara.
"Kehadiran JIS di IKN menunjukkan keseriusan komitmen kita untuk menyediakan berbagai fasilitas pendukung ibu kota, termasuk menghadirkan lembaga pendidikan bertaraf internasional dan berkualitas dunia," ucap Presiden dalam sambutannya pada acara groundbreaking Nusantara Intercultural School [NIS] di Kabupaten Penajam Paser Utara, Provinsi Kalimantan Timur pada Rabu [1/11].
Jokowi berharap NIS nantinya dapat menyelenggarakan pendidikan berkelas dunia bagi anak-anak. Selain itu, NIS juga diharapkan mampu menjadi salah satu pilihan sekolah dengan pendidikan yang bermutu di IKN.
"Mempromosikan pendidikan global berkelas tinggi di Nusantara, dan memberikan pilihan pendidikan yang bermutu bagi warga IKN yang berasal dari berbagai daerah, berbagai negara, dan berbagai latar belakang," lanjutnya.
Pada kesempatan tersebut, Jokowi juga menceritakan sejumlah keresahan orang tua terkait pendidikan anak di Kota Nusantara. Untuk itu, Presiden mengapresiasi komitmen Jakarta Intercultural School (JIS) untuk menjawab keresahan para orang tua dengan membangun NIS.
"Pada kesempatan yang baik ini saya mengucapkan terima kasih kepada JIS, yang (Nusantara Intercultural School) ini merupakan sekolah internasional yang pertama yang akan didirikan di Kota Nusantara," imbuhnya.
Penajam Paser Utara of East Borner [B2B] - President Joko Widodo expressed the government´s commitment to building supporting facilities in the education sector in the Indonesian capital. This seriousness was demonstrated by carrying out the groundbreaking of the first international standard school in the archipelago.
"The presence of JIS at IKN shows the seriousness of our commitment to providing various supporting facilities for the capital city, including presenting international standard and world quality educational institutions," said the President in his remarks at the groundbreaking event for the Nusantara Intercultural School (NIS) in North Penajam Paser Regency, East Kalimantan Province , on Wednesday, November 1, 2023.
The President hopes that NIS will be able to provide world-class education for children. Apart from that, NIS is also expected to be one of the school choices with quality education in IKN.
"Promoting high-class global education in the archipelago, and providing quality educational options for IKN residents who come from various regions, various countries and various backgrounds," he continued.