Jokowi Dukung Model Bisnis Pertanian di Pesantren Al-Ittifaq
Jokowi Appreciates Agricultural Business at Al-Ittifaq Islamic Boarding School
Editor : Ismail Gani
Translator : Novita Cahyadi

PUBLISHED: Selasa, 07 Maret 2023 , 01:40:00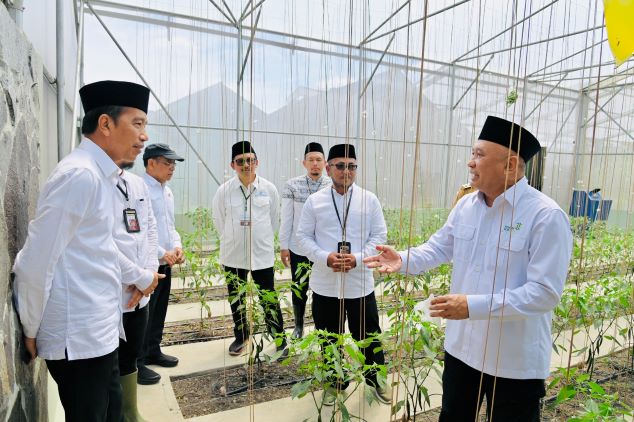 KUNJUNGAN KERJA: Presiden Jokowi saat meninjau langsung Koperasi Pondok Pesantren (Kopontren) Al-Ittifaq, Kabupaten Bandung, Jawa Barat. (Foto: Setkab RI)
Bandung, Jabar [B2B] - Presiden RI Joko Widodo [Jokowi] mengapresiasi model bisnis yang diterapkan Pondok Pesantren [Ponpes] Al-Ittifaq, Kabupaten Bandung, Jawa Barat, dalam mengelola hasil pertanian.
"Perencanaan yang dilakukan di Pondok Pesantren Al-Ittifaq ini betul-betul sangat baik dan bisa dijadikan contoh, bisa dijadikan role model, bisa dijadikan model bisnis yang tinggal difotokopi saja," ujar Jokowi usai meninjau Koperasi Pondok Pesantren [Kopontren] Al-Ittifaq, Kabupaten Bandung, pada Senin [6/3]
Jokowi pun mendorong pondok pesantren di seluruh Indonesia untuk mengadopsi model bisnis yang diterapkan Ponpes Al-Ittifaq dalam mengelola hasil pertanian., serta dapat dijadikan induk dalam bisnis pertanian.
"Dari Solo Raya fotokopi, dari Riau fotokopi, dari Jawa Timur fotokopi, dari Lampung fotokopi, induknya, holding-nya sementara Al-Ittifaq," ungkap Jokowi.
Jokowi menyebut bahwa "menginduk" dalam menjalankan sebuah bisnis itu penting dilakukan. Presiden bahkan pernah melakukan hal tersebut saat menjalankan bisnis beberapa waktu yang lalu.
"Saya mengalami hampir tujuh tahun saya dulu menginduk. Belum bisa ekspor, menginduk dulu sebuah industri di Jakarta. Tujuh tahun saya belajar," ucap Jokowi.
Oleh karena itu, Jokowi mengajak ponpes lainnya di Indonesia untuk belajar dari Ponpes Al-Ittifaq. Apalagi pimpinan Ponpes Al-Ittifaq mengaku terbuka untuk berbagai pengetahuan dan pengalaman kepada ponpes lain.
"Tadi saya disampaikan oleh beliau terbuka, sangat terbuka. Itu pun yang di sini juga belum cukup produksinya untuk memasok dari permintaan pasar yang ada," tutur Jokowi.
Meski dinilai berhasil, Ponpes Al-Ittifaq juga masih menemui kesulitan-kesulitan teknis di lapangan. Presiden meminta berbagai pihak untuk turut membantu menyelesaikan problem yang dihadapi ponpes.
"Saya minta tadi kesulitan-kesulitan yang ada ini nanti BI mohon bisa bantu. Medco, Pak Helmi juga tolong bisa bantu, Pak Menteri UKM juga pembiayaan bisa dibantu sehingga makin semuanya berkembang dan model bisnisnya sama seperti yang saya lihat tadi," ujar Jokowi.
Jokowi berjanji akan kembali mengundang para pelaku bisnis dari Kopontren Al-Ittifaq ke Istana dalam waktu enam bulan mendatang. Presiden ingin mengetahui perkembangan bisnis pertanian yang dijalankan Kopontren Al-Ittifaq.
"Saya undang ke Istana nanti enam bulan lagi. Tapi sudah ada perkembangan dari pertemuan kita pada hari ini. Insyaallah," ucap Jokowi.
Bandung of West Java [B2B] - Indonesian President Joko Widodo [Jokowi] appreciates the business model implemented by Al-Ittifaq Islamic Boarding School [Ponpes], Bandung Regency, West Java, in managing agricultural products.
"The planning carried out at the Al-Ittifaq Islamic Boarding School is really very good and can be used as an example, can be used as a role model, can be used as a business model that only needs to be photocopied," Jokowi said after visiting the Al-Ittifaq Islamic Boarding School Cooperative [Kopontren], Bandung Regency, on Monday [6/3]
Jokowi also encouraged Islamic boarding schools throughout Indonesia to adopt the business model applied by the Al-Ittifaq Islamic Boarding School in managing agricultural products, and could be used as a parent in the agricultural business.
"Photocopies from Solo Raya, photocopies from Riau, photocopies from East Java, photocopies from Lampung, the parent, the temporary holding is Al-Ittifaq," said Jokowi.
Jokowi said that "taking part" in running a business is important. The President has even done this while running a business some time ago.
"I experienced almost seven years when I was parent. Not being able to export, I used to be an industry in Jakarta. I studied for seven years," said Jokowi