Presiden Jokowi Ajak Pemimpin Asia Timur Jaga Perdamaian Kawasan
President Jokowi Invites East Asian Leaders to Maintain Regional Peace
Editor : Taswin Bahar
Translator : Novita Cahyadi

PUBLISHED: Kamis, 07 September 2023 , 14:34:00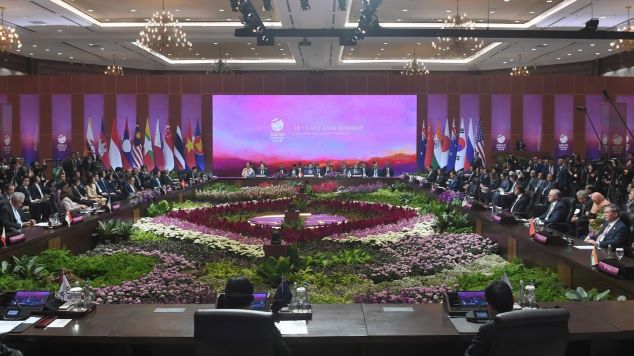 PERDAMAIAN KAWASAN: Presiden Jokowi saat memimpin Konferensi Tingkat Tinggi (KTT) Ke-18 Asia Timur atau East Asia Summit (EAS) di Jakarta Convention Center, Jakarta. (Foto: Setkab RI)
Jakarta [B2B] - Presiden RI Joko Widodo [Jokowi] memimpin Konferensi Tingkat Tinggi [KTT] Ke-18 Asia Timur atau East Asia Summit [EAS], Kamis [7/9], di Jakarta Convention Center [JCC], Jakarta.
Dalam sambutan, Presiden Joko Widodo meminta para peserta KTT untuk menjaga stabilitas dan perdamaian agar kemakmuran di kawasan dapat diciptakan.
"Semua yang duduk di ruangan ini memiliki tanggung jawab yang sama-sama besar untuk menciptakan perdamaian, stabilitas, dan kemakmuran di kawasan. Kita semua memiliki tanggung jawab yang sama untuk tidak menciptakan konflik baru, untuk tidak menciptakan ketegangan baru, untuk tidak menciptakan perang baru," ujar Presiden.
Pada saat bersamaan, lanjut Presiden, para pemimpin juga memiliki tanggung jawab untuk menurunkan tensi yang panas, mencairkan suasana yang beku, menciptakan ruang dialog, serta menjembatani perbedaan-perbedaan yang ada.
Jokowi mengatakan, ASEAN memiliki tekad untuk mewujudkan kawasan ini sebagai pusat pertumbuhan atau epicentrum of growth. Di saat yang sama, ASEAN juga menyadari pentingnya stabilitas dan perdamaian di kawasan untuk mewujudkan hal tersebut.
"ASEAN akan terus bekerja memainkan peran sebagai kontributor perdamaian dan stabilitas dan ASEAN akan sangat menghargai jika KTT Asia Timur ini dapat menyepakati pernyataan tingkat pemimpin mengenai tekad untuk terus menjadikan kawasan ini sebagai epicentrum of growth," ujarnya.
Presiden pun mengajak para peserta KTT Asia Timur untuk memperkuat kolaborasi dan tidak mempertajam rivalitas demi mewujudkan dunia sebagai tempat yang lebih baik bagi semua.
"Saya mengajak semua pemimpin untuk menunjukkan wisdom, untuk menunjukkan kepemimpinannya, agar pertemuan ini berhasil dan bermanfaat nyata bagi rakyat dunia. Di sinilah masyarakat dunia akan menilai apakah kita adalah pemimpin yang memiliki wisdom untuk menjadikan dunia, tempat yang lebih baik bagi semua," ucapnya.
Dilansir dari laman Kementerian Luar Negeri, EAS merupakan satu forum regionalisme terbuka yang muncul di kawasan Asia Timur sejak tahun 2005. Pada awal pembentukannya, terdapat 16 negara peserta EAS, yaitu 10 negara ASEAN, Australia, Tiongkok, India, Jepang, Republik Korea, dan Selandia Baru. Amerika Serikat dan Federasi Rusia resmi bergabung menjadi peserta EAS pada KTT ke-6 EAS di Bali, November 2011. EAS merupakan forum leaders-led summit dengan ASEAN sebagai kekuatan penggerak [driving force] dalam kemitraan dengan negara-negara anggota lainnya.
Sejalan dengan semangat kerja sama yang inklusif dalam KTT Asia Timur di bawah kepemimpinan Indonesia kali ini, Presiden Joko Widodo juga mengundang Bangladesh selaku Ketua Indian Ocean Rim Association (IORA) dan Kepulauan Cook selaku Ketua Pacific Island Forum (PIF). Selain itu, turut hadir juga Timor Leste.
Jakarta [B2B] - Indonesian President Joko Widodo [Jokowi] chaired the 18th East Asia Summit [EAS], Thursday [7/9], at the Jakarta Convention Center [JCC], Jakarta.
In his remarks, President Joko Widodo asked the summit participants to maintain stability and peace so that prosperity in the region can be created.
"Everyone sitting in this room has an equal responsibility to create peace, stability and prosperity in the region. "We all have the same responsibility not to create new conflicts, not to create new tensions, not to create new wars," said the President.
At the same time, the President continued, leaders also have a responsibility to reduce heated tensions, melt frozen atmospheres, create space for dialogue, and bridge existing differences.
Jokowi said ASEAN had the determination to make this region a center of growth or the epicenter of growth. At the same time, ASEAN also realizes the importance of stability and peace in the region to make this happen.
"ASEAN will continue to work to play its role as a contributor to peace and stability and ASEAN would really appreciate it if this East Asia Summit could agree on a leader-level statement regarding the determination to continue to make this region the epicenter of growth," he said.
The President also invited East Asia Summit participants to strengthen collaboration and not sharpen rivalries in order to make the world a better place for all.
"I invite all leaders to show wisdom, to show their leadership, so that this meeting is successful and has real benefits for the people of the world. "This is where the world community will assess whether we are leaders who have the wisdom to make the world a better place for all," he said.
Reporting from the Ministry of Foreign Affairs website, EAS is an open regionalism forum that emerged in the East Asia region since 2005. At the beginning of its formation, there were 16 EAS participating countries, namely 10 ASEAN countries, Australia, China, India, Japan, the Republic of Korea, and New Zealand. The United States and the Russian Federation officially joined as EAS participants at the 6th EAS Summit in Bali, November 2011. EAS is a leaders-led summit forum with ASEAN as the driving force in partnership with other member countries.
In line with the spirit of inclusive cooperation at the East Asia Summit under Indonesia's leadership this time, President Joko Widodo also invited Bangladesh as Chair of the Indian Ocean Rim Association (IORA) and the Cook Islands as Chair of the Pacific Island Forum (PIF). Apart from that, Timor Leste was also present.