Presiden Jokowi Tekankan Pentingnya Bonus Demografi Indonesia untuk Promosi Pariwisata
President Jokowi Emphasizes the Importance of Indonesia´s Demographic Bonus for Tourism Promotion
Editor : Ismail Gani
Translator : Novita Cahyadi

PUBLISHED: Selasa, 23 Mei 2023 , 14:48:00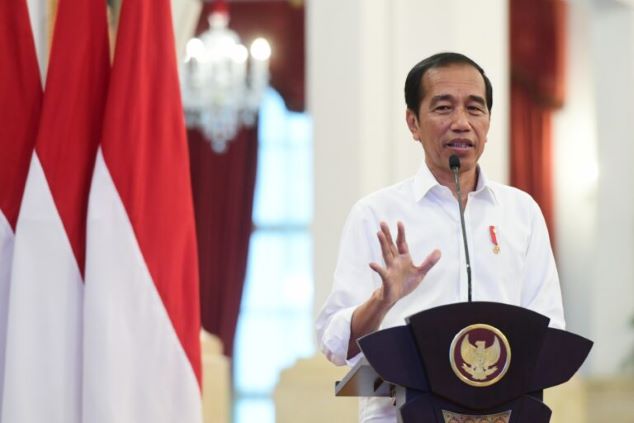 PARIWISATA INDONESIA: Presiden Joko Widodo saat menyampaikan pentingnya bonus demografi Indonesia untuk promosi pariwisata kepada para finalis ajang Puteri Indonesia tahun 2023. (Foto: Setpres RI)
Jakarta [B2B] - Presiden Joko Widodo menyampaikan peran penting generasi muda terhadap bonus demografi Indonesia saat menerima para finalis ajang Puteri Indonesia tahun 2023 di Istana Negara, Jakarta.
"Yang disampaikan Bapak Presiden, pertama berkaitan dengan pentingnya peran generasi muda untuk memastikan bonus demografi kita terkonversi dalam 13-15 tahun ke depan menuju Indonesia negara maju," ujar Menteri Pariwisata dan Ekonomi Kreatif, Sandiaga Uno, dalam keterangannya selepas mendampingi Presiden.
Menurut Jokowi, sebagaimana dituturkan Sandiaga, banyak negara yang tidak bisa meninggalkan statusnya sebagai negara berpenghasilan menengah karena generasi mudanya tidak memiliki terobosan dan inovasi. Untuk itu, Jokowi berpesan agar para finalis Puteri Indonesia dapat memberikan kontribusi dalam membawa Indonesia menjadi negara maju.
"Pesan Bapak Presiden agar para Puteri Indonesia sebagai bagian dari bonus demografi memberikan kontribusi dan membawa Indonesia menjadi negara maju dengan pendapatan di atas 25 ribu dolar per kapita atau GDP per kapita 25 ribu dolar ke atas di tahun 2045," jelas Sandi.
Hal berikutnya yang disampaikan oleh Presiden Jokowi adalah terkait pariwisata dan ekonomi kreatif. Para finalis Puteri Indonesia diminta untuk mempromosikan destinasi-destinasi wisata yang dimiliki oleh Indonesia, terutama destinasi wisata prioritas seperti Labuan Bajo, Mandalika, Danau Toba, Likupang, hingga Borobudur.
"Termasuk ada beberapa destinasi yang akan dikembangkan selanjutnya seperti Bangka Belitung, Kepulauan Seribu, Wakatobi, maupun juga Raja Ampat. Ini yang diharapkan dari generasi muda untuk terus membangun suatu kesadaran bahwa promosi destinasi wisata dan produk-produk ekonomi kreatif mulai dari kuliner, fesyen, dan kriya ini bisa kita dekatkan," papar Sandiaga.
Sementara itu, Ketua Dewan Penasihat Yayasan Puteri Indonesia, Putri Kus Wisnu Wardani, menambahkan bahwa pihaknya selalu berkomitmen untuk mendorong perempuan Indonesia menjadi sumber daya manusia unggul. Untuk itu, seluruh finalis ajang Puteri Indonesia 2023 akan mendapatkan beasiswa sesuai dengan jenjang dan jurusan yang dikehendakinya.
"Kemudian tiga pemenang ini mendapatkan beasiswa dari Universitas Indonesia semua melalui jalur cepat untuk mengambil S1, S2, atau S3. Jadi memang komitmen Yayasan Puteri Indonesia untuk mendorong perempuan Indonesia untuk menjadi SDM unggul mengisi bonus demografi menuju Indonesia Emas 2045," ungkapnya.
Jakarta [B2B] - President Joko Widodo conveyed the important role of the younger generation in Indonesia's demographic bonus when receiving the finalists for the 2023 Puteri Indonesia event at the State Palace, Jakarta.
"What was conveyed by Mr. President, first relates to the important role of the younger generation to ensure that our demographic bonus is converted in the next 13-15 years towards Indonesia as a developed country," said the Minister of Tourism and Creative Economy, Sandiaga Uno, in a statement after accompanying the President.
According to Jokowi, as explained by Sandiaga, many countries cannot abandon their status as middle-income countries because their young generation lacks breakthroughs and innovations. For this reason, Jokowi advised that the Puteri Indonesia finalists could make a contribution in bringing Indonesia to become a developed country.
"The message from Mr. President is that the daughters of Indonesia, as part of the demographic bonus, will contribute and bring Indonesia to become a developed country with an income above 25 thousand dollars per capita or a GDP per capita of 25 thousand dollars and above in 2045," Sandi explained.