Presiden Jokowi Resmi Naikan Harga BBM Bersubsidi
President Jokowi Officially Raises Subsidized Fuel Prices
Editor : Ismail Gani
Translator : Novita Cahyadi

PUBLISHED: Sabtu, 03 September 2022 , 15:11:00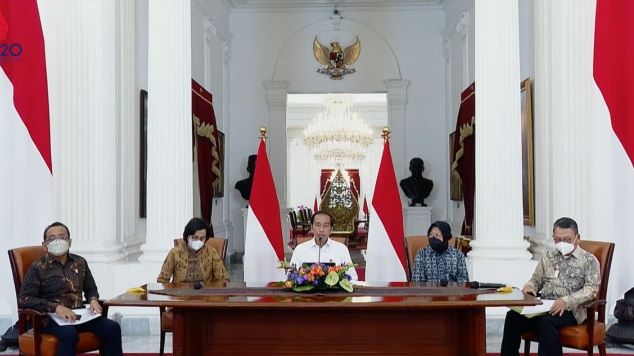 BBM NAIK: Presiden Joko Widodo bersama jajarannya mengumumkan kenaikan bahan bakar minyak (BBM) bersubsidi di Istana Merdeka, Jakarta. (Foto: Sekretariat Kabinet RI)
Jakarta [B2B] - Presiden Joko Widodo secara remi mengumumkan kenaikan harga bahan bakar minyak (BBM) bersubsidi di Istana Merdeka, Jakarta.
"Beberapa jenis BBM yang selama ini mendapat subsidi akan mengalami penyesuaian," kata Jokowi, Sabtu (3/9).
Jokowi mengatakan subsidi BBM akan dialihkan untuk bantuan yang lebih tepat sasaran.
"Subsidi BBM akan dialihkan untuk bantuan yang lebih tepat sasaran, seperti Bantuan langsung tunai (BLT) BBM sebesar Rp 12,4 triliun yang diberikan kepada 20,65 juta keluarga yang kurang mampu sebesar Rp 150 ribu per bulan dan mulai diberikan bulan September selama empat bulan," katanya
Jokowi menjelaskan dirinya ingin harga BBM di dalam negeri tetap terjangkau dengan memberikan subsidi APBN. Namun, anggaran subsidi BBM terus naik tiap tahun.
"Tetapi anggaran subsidi dan kompensasi BBM tahun 2022 telah meningkat 3 kali lipat dari Rp 152,5 triliun menjadi Rp 502,4 triliun dan akan meningkat terus," kata dia.
Jokowi mengatakan dinaikkannya harga BBM menjadi pilihan terakhir pemerintah. Sebab, BBM bersubsidi lebih banyak digunakan oleh masyarakat mampu.
Sementara itu, Menteri ESDM Arifin Tasrif mengatakan tarif baru BBM subsidi ini berlaku pada hari ini.
"Kenaikan ini berlaku satu jam sejak saat diumumkan penyesuaian harga ini. Berlaku pukul 14.30 WIB," ujar Arifin.
Jakarta [B2B] - President Joko Widodo announced an increase in the price of subsidized fuel oil (BBM).
"Several types of fuel that have been subsidized so far will undergo adjustments," said Jokowi, Saturday (3/9).
Jokowi said the fuel subsidy would be diverted for more targeted assistance.
"The fuel subsidy will be diverted to more targeted assistance, such as direct cash assistance (BLT) BBM amounting to Rp 12.4 trillion given to 20.65 million underprivileged families amounting to Rp 150 thousand per month and starting in September for four months. month," he said
Jokowi explained that he wanted domestic fuel prices to remain affordable by providing state budget subsidies. However, the fuel subsidy budget continues to increase every year.