Satu Data Pertanian, Presiden Jokowi Dukung Sensus Pertanian 2023
Indonesian Govt Supports the 2023 Agricultural Census
Editor : Ismail Gani
Translator : Novita Cahyadi

PUBLISHED: Senin, 15 Mei 2023 , 15:26:00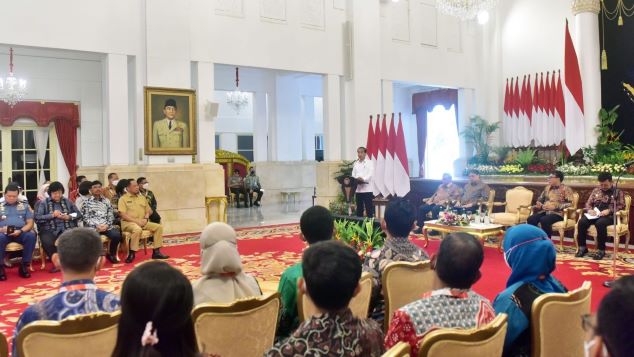 AKURASI DATA: Presiden Jokowi saat memimpin rapat Pencanangan Pelaksanaan Sensus Pertanian Tahun 2023, di Istana Negara. (Foto: Setkab RI)
Jakarta [B2B] - Presiden RI Joko Widodo [Jokowi] menekankan pentingnya data yang akurat untuk menghasilkan kebijakan yang tepat dan akurat di sektor pertanian.
Hal tersebut disampaikan Presiden pada Pencanangan Pelaksanaan Sensus Pertanian Tahun 2023, di Istana Negara, pada Senin [15/5].
"Kenapa sensus pertanian ini dilakukan? Sektor ini melibatkan hajat hidup orang banyak, sehingga butuh akurasi kebijakan dan akurasi kebijakan itu butuh akurasi data," ujar Jokowi.
Jokowi pun mendukung pelaksanaan kembali sensus yang terakhir dilaksanakan oleh Badan Pusat Statistik [BPS] pada sepuluh tahun yang lalu ini.
Jokowi juga menekankan pentingnya pembaharuan data dalam mendukung kebijakan pemerintah di sektor pertanian, seperti alokasi pupuk bersubsidi.
"Kalau sudah kita putuskan pupuk subsidi, katakanlah sembilan juta ton, itu kan dari data memutuskan itu. Tapi di lapangan banyak yang petani berteriak, 'Pak, pupuk enggak ada.' Mungkin suplainya kurang, mungkin distribusinya yang enggak betul. Tapi kalau datanya akurat, gampang sekali," ujarnya.
Jokowi meminta agar Sensus Pertanian 2023 ini menghasilkan data terkini, akurat, dan terpercaya mengingat pertanian merupakan sektor yang strategis bagi perekonomian Indonesia.
"Sensus pertanian ini menyangkut pertanian, perkebunan, peternakan, perikanan, dan kehutanan. Semuanya akan dilakukan sensus di situ, karena kita tahu sektor ini memiliki peran yang sangat strategis. Data yang ada di saya, [sektor pertanian] menyumbang 11,8 persen terhadap total PDB kita, besar sekali," ujarnya.
Jokowi juga menekankan bahwa pertanian merupakan sektor yang sangat rawan karena ancaman krisis pangan global. Jokowi menyebutkan sebanyak sekitar 345 juta orang di dunia saat ini terancam kekurangan pangan akibat perubahan iklim dan perang.
"Sektor ini memegang peran yang sangat penting ke depan, peran yang sangat strategis ke depan. Dan, ini juga menyediakan lapangan kerja, 40 juta orang hidup di sektor ini, ini sudah 29 persen dari total angkatan kerja, banyak sekali," ujarnya.
Menutup sambutannya, Jokowi meminta semua pihak terkait untuk melaksanakan sensus yang dilaksanakan pada bulan Juni dan Juli mendatang.
"Saya minta seluruh pemangku kepentingan di sektor pertanian menyukseskan sensus ini. Ini nanti dilaksanakan dari 1 juni sampai 30 Juli, artinya dua bulan selesai dan setelah itu kita mendapatkan sebuah data yang akurat dan berkualitas," tandasnya.
Jakarta [B2B] - Indonesian President Joko Widodo [Jokowi] stressed the importance of accurate data to produce appropriate and accurate policies in the agricultural sector.
This was conveyed by the President at the Declaration of the Implementation of the 2023 Agricultural Census, at the State Palace, on Monday [15/5].
"Why is this agricultural census being carried out? This sector involves the livelihoods of many people, so policy accuracy is needed and policy accuracy requires data accuracy," Jokowi said.
Jokowi also supports the re-implementation of the last census carried out by the Central Statistics Agency [BPS] ten years ago.
Jokowi also stressed the importance of updating data in supporting government policies in the agricultural sector, such as the allocation of subsidized fertilizers.
"If we have decided on subsidized fertilizer, say nine million tonnes, that´s based on the data that makes that decision. But in the field many farmers shout, ´Sir, there´s no fertilizer.´ Maybe the supply is lacking, maybe the distribution is not correct. But if the data is accurate It´s very easy," he said.